13 Best Podcast Hosting Sites In 2023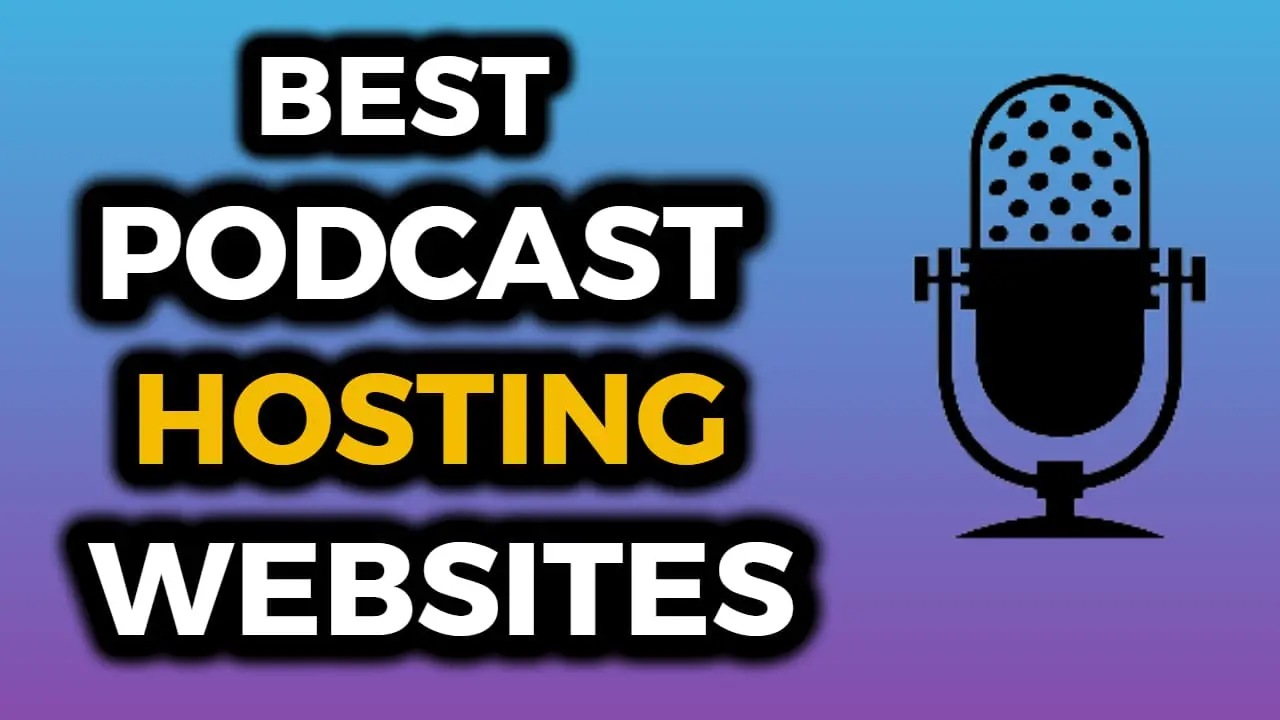 NOTE
If you want to make job replacing income and want to work online from the comfort of your home or anywhere in the world
Take a look at this - Live Chat Jobs
None of us can deny that podcasting has grown from an isolated form of media produced in rural basements to a complete studio setting reaching huge audiences.
What is a podcast?
A podcast is a radio show that you can listen to on-demand. It's similar to how Netflix offers movies and TV shows whenever a subscriber wants to watch it. Instead of watching, though, podcasts let you listen at any time from your smartphone or computer.
More and more people are enjoying the podcast format. Therefore, even the newest of podcasts need to invest in good hosting services in order to get off the ground.
Your choice in podcast host will ultimately depend on the size of your audience, how often you release episodes, and what kind of media you plan to release.
We'll explore the finest podcast hosting services available here. Many are free, while some require a nominal price in exchange for improved support and features.
Here is the list of The Best Podcast Hosting Sites.
1. Simplecast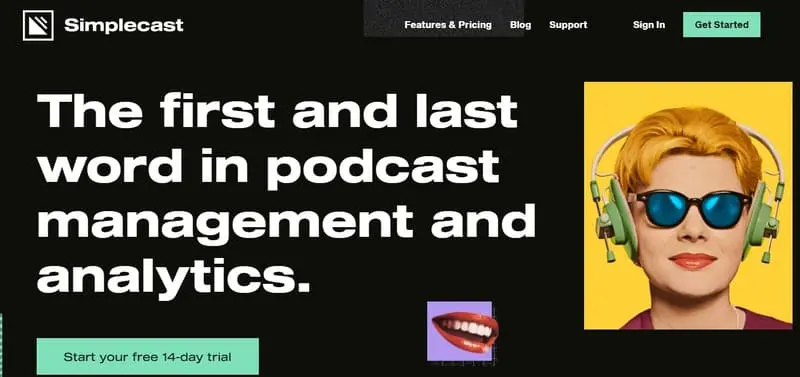 Simplecast is a podcast hosting platform that lets you manage your podcast across major locations. Simplecast has over 150,000 active shows using the site every month, making it one of the best places to host your podcasts.
They simplify all aspects of uploading and publishing for their users, providing an easy way to publish audio files.
You can upload your music file from a computer or from existing RSS feeds.
Simplecast comes with powerful stats which will help you track all your downloads and listen for any given episode. They also have a dashboard to help you keep track of your publishing schedule, as well as share episodes across social media platforms.
Pricing:
$15/month – Basic Plan
$35/month – Essential Plan
$85/month – Growth Plan
All plans include a 14-day commitment-free trial.
2. Podbean

Podbean podcast hosting platform lets you upload your audio files from a computer or from an RSS feed.
The Podbean player is really simple to use and has a lot of useful features. They also have a great blog where they publish useful content about everything related to podcasting, which will help podcasters with all their needs.
Their plans include a free domain and a lifetime storage guarantee. Their player includes social sharing buttons and built-in links to iTunes, etc.
Podbean has an easy-to-use interface which makes publishing your podcasts quick and simple. Adding guests is also pretty fast when you add them from within your account.
Pricing:
Free – Basic (5 hours storage space)
$9 per month – Unlimited Audio Plan
$29 per month – Unlimited Plan
$99 per month – Business Plan
3. Buzzsprout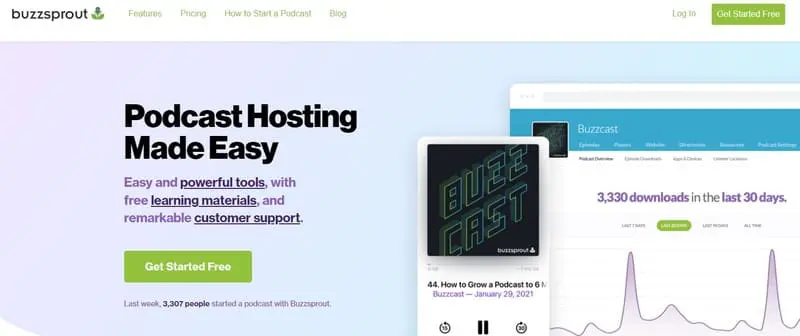 BuzzSprout is among the most user-friendly podcast hosting platforms available. They've existed since 2009 and have created a solid network of podcasters and contain some of the best in the industry.
This is one of the few businesses that provide a completely free plan with unrestricted teammate accounts.
Buzzsprout is a podcasting host that has both free and paid accounts, with the main difference being the number of hours one can upload each month. The paid account offers unlimited bandwidth which can catch up to your podcast if it gets really popular!
It's simple to get started, and it's really easy to use. Simply upload your media file, and the program will take care of the rest.
When you have released an episode, they will send it to all of the major podcast directories, ensuring that your podcast is accessible across all platforms and apps.
Pricing:
$12 per month: upload 3 hours every month.
$18 per month: upload 6 hours every month.
$24 per month: upload 12 hours every month.
4. RSS.com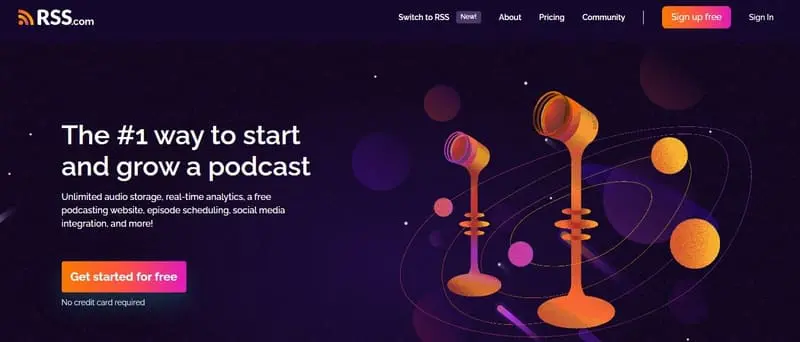 RSS.com is a podcast hosting platform that provides unlimited bandwidth and storage space along with some really great website stats tools. This free podcasting service will provide you with all the necessary tools you need to host and promote your own show.
Their publishing interface is extremely simple, and it's very easy to access their media player interface.
RSS.com also includes a number of options, including show scheduling and social media connectivity, that makes managing your podcast and connecting with people a breeze.
RSS.com is a great option if you want to start your podcast or blog on the web.
Pricing:
$4.99 per month – Educational
$12.99 per month – RSS Podcaster
5. Fusebox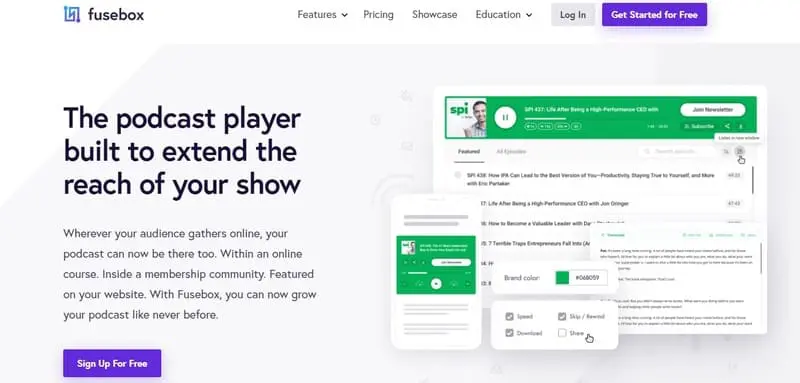 Fusebox is a podcast hosting site offering a good amount of page views, storage, and bandwidth which are pretty hard to find. They also do not place any limits on the number of episodes or storage space you use.
Fusebox comes with a slew of useful tools, including email opt-in, Color schemes, Call to action, Subscribe links, Download button, Fully customizable buttons (including show/hide), Show/hide podcast cover, Custom podcast cover link, Podcast cover artwork link, Playlist and featured episodes within Archive player, On/off toggle for "Powered by Fusebox"
Fusebox is perfect for hosting your podcast with its easy, professional features. It also has a built-in stats dashboard that provides you with detailed information about the downloads and web traffic of your podcasts.
Fusebox is a service that allows you to host your records, broadcast them to podcast sites, and showcase them on your WordPress website.
Pricing:
$19 per month – Fusebox Pro
$15.83 per month billed annually
6. Spreaker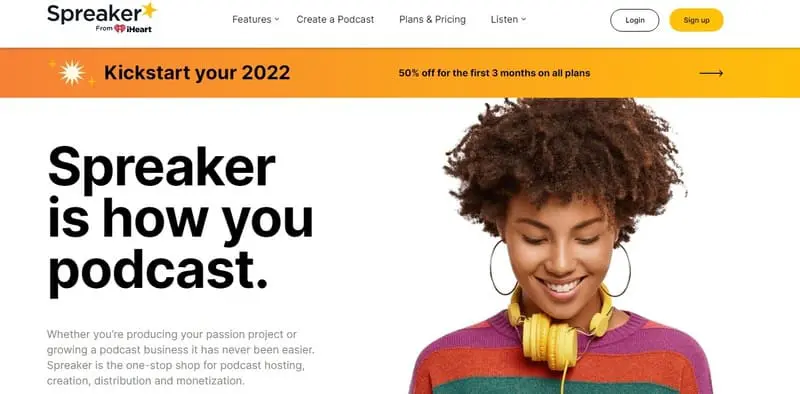 Spreaker has improved its podcasting platform in lots of ways with the new version. It's a very solid option if you are thinking about starting your podcast.
If you are looking for a free or low-cost way to start your show, then Spreaker may be the best option for you.
One of the features that make Spreaker so unique is its social media tools. They have inbuilt social media sharing buttons for Facebook, Twitter, and other platforms to help spread your word around the world.
Using this platform it becomes really easy to monetize your podcast library.
Spreaker is also known for its easy-to-use interface, which makes it one of the most popular podcasting platforms out there.
Pricing:
Free Speech (Free): 5 hours of audio storage.
$80 per month – On-Air Talent
$16 per month – Broadcaster
$41 per month – Anchorman
7. Transistor

Transistor Podcast is a reputable, high-quality platform that hosts a number of high-profile podcasts.
You can publish podcasts on your WordPress site with their plugin. They have some really great features that include an easy to use drag-and-drop uploader which you'll be using to collect audio files from your desktop or phone for your podcast episode.
This platform helps in expanding your podcast's reach to major networks. Their Site Stats tool is great for looking at your listening data. Gives you the ability to host unlimited shows.
Pricing:
$19 per month – Starter Plan
$49 per month – Professional Plan
$99 per month – Business Plan
8. Captivate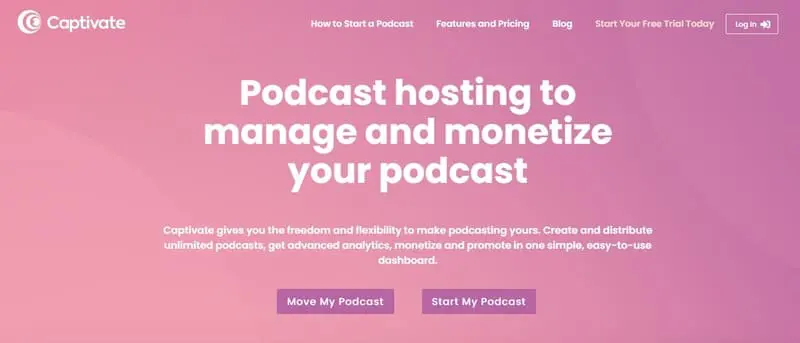 Captivate is a newly launched podcast hosting site that is making some big waves in the podcasting industry. This service is definitely worth looking into if you want to start a podcast.
Captivate's backend platform is both intuitive and easy to use which provides a visually stunning podcast hosting experience.
Their automated podcast platform and built-in cta are two noteworthy marketing elements. Every package includes a fully personalised, mobile-friendly site with payment functionality.
There's no denying that this company has all the tools necessary to start your podcasting career on the web. The only downside is that this service is pretty new, which means it will take them some time to build up their portfolio.
Pricing:
$17 per month – Personal Plan
$44 per month – Professional Plan
$90 per month – Business Plan
9. Castos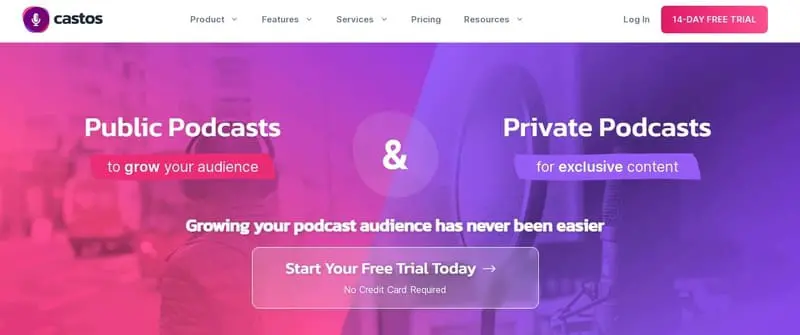 Castos is a unique podcast hosting company that offers unlimited storage and downloads. It's a WordPress podcasting plugin with a lot of features.
Being an unlimited service, they also offer more than just Podcast hosting
Automated transcription, simply upload your audio clips, and the transcriptions will be on your homepage in moments. They have a nice feature to see the stats for every podcast that has been created.
Ultimately, Castos is the perfect option if you're searching for a WordPress podcast hosting service.
Pricing:
$19 per month – Starter
$49 per month – Growth
$99 per month – Pro
10. Libsyn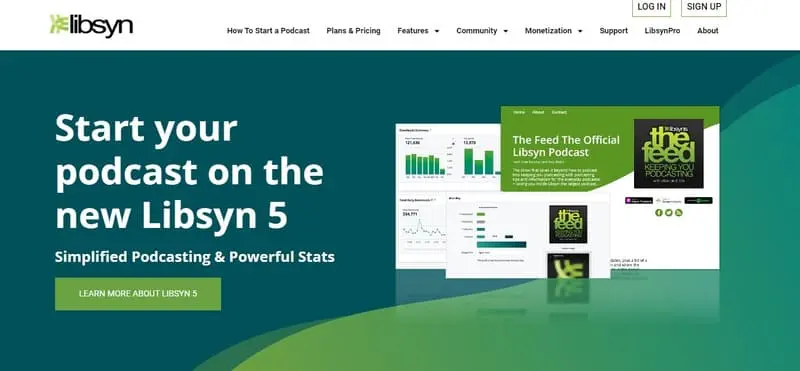 Libsyn is a well-known industry standard. Founded in the year 2004, this company is one of the most dependable players out there.
Unlike other services on our list, Libsyn costs more but is worth it as far as quality goes. Their plans aren't as robust as some others, but they do offer a choice of Basic, Plus, and Premium plans.
Libsyn is best known for catering to professionals; it's the most expensive option on our list (check their website for the exact price) but has unmatched quality.
Their unlimited storage can be quite useful if you plan on publishing frequently. They're also one of the few hosting sites that support video hosting.
Pricing:
$5 per month – Classic 50
$15 per month – Classic 250
$20 per month – Advanced 400
$40 per month – Advanced 800
11. Podcastics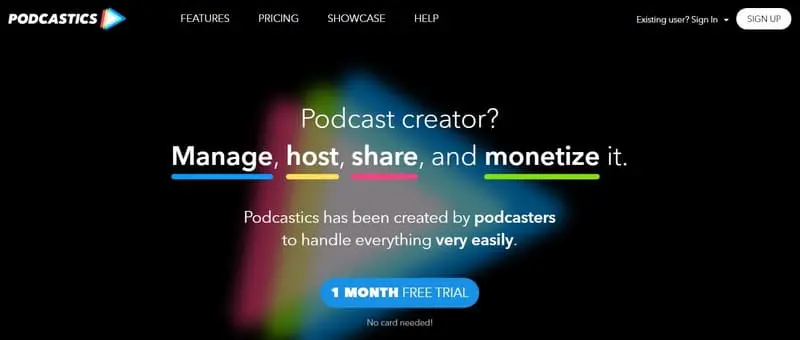 Podcastics offers a premium option for those who want a little extra out of their podcast hosting. If you're looking for unlimited downloads and storage, Podcastics might be worth checking out!
There is a free option for Podcastics, on all plans. You can also schedule your Podcast.
This podcast hosting site offers superior support to its customers, making your life easier. Their dashboard is both clean and easy to use with a great design, which means you'll never feel overwhelmed by the features.
Podcastics is among the top podcast hosting services, with an intuitive user interface, intelligent features, and metrics.
Pricing:
$4 per month – Premium Plan
$8 per month – Pro Plan
$39 per month – Max Plan
The 1st month is free for all plans.
12. Audioboom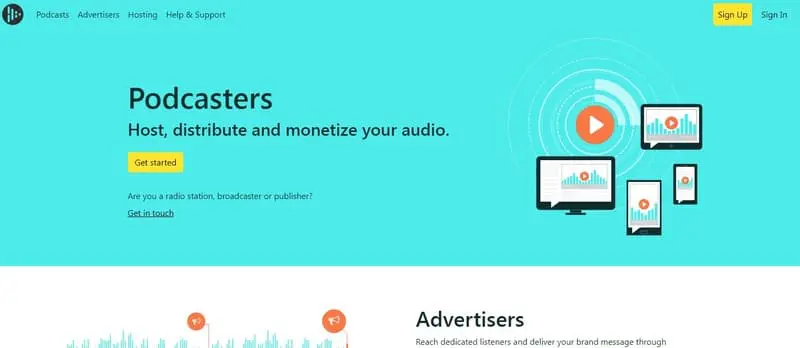 Audioboom provides you with the chance to upload your files and, basically, keep them there for a very nominal price.
This podcasting platform offers unlimited downloads and storage for all of your favourite podcasts. It also has a great publishing calendar where you can plan out what episodes you will be released in advance.
They offer options to create interactive adverts and sponsorships for your program if you reach 10,000 plays on podcasts.
Audioboom is incredibly easy to use, and they have an inbuilt tool to help you with all of your podcast statistics.
Pricing:
$9.99 per month or $99 per year
13. SoundCloud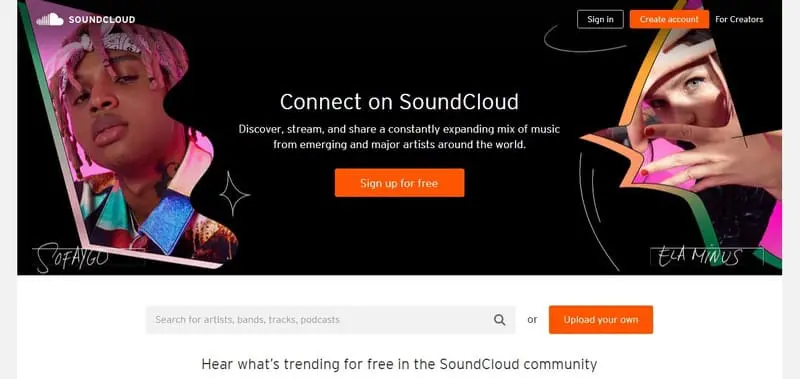 SoundCloud is the most unique option on our list as it's one of the few free podcast hosting services.
This platform provides you with an opportunity to reach a huge audience for your podcast.
However, there are some limitations to this service which might make it difficult to use depending on how popular your show becomes. For example, the free service only allows you to upload three hours of audio total.
SoundCloud is best known for its impressive social media tools; podcasting with this tool can make it easier to promote your show to fans and listeners, but there are some caveats.
Pricing:
Free (Basic): 3 hours of audio storage
$6 per month – Paid Plan
Which is The Best Podcast Hosting Service?
BuzzSprout comes highly recommended. It is one of the most user-friendly podcast hosting solutions, making it ideal for newcomers.
Podbean is our second recommendation. Their subscriptions provide limitless storage and bandwidth, as well as an exceptionally user-friendly platform. They also make it simple to market your podcast across several platforms.
Beginning Podcast
You'll also need a website in addition to a podcast hosting provider. This will be the online home of your podcast, where you will promote it and help users find more material.
The price of a domain name is normally $13.99 per year, while website hosting services start at $6.99 per month.
We recommend Bluehost which offers a free domain and web hosting plan for $2.75 per month
View our how to create a website guide for detailed step-by-step directions.
Final Thoughts
When choosing a podcast hosting site, it's important to think about how you want your audience to interact with your show. The best sites will allow for easy uploading and downloads of both audio and video files, as well as the ability for listeners to subscribe via RSS feed or email.
The above list contains many good options. Do check them out, give it a try and let us know in the comments.