13 Top Ways How To Make Money On Instagram In 2023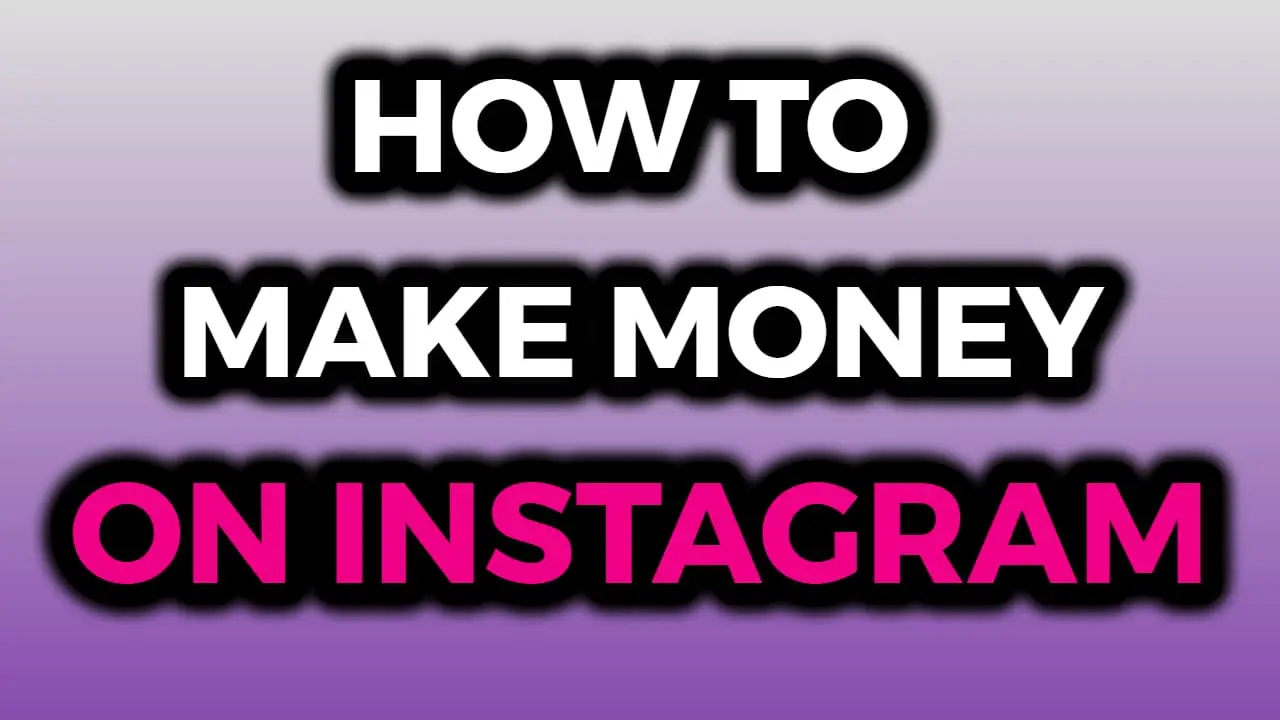 NOTE
If you want to make job replacing income and want to work online from the comfort of your home or anywhere in the world
Take a look at this - Live Chat Jobs
There are so many ways to make money on Instagram, but it all depends on what you want.

Instagram is a great app for anyone looking to make money on the side. The social media platform has more than 1.1 billion active monthly users and counting.

It's possible to earn cash from the app with just a few hours of work per week, which means you don't have to quit your day job or risk going into debt for this opportunity.

It's grown from a basic photo-sharing application to a strong marketing tool used by influencers and organizations of all sorts to target their audiences in recent years.
Do you want to make money on Instagram?

Certainly, being Kylie Jenner and earning over $1 million every post sounds amazing, but we've seen lots of influencers with only some thousand followers earn a reasonable living. The best aspect is that getting started costs zero or just a very small capital investment.

This blog post will cover how to turn Instagram into a source of income and why it may be worth your time.

You can do it by setting up your account properly and following these steps:
1. Find a Niche
2. Create Content that Resonates with Your Audience
3. Build an Audience
4. Monetize your Account

After you have set up the above here is how you can monetize your account
1. Sponsored Posts
How to make money on Instagram through Sponsored Posts:

Sponsored posts are a perfect way of cashing in some pocket money while building your following and social proof at the same time.

How to do it: When you feel your account is established enough to start receiving offers, create a new ad on your profile screen using the 'manage ads' option. Your ad should include links and photos relevant to what you're promoting.

Your post will be featured as a regular Instagram post, but instead of hitting 'post', you'll tick the 'sponsored' option. The ad will then be posted under the normal posts in the 'explore' section.

Do you want to know what the finest part is? To start making money with sponsored posts, you don't need a large following. Most organizations pay strict emphasis to the engagement rate when picking the correct influencer, therefore even huge brands like Mcdonalds' want to work with small influencers.

Recommended tip: Work on your bio before attempting to set up paid-for posts. Make it relevant, but short and sweet.
2. Monetize Using Affiliate Links
How to make money on Instagram through Affiliate links:

The simplest way of making cash with Instagram is through affiliate linking, which means you use your social media influence to promote a product and make a commission from each sale.

It's very important that the products you promote are something you actually believe in or can get excited about, because otherwise your followers will see right through it.

How to do it: You'll need to find a product to promote, which is fairly easy. Just go to the website of a company you like and look for the 'affiliates' section on their page. If there isn't one, try contacting them directly by email to get linked up.

Once you've found something relevant, create a relevant image with product details on it or gather your thoughts into a nice long text post. You can then share it on your Instagram Story and promote the product using the link in your Instagram bio.

Recommended tip: You can also check out relevant hashtags to see which products other influencers are promoting and contact those brands directly. This way, you'll build a good rapport with them and they might even approach you when they have new products to promote.
3. Selling Your Own Merchandise
How to make money on Instagram through your own Merchandise:

If you're into making crafts, creating designs, or just have a couple of ideas for starting up your own brand, Instagram is the place to show it off and get people interested in buying.

It won't be long before you get noticed and one of your posts goes viral. Once it does, companies will start contacting you and ask you to make them custom-made products.

It's not always easy to get noticed though. You'll need to build up a following or at least know someone who will help you out with that before brands will start taking notice.

How to do it: Once again, promotion is the key to starting up your own business.
But if you're not getting attention the first time, don't hesitate to re-post or repost similar images once or twice every few months. Try involving people who are interested in collaborating with your brand too. For example, if you make custom t-shirts for dogs, get one of your favourite dog page or account to promote them with you.

Recommended tip: Once someone has bought one of your products, don't be afraid to ask them for a review. Reviews are great because it helps other people decide if they want to buy too!
4. Offer a Service
How to make money on Instagram through Services:

Offering a service is an easy way to boost your income. With Instagram, you can find out what your audience wants, offer it as a service at a fair price and start making some big bucks!

How to do it: Finding a service isn't particularly difficult. Just think about something you're good at and start promoting! For example, you could be a web designer or a dog sitter.

Recommended tip: Once again, the name of the game is a promotion on Instagram. You can offer free trials or first orders so people have the opportunity to try your service before they make a commitment.
5. Be a Brand Ambassador
How to make money on Instagram through Brand Ambassadorship:

If you've already got a good following and have built up a decent reputation, you might be able to start earning big bucks by becoming a brand ambassador.

It doesn't matter what kind of product or service the company is offering, as long as it's relevant to your audience.

How to do it: The best way to start is by looking at your Instagram feed. If you're into fitness, find a company that sells protein powder or sports equipment and contact them. If you like fashion, look for clothing brands. It's very easy these days!

Recommended tip: Once again, while you might make quick money by becoming an ambassador, the long-term benefits are what you should be looking towards. Negotiate your pay rate and royalties well so that you can continue making money months or even years down the road!
6. Create Educating Content
How to make money on Instagram through Educational Content:

If you're into something specific, like fitness, for example, you can create educational content on Instagram and start charging people to access it.

It's a great way to earn a passive income!

How to do it: The best way to start is to concentrate on how much your audience would pay for what you have to offer. If you have a big following, then there shouldn't be any problem.

Recommended tip: The great thing about this type of monetization is that you're not limited to Instagram. You can promote your content on other social media sites like YouTube, Facebook, and Twitter! This will only help expand your reach even more!
7. Selling Physical Goods
How to Make Money on Instagram through Selling Physical Goods:

Offering physical goods is another easy way to monetize your Instagram account. If you're creating custom-made products, the sky's the limit!

How to do it: Once again, promotion is everything. You'll need to create high-quality images that are shareable and get them out to as many people as possible.

Recommended tip: One of the great things about physical products is that you can offer freebies or discounts with purchase. This will not only attract new customers, but it'll also give you a chance to positively influence the opinions of your existing ones!

You might also begin a dropshipping business if you're just starting out and don't want to ship your own products or deal with refunds.
8. Selling Digital Products
How to make money on Instagram through Selling Digital Products:

One of the more popular ways to monetize your photos is by selling digital products. You can offer eBooks, design templates, photo albums and so much more!

Another great benefit is that you don't need to even touch or ship any physical product.

How to do it: This is a great way to make money, but it's also a little more complicated. You'll need a WordPress website and have to handle things like sales pages and checkout procedures.

Recommended tip: Once again, promotion is absolutely crucial. You should think about offering freebies or discounts as an incentive for people who visit your site as well as offering affiliate programs for bloggers and influencers. This will help you reach a wider audience and increase your profits!
9. Create Captions for Businesses
How to make money on Instagram through Creating Captions for Businesses:

If you're a great writer, then writing captions for businesses might just be the perfect way to earn some extra cash. There are plenty of websites that will pay you based on your number of followers!

How to do it: Look for sites that allow marketers and businesses to post requests for captions and write a few drafts. You can either create one for each or see what fits certain criteria. You can check out sites like Freelancer and Upwork.

Recommended tip: The key here is to check up on your responses, follow instructions and provide high-quality work that meets the needs of your clientele. Their content could even go viral which would be great exposure for your account!
10. Offer Marketing Services
How to make money on Instagram through Marketing Services:

If you're skilled in various marketing techniques, then you might be able to offer services like PPC management, affiliate marketing, and SEO.

How to do it: If you have experience or knowledge in these areas, then all you need is your portfolio of work! You can start by reaching out to friends or family members and go from there. It's also a good idea to check up with influencers who are in your specific niche and see if they're looking for outside help.

Recommended tip: Just like in the case of captions, you want to make sure that you meet all goals and deadlines before moving on. Once again, providing high-quality work expedites the process and can lead to referrals for future jobs!
11. Freelancing on Instagram.
How to make money on Instagram through Freelancing:

Freelancing can be a great way to monetize your Instagram account while also growing your online presence. If you have skills in areas like writing, design, and social media management, then it's time to start pitching!

How to do it: As with the above methods, you can start out by reaching out to friends and family members. Once you get a feel for things, then you should look at sites like Upwork and PeoplePerHour to find jobs that align with your skillset.

Recommended tip: The key here is to be very clear about what it is that you're offering. You'll also need to up your marketing game which is why it may be a good idea to invest in some Instagram automation software like Jarvee. This can make promotion much easier and faster!
12. Make Visual Content To Sell
How to make money on Instagram through Making Visual Content To Sell:

If you've got talent but don't know how to monetize your account, try making visual content! This can be anything from photo albums and pictures of wall murals to posters and customized phone cases.

How to do it: The first thing you'll need is a great camera. Once you have that, you can look into a multitude of different business opportunities. Check out websites like Etsy and Spreadshirt for ideas!

Recommended tip: Make sure to read reviews on products before selling them yourself. This way, you'll have a good idea about what your clients want and will save time when it comes to promotion.
13. Instagram Filters and Stories Masks.
How to make money on Instagram through Instagram Filters and Stories Masks:

Another great way to monetize your account is by selling Snapchat-like masks for photos. These are the types of things that people will love to buy for use on their own content! You can also create custom filters if you know how or have a background in design.

How to do it: You can look for apps that allow you to add your own designs and then turn them into masks. From there, just upload the images and sell them on sites like Creative Market!

Recommended tip: Just like with selling visual content, be sure to research ahead of time what will fly off the shelves so that you can make your promotion strategy as effective as possible!
FAQ – How To Make Money On Instagram
How Much Can You Earn From Instagram?
The sky's the limit! Most users who monetize their accounts are making between $500 and $1,000 per month. However, there are some who have reached as high as $4,000! It all depends on your niche market. If you're selling visual content or custom-made products then go for it!

Celebrities are now making serious coin with this social media platform too. Brands are willing to pay top dollar for sponsored content or ads featuring their products.

Remember though, it's all about what you're capable of! If people think that your visual content is subpar then they won't want to buy anything from you.
How much money can you make per post?
You can make as much as you want per post! Your income will be based on your ability to market and engage, which is why it's important to be aware of what you're offering. Check out the top earners in your niche and look at their content strategy. You'll then need to create a plan that follows suit.
How do I get Instagram followers fast?
The best ways to gain followers on Instagram are through engagement. This means liking, commenting, and following other accounts. Of course, automation can help with this process! The more people you engage with, the higher your chances of receiving engagement in return.
1. Create a strong profile as well as a bio.
2. Produce high-quality content on a regular basis.
3. Use your other social media profiles to promote your Instagram content.
4. Publish content on a regular basis. 5. Make connections with influencers in your field.
Is it possible to make money with 1,000 Instagram followers?
With 1,000 followers, you're unlikely to make a lot of money, but it's still feasible. Brands generally pay anywhere from $20 to $600 per 1,000 followers, based on your niche and level of engagement.

If you're just starting out and your content isn't that great, it may take some time. However, if you gather up a decent following of 1,000 people then there's potential for revenue! Keep in mind though that once you start gaining momentum, new users will come to check out your account and become intrigued with what you have to offer.
How many Instagram followers would you need to earn revenue?
While 1,000 is a good milestone to aim for when it comes to making money from your account, you can actually start monetizing with as few as 500 followers.

You can also change the number of people who see a sponsored post based on how much you want to charge or if it's going toward a charity or nonprofit cause. Brands will pay at least $500 to have their post visible to all of their followers, which can add up quickly!

The more followers you have, the higher the potential for earnings. But remember that this number won't matter if your content isn't engaging or people aren't clicking on your links. So be a good marketer and always keep quality in mind as you're posting.

Recommended tip: Start by looking at the top 10 to 20 accounts in your niche and see how much they earn per sponsored post. Take that number and double it! That's what you should be charging to ensure a profit.
What strategies do I need to employ?
1. Target a specific audience so that your content appeals to them directly.
2. Post quality visuals and interesting written content regularly so that people keep coming back for more.
3. Build up a strong follower base by making friends with influencers in your niche and working together on posts and projects if possible!
4. Link up with affiliate marketing or other online businesses to further monetize your personal brand.
Is it possible to earn money on Instagram even if I don't have a huge following?
Yes! You can start earning from your account with as few as 500 followers, but the number of people who see a post will be significantly reduced until you've built up a strong following.

Instagram is a great platform that offers plenty of opportunities to make money! However, it's up to you to implement these methods into your account for success. The key here is to be consistent and not give up if things don't happen right away. With the right strategy, you can start making money on Instagram in no time!
Conclusion
This blog post is an exhaustive list of 12 smart ways to make money on Instagram. As you read through the posts, think about which methods might work for your business, and be sure to keep track of what's working in order to optimize your efforts going forward! If any of these tips seem too difficult or time-consuming, don't give up yet. There are plenty more ideas out there that can help you earn a few extra bucks from this popular social media platform. You may want to consider using hashtags as well as geotagging locations where photos were taken so people have a better chance at finding them.

Have you considered monetizing your Instagram account? Let us know in the comments section below!