How To Start A Blog In 2023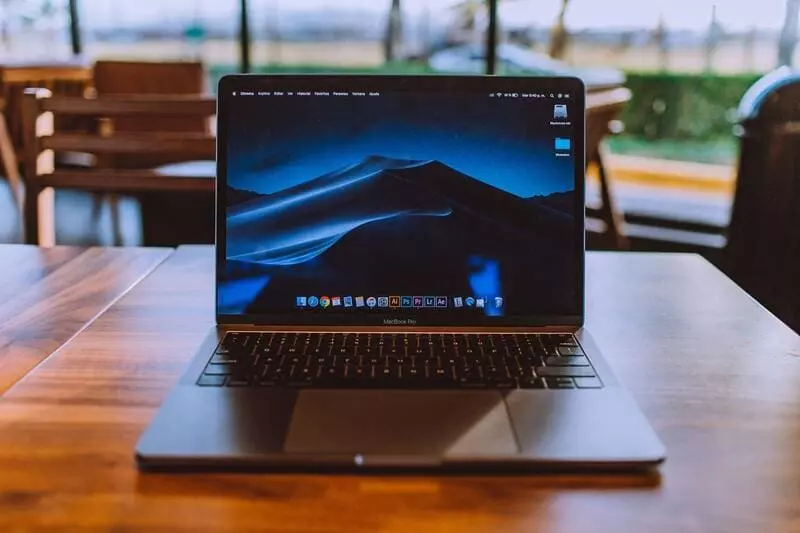 NOTE
If you want to make job replacing income and want to work online from the comfort of your home or anywhere in the world
Take a look at this - Live Chat Jobs
You've probably heard of blogs before, but what are they? A blog is a journal or diary that you keep online. You can share your thoughts and opinions with the world, and over here in this article, we will help you get started if you don't have any idea where to begin! Blogging is an excellent way for creative individuals to connect with others who share their interests and ideas.
Then again, what could be greater than following your interest while also earning a residual income?
You may have seen bloggers making Six-Figures and traveling the world yes that is absolutely possible. The beauty of blogging is that there is tremendous potential and there is no limit to the amount of money you can make.
Over here I am going to show you how to start a successful blog that makes money for you day and night.
The following are the steps to start a blog
Step 1: Choose a blog topic.
Step 2: Choose a blogging platform.
Step 3: Selecting a domain name and hosting
Step 4: Installing WordPress
Step 5: Design the blog
Step 6: Add important WordPress plugins
Step 7: Add Essential pages on your blog.
Step 8: Write your First article.
Step 9: Increase traffic and engagement.
Step 10: Make money from your blog.
How To Start A Blog and Make Money
You'll have your website live in a couple of minutes.
We'll go through each of these tasks in more detail, meanwhile, know that none of them require advanced technical expertise. Indeed, you can truly create and manage a blog by yourself!
Step 1: Choose a Blog Topic.
A blog can be about anything you want it to be. You should choose a topic that is interesting and relevant enough for people to read your blog.
People will come to your blog and they won't return if it is interesting on the site, so make sure your content reflects what's in your title!
Don't expect to generate money by blogging about anything. This won't work, the best option is to stick to a specific topic that may increase your chances of success.
The most popular search engine, Google, favors websites that are focused on a specific subject. You can select topics like Motivation, fashion, technology, finance, photography, food, health and fitness, and so on. These are just a few examples.
This is an important step, you should choose a blog topic that you are passionate about so that you can write quality articles on a regular basis.
Step 2: Choose a Blogging Platform
There are many platforms you can use to make your blog. Some of the most popular platforms include WordPress, Blogger, and Tumblr.
However, if you want something more reliable and professional I would recommend going with self-hosted WordPress. WP is our top pick because it's easy to install, manage and update. It has tons of free (and premium) themes and plugins that you can use to add features and functionality to your blog.
Here's an amazing statistic: WordPress powers 40% of the world's websites.
So you'll need to have a self-hosted WordPress blog (WordPress.org).
Step 3: Select a Domain Name and Hosting
Once you have selected a blogging platform, it's time to choose a domain name. This is the web address that people will type in their browsers in order to visit your blog.
You should try to select a domain name that is memorable, short, and relevant. It should also be easy to type so people can access your blog easily.
A .com domain name is preferred overall.
Use a domain name that isn't overly long.
Domain extensions such as .info, .net, and others are not suggested because they tend to perform poorly in search engines.
The domain name must be simple to read and pronounce.
You can try some online Domain Name Generators as well to come up with a domain name. Start typing in any word you've chosen for your blog, and it'll recommend appropriate domains for you.
Now it's time to set up our blog on a host.
A host is a company that provides server space for your blog. This is where all your blog data and images will be stored. Web hosts are the reason why your websites are available 24 hours a day, seven days a week.
There are many hosts to choose from, but I recommend using Bluehost because they're one of the official WordPress recommended hosts, and they're incredibly affordable
Bluehost includes everything you'll need to start a blog. You get
Free domain name
30-day money-back guarantee with live chat assistance
Storage is unlimited.
cPanel is simple to use.
SSL is provided for free, and bandwidth is limitless.
Here's how you can get it.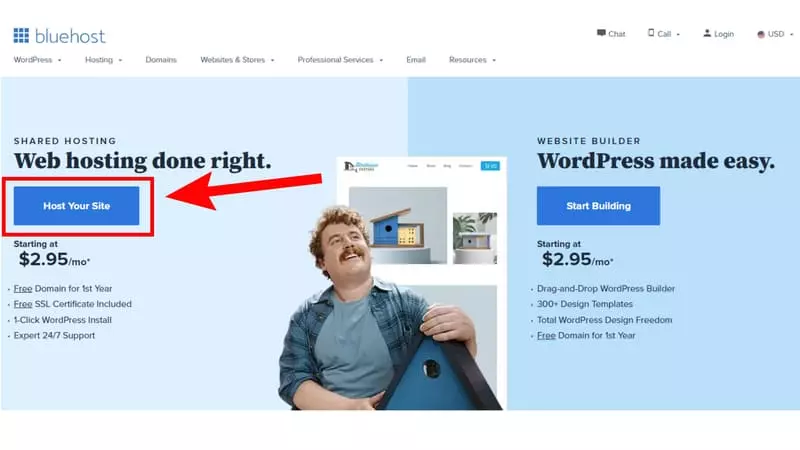 Select the plan you want. If you want to get started with one blog you can select the Basic Plan or if you want to start multiple blogs you can select Choice Plus Plan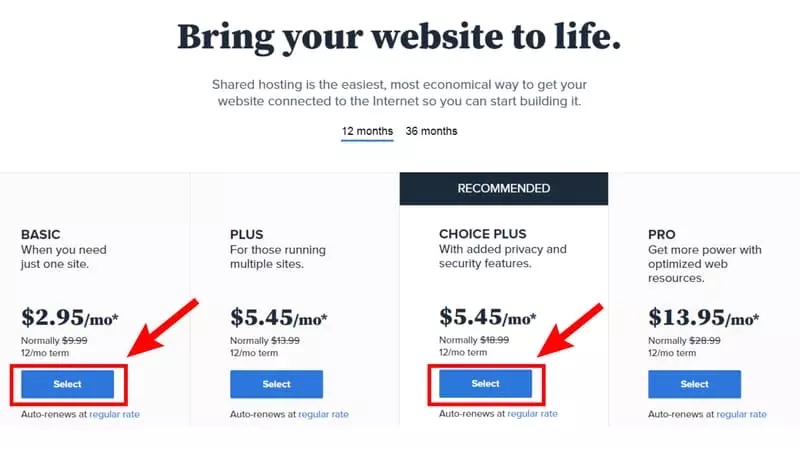 You can collect your free domain name on the next step after you've chosen your plan.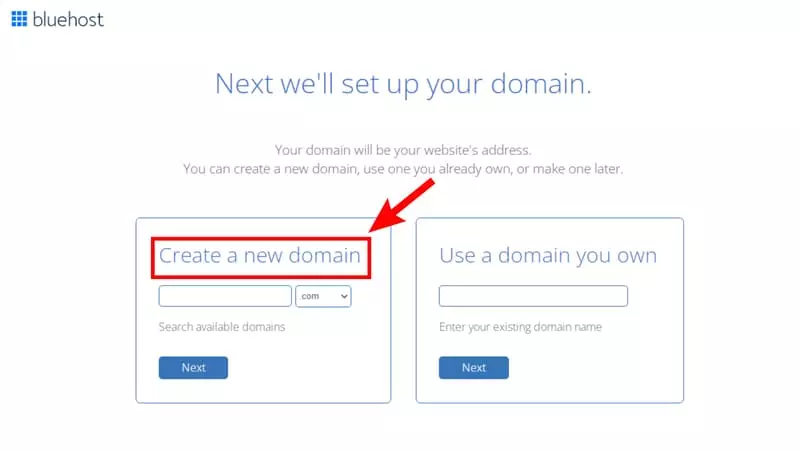 Enter your contact details on the next page. Pay close attention to package extras, as you may be able to save some money by skipping a few of them.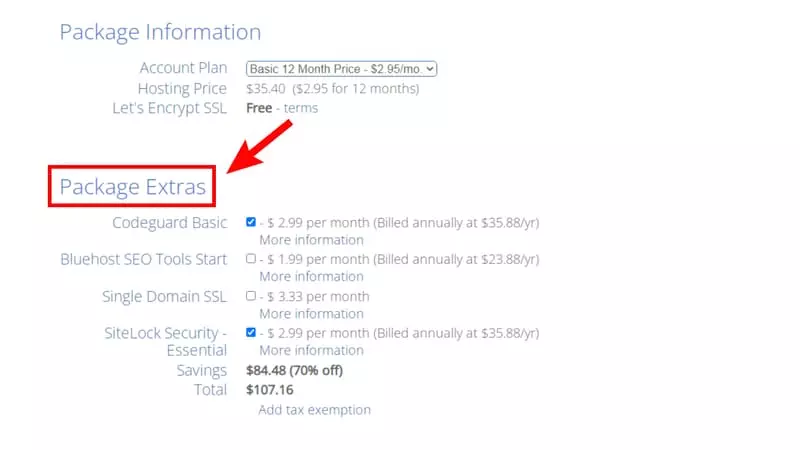 On the payment section, you can pay with a credit or debit card, or click on More payment options to pay with PayPal.

Bluehost will create your blog in the next 10 to 15 minutes after you make the payment. This will be fully automated, which saves a lot of time and effort for newcomers who just want a blog that is ready to go.
Another exciting thing is Bluehost will immediately install the WordPress software on your domain name once you've finished your hosting and domain name purchase.
Fortunately, Bluehost, an official WordPress-approved hosting provider, has decided to provide our readers with a free domain name as well as a 60% discount on hosting services.
(starting at just $2.95/month not $4.95/month).
Click here to claim this exciting offer now
Step 4: Install WordPress
Now that you have selected your domain name and hosting, it's time to install WordPress.
The good thing about Bluehost is that it will automatically install WordPress for you.
All you have to do is log in to your account, click on the WordPress icon, and then click on Install.
Bluehost will take care of the rest.
Step 5: Design the Blog
Once WordPress is installed, you'll be asked to choose a theme for your blog.
A theme is a template that provides the overall design and layout of your blog. Since a good design ensures that your visitors will enjoy your site, it is the most significant part of your blog.
There are many free themes to choose from, or you can purchase a premium theme. Be sure to select a theme that is responsive, meaning it will adapt to the device screen size on which it's being viewed.
Here are several simple modern theme providers that I encourage you to begin with.
Genesis theme: It's a solid theme with an easy-to-use, powerful page builder. The best part? You can try it for free to see if you like it!
Elegant Themes: This company offers a wide variety of themes  for any niche or purpose. You can pick a free one and change it to your liking later on.
Astra theme: This is a fast and lightweight theme that is perfect for blogs with a lot of content. It also comes with built-in SEO features.This is an excellent addition to any new WordPress site.
Step 6: Add Important WordPress Plugins
After you've installed the theme on your site, you can add important plugins to enhance the user experience.
Here are several must-have WordPress plugins for various types of websites, including blogs.
Here are a few of our recommendations:
UpdraftPlus WordPress Backup Plugin
Yoast SEO
WPForms
ShortPixels
Jetpack by WordPress.com
There are a lot of plugins available, but the ones listed above will assure that you have all of the required plugins on your blog.
Step 7: Add Essential Pages on Your Blog
These are among the important pages to include on your blog.
About Page: This is a page that tells your readers about you and your blog. It can include information such as your name, what you blog about, your contact information, and more.
Contact Page: This is a page where visitors can find your contact information, such as your email address and phone number.
Privacy Policy: Here you let your readers know what you do with their personal information and how you use it.
Term Of Use Page: This page is where you put your blog terms of use. It states what visitors can expect from your website, and what they cannot do on the site.
Disclosure Page: You disclose any and all affiliate links and ad networks that may be running on your blog.
If you've completed all of the steps to this point, your blog should be up and running.
Step 8: Write Your First Article.
Congratulations on completing the installation process of your brand new blog! You're now ready to write some posts and gain followers.
While this article is about how to make money with a blog, it's important that you put your readers first and write articles they'll find valuable. High-quality content will keep visitors returning to your site for more and will ensure that you develop a healthy and growing follower base.
Here are some tips to help you get started:
Make your articles about the kind of topics that your target audience would enjoy reading.
Write in an easy-to-understand, conversational style. Avoid jargon and overly technical language.
Include a few links to other websites in your articles, but only do it occasionally.
Try to make your articles concise and short. Give clear examples where possible.
Be original and unique! Do not copy content from any other site, as this is a serious violation of copyright laws.
YouTube videos can also be embedded in your post
Copying photos from Google is not a good idea. Instead, go to the websites to get free photographs to use like pexel, pixabay, unsplash etc.
If you're used to writing long blog posts, try splitting them into several shorter posts. This way, you'll be able to provide your readers with more content and it will become easier for them to read.
Step 9: Increase Traffic and Engagement.
There are so many places to promote your blog, sometimes it might be overwhelming.
However, for best results, you should consider doing the following:
Use social media. This is a great way to gain exposure and increase your follower base. On Facebook, Twitter, Instagram, Tumblr, Pinterest, etc., share links of your blog posts on these sites
In the beginning just pick a few social media sites like Pinterest and Facebook and later on you can start with Twitter and Instagram too.
You can also tell all of your friends about your blog, Guest post on other blogs in your niche. Include a subscription form on your blog so that people can sign up to receive updates when you publish new posts. The more effort you put into promoting your blog, the better the results will be.
Step 10: Make Money From Your Blog.
Once you've built up a following and have high-quality content, it's time to start making money from your blog.
There are a few different ways to do this:
Sell advertising space on your blog.
Become an affiliate for other companies and promote their products on your blog.
Sell a product of your own through your website.
Sponsored content
Using Ad networks like Google Adsense, Media.net , Mediavine etc
It's up to you which method you choose to use, but the easiest place to start is probably going to be either with affiliate marketing or through ads.
FAQ's:
Q: How long will it take for my blog to start making money?
A: It really depends on how much effort you put into it. If you're willing to promote your blog regularly and write high-quality content, you should start seeing some results within a few months.
Q: What if I don't have any ideas for a blog post?
A: There are tons of places to find inspiration for your next blog post. You can search online, talk to friends and family members, there's no end to the possibilities!
Q: How many posts should you publish on a daily basis?
A: It's best to publish one high-quality post per day. This will ensure that your readers always have something new to read and that they'll keep coming back for more.
Q: What are some of the ways that new blogs make money?
A: There are a few different ways to monetize your blog: You can sell advertising space, use ad networks like Adsense, Media.net, or its affiliate marketing
Wrapping Up
Creating a Blog doesn't have to be complicated, costly, or reserved for the technologically adept. In less than 30 minutes, you can have a blog site up and running with Bluehost.
You're quite well on your way to creating a successful blog if you've followed all of the steps in this article.
Blogging is a great way for creative individuals to connect with others who share their interests and ideas! Whether you're selling products online or writing about what you love.
We hope this blog post has been helpful in giving you an idea of what it takes to start blogging successfully today. As always, feel free to reach out if there's anything else we can do.