23 Best Businesses You Can Begin Without Quitting Your Job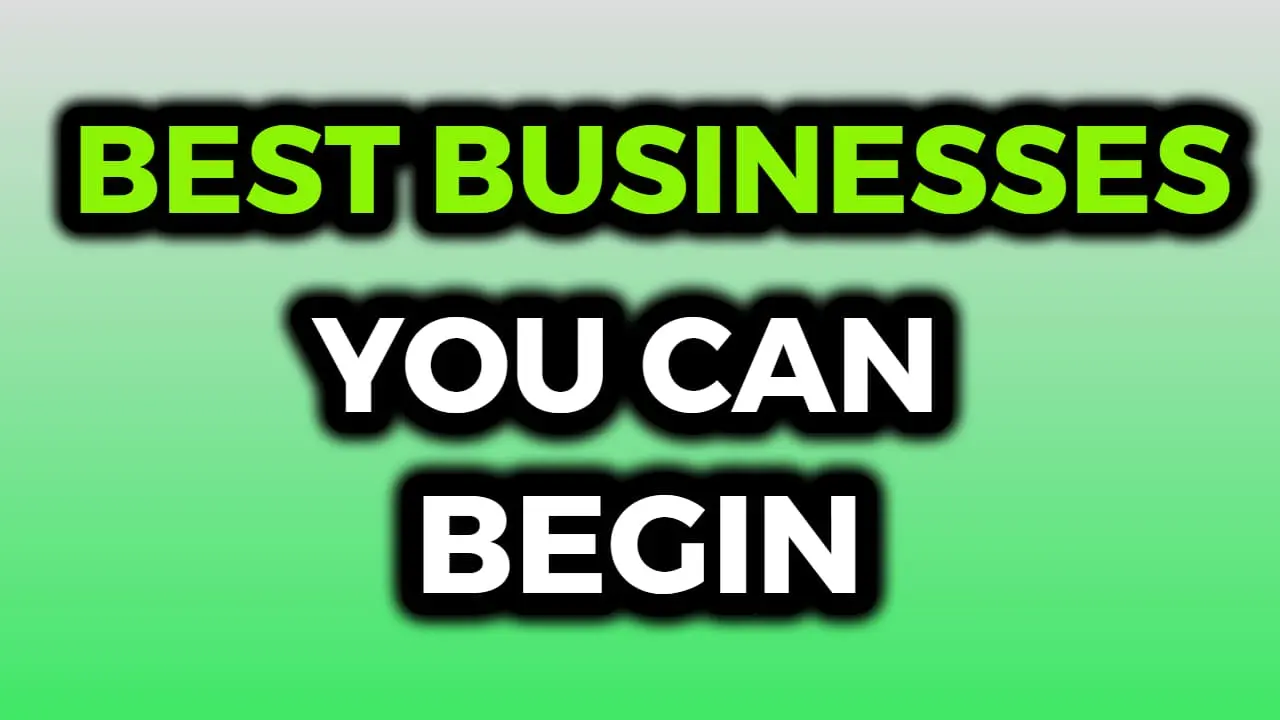 NOTE
If you want to make job replacing income and want to work online from the comfort of your home or anywhere in the world
Take a look at this - Live Chat Jobs
Starting a business can be daunting, but it doesn't have to be. You can start your own business without quitting your day job.
There's everything from dog walking to freelance writing and all of them offer amazing opportunities for those looking to make extra money on the side or who want to pivot their career path entirely.
Plus, if you're worried about deciding between starting a new business and keeping your current one, don't fret! You can always keep your day job while pursuing these ideas at night or on weekends until you find something that sticks.
Here are 21 businesses you could start while still working your day job.
1. Blogging Business
If you're a writer and love to share your opinions, why not make it your business? Blogging Business is one of the most popular side hustles on the Internet right now.
You can start small and pay for hosting out of pocket, but eventually, you'll want to find a way to fund your blog without having to take away from your profits.
There are a variety of ways to make money blogging, but some of the most popular includes sponsored posts, affiliate marketing, and selling your own products or services.
2. Digital Marketing Agency
Digital marketing is one of the most in-demand skill sets right now, and there's no reason you can't start your own digital marketing agency.
You'll need to invest in some equipment and software, but if you're able to land a few clients, you could easily make a full-time income from your digital marketing agency.
You'll need experience, of course, and it might take some time before you're able to get clients interested in your services; but if you can make a few connections while still working at your day job, it might not be long before you've made the transition to full-time Digital Marketing Agency business.
3. Freelance Writing Business
Are you a strong writer? Do you have an eye for catching spelling and grammatical errors? If so, you might want to start your own freelance writing business.
You can find work on sites like Upwork or Fiverr, or if you have contacts in the industry, try contacting businesses directly. You could also focus on one specific area, like copywriting, or offer a range of services like editing, proofreading, and ghostwriting.
4. Amazon Reselling Business
There are numerous advantages to working as an Amazon FBA Seller. There are a number of different ways to do this, but the most popular is by finding products at a discount and reselling them on Amazon for a profit.
Once you send your products to Amazon, who will hold them for you. After a sale has been made, Amazon ships the item to the buyer's address. You collect the net profits.
This can be a lucrative business if you're looking to make extra money, or if you'd like to potentially turn this into a full-time gig.
5. Etsy Store Owner
Do you have a knack for making handmade crafts? If so, you might want to consider starting an Etsy store.
Etsy is a great platform for those who are looking to start their own business, and it doesn't require a lot of upfront investment. You'll need to create a few pieces to get started, but after that, all you have to do is find a way to market your store.
You can sell more than just crafts on Etsy, too. You could also sell vintage items or other handmade products that would make great gifts.
6. Graphic Design Business
If you're creative and have experience in graphic design, you might want to start your own graphic design business.
Currently, there are many freelance graphic designing opportunities available on the internet on sites like Fiverr, UpWork, and Freelancer. You'll need some portfolio pieces to get started, but if you have a strong design sense, you could easily make a name for yourself in this industry.
7. Dog Walking Business
This may sound like a simple business, but by doing this simple business you can make a lot of money.
This can be done part-time or full-time, so it's easy to scale up as you get more clients or as your schedule allows. It doesn't require too much investment either; all you really need is some comfortable shoes, a dog-friendly attitude, and a leash.
You can work for yourself, or you can hire other dog walkers to work with you. You could also consider starting a doggy day care if you have the space in your home to house dogs while their owners are at work.
8. Travel Consulting Business
Starting a travel consulting business might be the perfect side hustle for you if you love traveling.
This can be done in a number of ways, but the most popular is by creating a blog or website that offers tips and advice for traveling on a budget. You could also start a travel agency, or focus on helping people plan their dream trips.
9. Home Landscaping Business
You can do it both ways in this business! You can begin by doing the work alone and then employ everyone else to help you as your business grows.
This business can be done in a number of ways, most home landscaping businesses offer services like lawn care, tree trimming, and snow removal. You could also focus on more specialized services, like the garden design or irrigation installation.
This kind of business is also simple to promote. You could have a web page, but you can also go house to house with basic fliers and a friendly attitude!. Many people are usually on the lookout for a good landscape service.
10. Web Development Business
Talented web developers are required to assist in the integration of new features, updating of operations, and correcting errors.
You can actually bring on clients and eventually launch your own freelance web development company while still doing your day job once you've developed your skills in programming languages like HTML, or Javascript.
11. Freelance Photography Business
Just about any business that needs photographs for the website will require high-quality photography.
Because photography is a competitive field, you should have a specialty or niche. You'll also need to market yourself to attract customers. You should consider who your target audience is, what kind of photography you'll do, and what types of packages and rates you'll provide.
Despite the fact that anybody with a smartphone believes they can take excellent photos, professional photographers are still in high demand.
12. App Developer
Building and selling an app has become a very straightforward industry to start because of the availability of easy-to-use app designing software that requires no coding.
There are a variety of app-making templates online, as well as a plethora of ways to monetize your free app through in-app transactions, sponsors, and adverts.
You can also create a basic app for free with many popular platforms, such as WordPress and Google's App Maker.
13. eBay Business
On eBay, you can make a lot of money. If you have some stuff lying around your house that you don't use, then eBay is a great option to get rid of it and make some extra cash.
You can also start an eBay business by buying products at a discount and then reselling them for a profit. Just make sure you have enough inventory to keep up with demand.
Have a sense of how buyers will react to your products, how pricing will function, and how buyers will react if you decide to do the auction method.
Your eBay business can grow into a large company, there is no need to force push it! Keep an eye on your profits and pack and ship properly!
14. Affiliate Marketing Business
If you have some time to spare and want to make some money on the side without too much of a commitment, starting an affiliate marketing business might be perfect for you.
Affiliate marketing is a business model in which you promote products or services for a commission, and you don't need to have your own product or service to sell.
You can start an affiliate marketing business by finding a company that offers an affiliate program and signing up. Then, you'll need to create a website or blog where you'll promote the products or services. You can also promote affiliate products on social media or through email marketing.
Just make sure you're providing value to your audience and not just trying to sell them something they don't need.
15. Web Designing Business
Web designing is a very profitable business. You can either choose to be a freelancer or you can start your own web designing company.
If you want to start a business, then starting a web design agency is what you need to do.You have to offer quality work and the clientele will come by itself. Always remember that quality cannot be compromised
Your services will be in great demand if you provide a pleasant user experience for a website that leads to a better interaction, a higher purchase rate, or an improvement in sign-up rates.
There are many online programs where you can learn web designing , and then launch your own Web Designing Business.
16. Personal Fitness Trainer
If you're passionate about helping others achieve their fitness goals, then should start your own personal fitness training business.
You could start by offering free or discounted personal training sessions to build up your client base, create a website and actively market yourself online, or turn your house into a personal gym and start charging for membership.
17. Gaming and eSports Business
Game streaming is an up-and-coming industry that has made many celebrities out of everyday people who enjoy gaming. If you're good at playing games and have some experience with live video streaming, starting your own gaming and eSports business could be a great way to make some money on the side.
Different ways to get started in this industry: You could begin by streaming your own gameplay on platforms like Twitch, creating a website and blog about gaming news and tips, or even start your own gaming podcast.
18. Online Tutoring /Teaching Business
I have always been a good teacher. I have even helped my friends in Math and English, so if I could do this for free then why not earn money by doing it?
I am not talking about physical tutoring here but online tutoring. You can start your own business of teaching students online who are willing to learn from you.
There are a number of programs that allow you to become an online tutor, and most of these platforms offer a wide range of subjects to choose from. You could also specialize in one particular subject or grade level.
19. Sneaker Reseller Business
Sneakers are now a valuable commodity. They hold their value over time and resell at 100% mark-up.
Possibly one of the most profitable businesses you can start today is reselling sneakers. There are several ways to do this: You could buy up stock from others who want out of the game, sell on consignment, or even open up your own sneaker store.
20. Social Media Management
Businesses are always in need of social media experts, and this is a business you can start on the side without quitting your day job.
A few of the social media management skills you'll need to learn include:
Creating a social media strategy
Posting on multiple networks at once
Scheduling posts to go out throughout the day or week
Using analytics to gauge performance and make improvements as necessary.
You can use this knowledge to start your own business and charge anywhere from $20-100 per hour or more for basic tasks like writing posts, scheduling tweets, optimizing profiles, doing research, etc.
21. Home Cleaning Business
One of the best things about a home cleaning business is that you can start it with very little investment. In fact, all you really need is some basic supplies and an advertising strategy.
You could post flyers in your neighborhood, or even better, start a website and offer online booking. This is a great business to start if you're already familiar with cleaning houses, as it requires very little training.
22. Personal Chef Business
This business is especially great for those who have large families or are comfortable cooking for many people, as you'll have repeat bookings and a steady income with relatively low startup costs.
You can either take on individual clients or work with restaurants to help promote their businesses through your cooking. It's also a great way to earn some extra cash while still working at your day job.
23. SEO Specialist Business
If you're an SEO whiz, starting your own SEO specialist business could be the right move for you. You can start by offering affordable services to businesses that don't have the capital for a full-time SEO specialist.
With this business, it's all about building relationships and getting referrals from your happy clients in order to grow your business organically.
You'll likely need to invest in some equipment and software, but if you can land high-quality clients, the money should start rolling in.
Conclusion
There are many great businesses you can start while working your day job. If you're looking for an extra income stream, these 23 business ideas might be the perfect solution to help diversify your skill set and grow your customer base.
I hope you enjoyed reading the article and got the information you needed.
It's never too late. So what are you waiting for? Let's get started.