Top 25 Apps That Are Paying You For Walking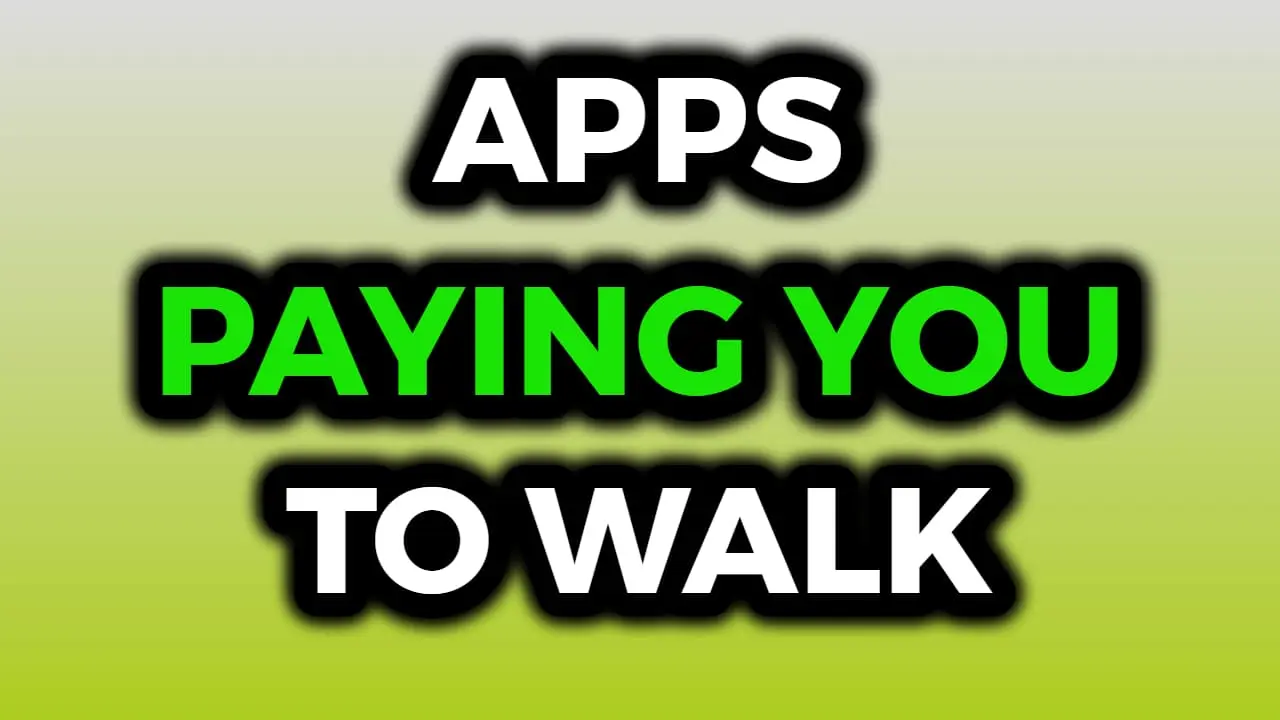 NOTE
If you want to make job replacing income and want to work online from the comfort of your home or anywhere in the world
Take a look at this - Live Chat Jobs
The best way to get in shape is by doing something you enjoy. The trend nowadays is people are willing to pay for your efforts, like walking or riding a bike. These apps give you money, gift cards and free service subscriptions if you meet the goals they set for you! This article will show how these apps work and what some of the best ones are. It's time to start earning that money with your steps!
Here are the Top 25 Apps that Pay You to Walk
1. Runtopia
Runtopia is a great app for those that enjoy running outside. Runtopia is a good app to try if you want to get the most out of being active.

Runtopia is an app that aims to help you enhance your fitness while also rewarding you. You can define exercise goals for running, walking, and bicycling, you can even listen to fitness audio while working out. This app can be used anywhere, anytime you want.

As you complete the task you will earn coins called sports coin. You can exchange your sports coin with coupons, available products or Paypal cash.
2. Optimity Health
Optimity is a great app for those that enjoy physical activities. It helps you earn money while you work and doesn't require any hard physical activity the tasks are easy to complete.

Optimity is an app designed to help you be more active by offering rewards based on the number of steps you take. You can turn this into cash or redeem it for gift cards. This is a nice app to try if you want to get paid for working out.

You can download this app on any device that has GPS location service capabilities, either iOS or Android devices are suitable.
3. SweatCoin
Sweatcoin pays you to walk around your house, the building you work in and maybe even outside will earn you coins that can be exchanged for gift cards or traded with other users. The more steps outside the more coins you'll get. These coins also go towards a larger goal of helping to raise money for social projects through charities of Sweatcoin's choosing.

Every 1,000 steps you walk earns you 0.95 sweatcoins, which you can exchange for cash or incentives through PayPal, digital cards, fitness products, FitBit etc.

They also reward you with 5 sweatcoins for each person you bring into the program.If you use the app frequently, or if you invite a large number of people, you can easily accumulate good amount of coins and get your money through paypal.
4. LifeCoin Health
Using this app you earn LifeCoin when taking outdoor steps. One can only receive 5 Lifecoins every day as a free user.

When it comes to rewards, LifeCoin offers a variety of gift cards, as well as real items such as Airpods, a drone, and headphones. The rewards are continuously changing.

Lifecoin Health lets you convert your life's activities into LifeCoins.You can download the app on any device, both iOS or Android devices are compatible.
5. StepBet
StepBet is an easy way to get motivated and achieve your fitness goals! This is a good option for people who want to earn actual money for walking.

StepBet is an app that lets you create a step goal and then allows you to bet money on yourself, if you complete the goal in time you win all of the money! This is a great option for people who are competitive and love winning!

Life needs challenges, it's important not to limit yourself to only setting goals. By trying new things you will be able to explore new aspects of your personality and what you are capable of.
6. Achievement
Achievement is a free app that rewards you for walking and other fitness activities.
When you've achieved 10,000 points ($10), you can exchange them for a reward like digital card or cashout using PayPal.

Members can also earn 100 points for each friend they recommend.
Apart from walking, there are more exciting ways to make money with Achievement, so download the app look around and have fun.
7. Lympo
Lympo is unique, it pays you to accomplish walking and running tasks rather than simply counting your steps. The app is continually being updated with new tasks.

This app is all about encouraging you to get fit. It requires you to go for walks and runs, which are tracked with the fitness tracking technology on your phone.

You can then use your physically earned tokens to purchase sports goods or services in the Lympo marketplace or use them for rewards offered by brands who have partnered with Lympo.
8. Charity Miles
Charity Miles is a free app that lets you earn money just by taking a walk and donating the earnings to the charity you want. This is a good option if you want to make money by walking and make a difference at the same time!

Members of Charity Miles have raised over $3 million for different charities simply by walking, jogging, biking, etc.

You can follow the charity miles that have been donated for each of the charities and track your own progress towards a goal.
On the app, there are around 40+ charities to choose from, and you can donate to any of them.
9. FitPotato
FitPotato allows you to track your progress. Rather than simply enabling you to walk for money, FitPotato allows you to bet on yourself so that you are able to qualify for a bigger prize.

You join a team and make a "Commitment" inside the app. A group commitment is a set of stages or sessions completed over the course of one week. You should pay an admission fee for the Commitment in advance when joining a group.

To be qualified for the weekly prize, you must sync and track your activities using the FitPotato app. If you achieve your target, you will be given an equal share of the weekly award.
10. PK Rewards
PK Rewards will compensate you for not only walking but also for working out and exercising overall. In other words, PK Rewards allows you to earn money just for moving.

This is how the app works, just press start earning before you start doing any physical activity, and once you have finished then press the button again, and the app will show you how much you have earned.

When you've accumulated enough coins, you can exchange them for rewards from companies such as Apple, Amazon, and others.
Another great thing about this app is the fact that it also makes it easy to invite your friends! You can earn money by walking but you can become eligible for even bigger prizes if you refer enough people to the app.
11. Fit For Bucks
Fit For Bucks is a good app for those that want to get gift cards in exchange for walking. This is one of the simplest apps available.
You can earn points by logging your daily steps and they can be redeemed for gift cards right in the app!

This app lets you add friends and compare your step counts with them, it also lets you see who is walking the most. This is a good option if you want to stay motivated by having contests with your friends!
12. myWalgreens Health Goals
myWalgreens is a free app that lets you earn points for completing your healthy goals. You can use these points to get items at Walgreen pharmacies, including prescriptions, cold and flu medications, photo prints, greeting cards and more!

This app makes it easy to complete tasks related to your health. It will encourage you with targeted offers and help you get closer to your goals.

This app can be a good option if you want to get deals at local stores while making progress towards your health goals!
13. EarthMiles
EarthMiles is a unique app that allows you to earn points for walking, running, or biking and also for completing activities related to the environment, including recycling, walking and carpooling.

You can actually save money by using your earned EarthMiles instead of buying gift cards or certificates! This app makes it easy to do good deeds while getting something back in return! It's also a good option if you want to earn points that can be redeemed for discounts on eco-friendly goods.

This is a good app for those who want to make a difference by protecting the environment and earning some cash in return!
14. HealthyWage
Enjoy challenging yourself? If so, HealthyWage may be the app you're looking for. This is because it lets you set a goal and bet on yourself to succeed! You choose a weight loss or fitness goal and wager a certain amount of money on it.

The odds are set by you and your chances of success go up as you do more exercise.

This is a good app for those who want to push themselves and see whether they can lose weight, build muscle or complete another fitness goal!You also get rewarded by referring others to the app.
15. Rover
Rover is an app that lets you get paid by walking other people's dogs! You can set your own availability, price and start earning money. This app is perfect if you like animals or want to make some extra cash.

This is a good option for those who want to make some money while also making new furry friends!

This app gives you access to over 700,000 pooches in need of walking! This can be a good option if you want to use your smartphone to motivate yourself to get out and walk more.
16. Postmates
Postmates is an app that lets you earn money by delivering food in your area. You can go out, have fun and still make some money!

Postmates pays $10.00+ per hour plus tips – all you need to do is be willing, able and available to work when they need you! They even give you gas reimbursement on top! This is a good option if you like to bike or walk and want to make some money.

This app lets you deliver food for local restaurants, which means you can use your car, bike or simply walk to do this job! This makes it an interesting option if you like the idea of making money by walking around!
17. Doordash
Doordash lets you make money by delivering food and other items to people in your area. This app is a good option for those that want to go out and deliver food while getting paid!

The potential earnings are can be upto $30 per hour and you can even be reimbursed for gas expenses. You will also receive flexible hours, as this app allows you to work around your own schedule.

Your payments are handed out weekly, and you retain 100% of your tips. This app can be a good option if you want to deliver goods while getting paid!DoorDash app i available on both ios and android devices
18. Instacart
Instacart allows you to earn money by delivering groceries. This app is a good option for those who want to do some walking and get paid while helping others! You simply go shopping, deliver the items and get paid.

You get two options with this app, you can either shop and deliver items as a freelancer or work part-time in a business to fulfill orders.
This app is one of the best options if you want to make money while grocery shopping for others.
19. Gigwalk
Gigwalk is a flexible way to make money by completing simple tasks in your local area. Gigwalk gives you access to local gigs that pay up to $20+ per hour! You can take these part-time jobs without any contracts, meaning you are free to work whenever it suits you best.

This app is interesting if you want to make money by completing tasks in your area!
The tasks can be anything from buying some groceries from the store or delivering roses to your near and dear ones.

After completing the task you are paid through paypal. So if you are staying in big city. Gigwalk is a good place to start.
20. FitFetti
FitFetti is an amazing app that pays you to walk! If you are an active person, then this app can be a good option for you. This is because it rewards your efforts by giving you real cash just for exercising!

The amount of money you earn depends on how far you have walked or run. You can also collect coins and use them to get new outfits. This app is great if you want to stay fit while getting paid!

Your first sponsor is sent to you after you register. Then, if you meet your weekly step or daily minute targets, you acquire more sponsors, allowing you to access more freebies.

This app can be a good option if you like exercising and would like to get paid just for doing what you love!
21. CircleCare
This is a health and wellness app that helps people find care for their family, pets and even houseplants.
This app connects you with vetted caregivers who can walk your dog while you're at work or take care of your kids and plants when you go on vacation!

CircleCare also offers insurance coverage for its caregivers meaning that everything is taken care of so you don't have to worry.
This app can be a good option if you want to go on vacation and would like someone else to take care of your dog or other loved ones!

You'll be eligible for rewards whenever you reach specific CarePoint totals. Vacations, workout equipment, entertainment, and therapies are among the rewards you get on this app.
22. Winwalk
Winwalk is a fun app that pays you to walk! This is a great option for people wanting to go out and have some fun while still making money.

The way this app works is very simple: just go out and move as much as you can by tapping on your screen. The more the steps are counted, the more you earn! There is a great community, you can chat and share your experience with others on the app.

Winwalk is free to use, this app gives you one "coin" for every 100 steps taken. You may then trade those coins in exchange for digital gift cards from places like Amazon, Walmart and Starbucks.
23. Favor
Favor is an app that pays you to deliver food or buy coffee for others. You simply order via the Favor app, deliver it yourself and get paid!

This makes it a good choice if you want to go out while earning some extra money.
This app can be a good option if you like to walk or bike and would like to make money by delivering food for others!
24. Sidewalk Dog
Sidewalk Dog is an app for dog lovers! This app allows you to take care of other people's dogs while earning money. Dogs are always happy to see you, so the play time will never end!

You can also take your own dog with you on walks which can be great if they need extra exercise. This app can be a good option if you like dogs, love walking and would like to get paid for doing this!
25. Vitality
Vitality is another health app that pays you to walk! This is not just about getting active but also aims at helping others.

Vitality uses the money they earn from its users to fund research programs and give back to communities. This makes the app a great option for those wanting to stay healthy while doing good!

You accumulate points based on your degree of participation, which can be redeemed for rewards such as digital cards.
Summary for the Best Apps that Pay You to Walk
We hope this article helped you learn more about the best apps out there that will pay you to walk. If you're interested in making an extra income by walking, be sure to check these apps out!

The internet has provided the opportunity for people to make money, as long as your phone is on and connected to GPS you can make money from these apps

So, what do you have to lose? Install some of the apps, fasten your shoes, and go for a walk, and the most important thing is don't forget to have fun while you're doing your work.