How You Can Upload Drawings And Make Money As An Artist In 2023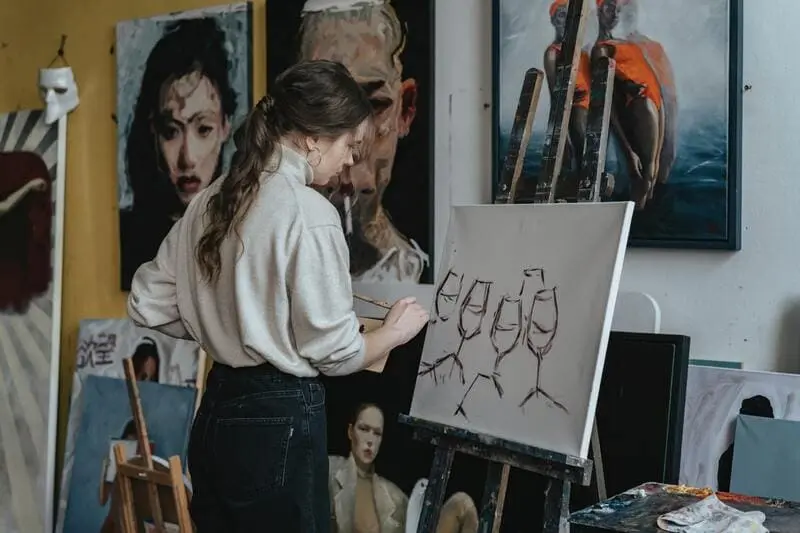 NOTE
If you want to make job replacing income and want to work online from the comfort of your home or anywhere in the world
Take a look at this - Live Chat Jobs

If you are an artist or creative individual and want to make some extra money by selling your artwork online, then you have come to the right place. Technology has made it easier than ever to sell your artwork online and make extra cash.
Drawing Art is a multi billion dollar business. This is great news for artists everywhere. In the past, selling your artwork in person, through galleries, and in shops was the only viable option for budding artists. Now, thanks to the internet you can sell your work easily from home.
Before you can start selling your art online you will need a way to display it online. This means you need a site to display your portfolio to potential buyers as well as accept orders for your artworks. In this article, we are going to cover some of the basic ways to start selling your art online today.
Here are some Of the sites where you can Make Money By Drawing as an Artist
1. Etsy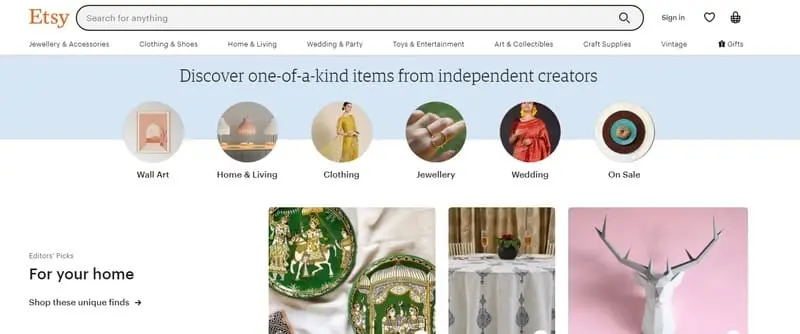 Etsy is an online store that hosts handmade items, vintage items, and supplies for creative people. You can sell your artwork on Etsy by creating an account and listing your art on the site.
Etsy charges a 3.5% commission on your artwork sale. You can set your own prices for your artwork and Etsy will also take care of shipping your product to your customers.
You can keep track of your sales through the site's dashboard. The site also provides you with tools to create social media buzz about your artworks.
2. Amazon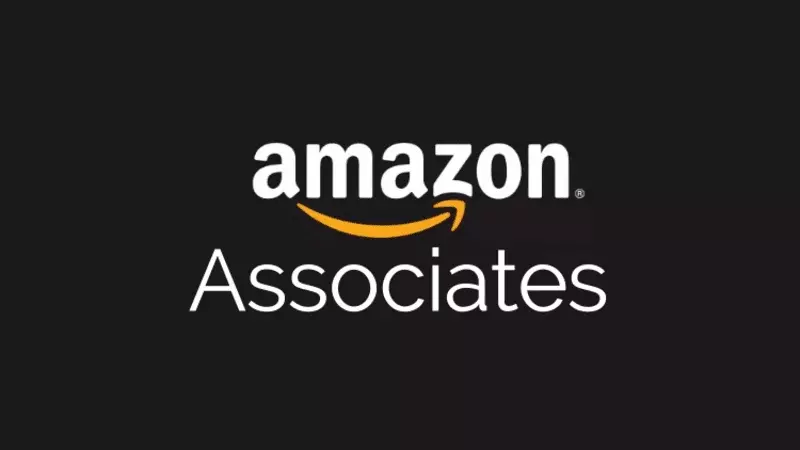 Amazon is another popular site that people use to sell Art online. Amazon's seller program allows you to sell products on Amazon without maintaining inventory.
Selling Artwork on Amazon is fairly easy; all you need to do is create an account with Amazon and start uploading your products to the site for sales. Write a clear description of your art and list a price for it; customers will be able to view and buy your products and Amazon will handle the shipping for you.
You will receive payments from Amazon monthly after your products have been shipped and sold to customers. To increase your earnings on amazon you can also advertise your art listings on amazon's advertising program for a fee.
Making Money By Drawing as an Artist can be fun and profitable if you know where to look and how to get started.
3. Instagram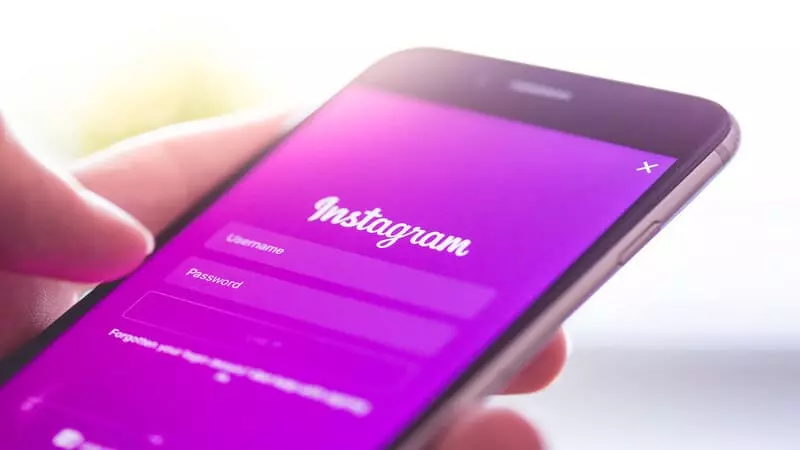 Instagram is one of the most popular social media platforms that people use to share their photos and stories. Instagram is a great platform for selling your artwork online.
You can create an Instagram account and list your artwork. You can post pictures of your art pieces and even use hashtags to get people interested in your work.
You can also encourage your followers to purchase your works by using links in your bio section to direct them to your online shop where they can purchase the artwork. People love to buy directly from artists on Instagram because it gives them the chance to interact with the artist and learn more about their works and the methods used to create them.
This can also help the artist gain more followers and build a community around his work and brand as well.
4. eBay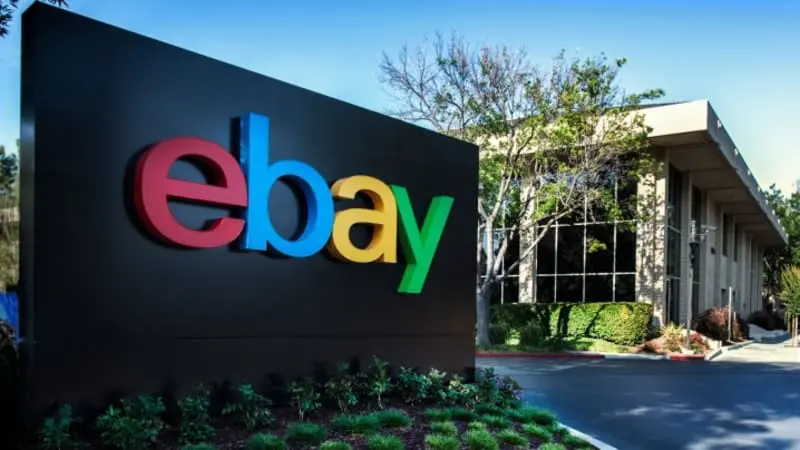 eBay is another popular site that people use to sell products online. You can sell your artwork on eBay by creating an account and listing your product on the site. eBay charges a fee for your artwork sale.
Create an account and upload your artworks for sale; set a price, write a clear description, and include pictures of the product in the listing to attract buyers. You can also create a store account; this will give you additional tools and features to make your store look more professional to potential buyers and help you keep track of your sales better.
You can use tools like Buy It Now, Sell It Now, Best Offer or Auction to list your items for sale on eBay.
You can also use eBay's marketing tools to advertise your listings and get more sales; these include pay per click ads, sponsored listings, and more.
5. Sell on Your Own Site
If you want complete control over your artwork sales, then selling on your own website is the best option for you. You can create your own online shop and sell your product.
However, you will have to maintain inventory and ship your product on your own. This option is a little more work than other options, but it will give you the highest profits for your artwork sales.
Using your own website means that you will also be able to collect email addresses of your customers so you can reach out to them in the future and offer discounts and promotions on your artworks or new products you are creating for them to purchase in the future.
Earning money for your drawings can be a fun and profitable experience if you put in the time and effort to create a good portfolio, spread the word about your work, and use the right tools to reach the right audience with your works.
6. Saatchi Art

Saatchi Art is an online art gallery where artists showcase and sell their works. Established for artists, to publish and sell art, this site has become one of the largest art websites in the world.
List your product with the correct pricing and upload clear images to get people interested in buying from you. Getting started on this platform is quick and easy, you can start selling right away.
You can make money by drawing on Saatchi Art by selling original paintings, limited edition prints, photography, sculpture, and other kinds of art on the site. The site offers multiple ways to earn money.
When the buyer wants to buy your drawings, the site will contact you directly and give you instructions on how to process the payment and shipping of your order. This site also lets you set your selling prices and gives you the freedom to decide how much you want to earn from your art works.
7. Minted
You should definitely check out Minted. It's a marketplace for original and curated products created by independent designers and artists. This means that they support artists in so many different ways.
Minted helps artists by:
Identifying trends and establishing trends.
Making artists aware of design opportunities and contests.
Opening doors for artists to meet potential buyers.
Marketing artists' work until they are sold.
If you are an artist and want to boost your sales, Minted is a great place to start. Upload your original paintings, limited edition prints, photography, or other kinds of art to their site to get started earning money for your drawings today.
8. Creative Market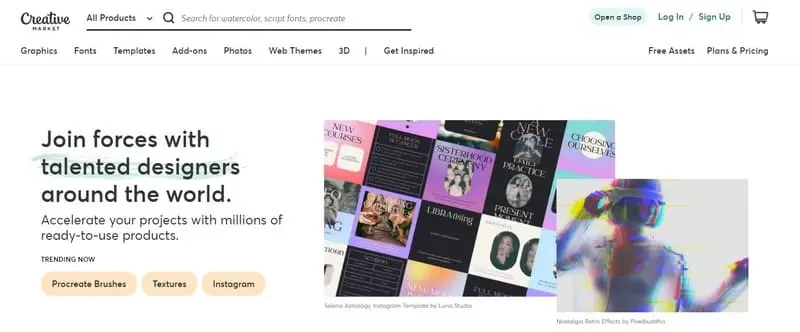 Creative Market is a store for high-quality design resources created by independent designers. They offer a wide range of creative assets including photos, digital goodies, patterns, fonts, and mockups. Creative Market offers their design products to digital artists, web developers, web designers, and graphic designers.
This site allows you to build design collections, and it also helps you make money. You can sell your own products on Creative Market to interested buyers.
All Creative Market products are sold as one license for use on you personal projects only. You cannot resell or redistribute the PSD files, digitals files, images, or music files.
Selling your drawings on this site will help you earn money from your creativity while also helping you connect with other artists and designers who can inspire you and help you grow as an artist. Start earning money from your creative talents with Creative Market.
9. Selling your Drawings on Artpal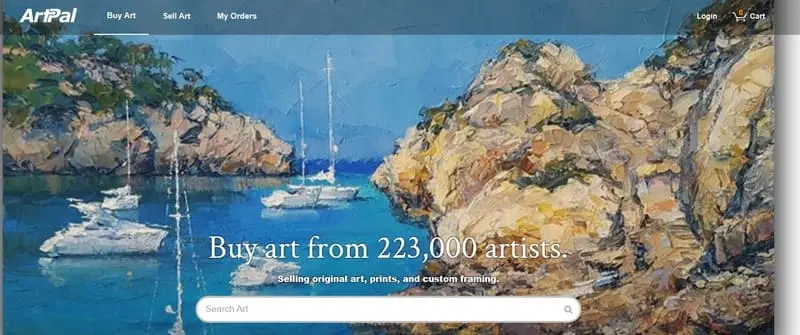 Artpal is a website where artists can exchange their works and make lots of money. This site accepts a variety of art styles and mediums including drawing, painting, photography, photo manipulation, typography, composition, illustration, and sculptures.
You can list your art on this site by creating an account and uploading your works. Artpal will take a cut of the price you sell, which is significantly less than many of Artpal's competitors.
You can earn a good sum of money by selling your art on this site. You can showcase your artwork to a wide range of audiences.
10. Fine Art America
FineArtAmerica.com is a marketplace for artists and other lovers of fine arts. This site is one of the largest art communities on the web.
They have a vast collection of fine art images that are reviewed by a panel of artists as well as editors before being approved. On this website, you can find over 3 million images created by more than 50,000 talented artists and photographers from all around the world.
Artists are welcome to upload their own work for approval. The upload process is fairly simple. When someone buys your art from the site, Fine Art America will take care of printing and shipping for you so you don't need to handle shipping and packaging yourself. You will earn royalties every time someone buys a print of your drawing from the site.
Also See: How To Get Paid For Selling YOUR IDEAS
11. Selling on Online Art Gallery
Online Art gallery is a great option to sell your art work. The commissions they charge are lesser than some of the other options on the market.
This is an easy way to take your work to the art lovers of the world and introduce them to your creative genius and artful work. With an art exhibition like this, you can share all your artistic work, which includes but is not limited to photography, paintings, graphics, drawings, etc.
For uploading your art on an Online Art Gallery site; all you have to do is create an account with the site and follow the guidelines they have given you on how to upload your artwork to the site successfully.
You have the choice of keeping your prices higher or lower depending on the demand you have for your works as well as the market price of your works in the market currently.
This is an easy way to sell your work and earn money from it without the hassles of physically meeting a buyer to sell it to them personally and then having to ship it to them yourself as well.
12. Artplode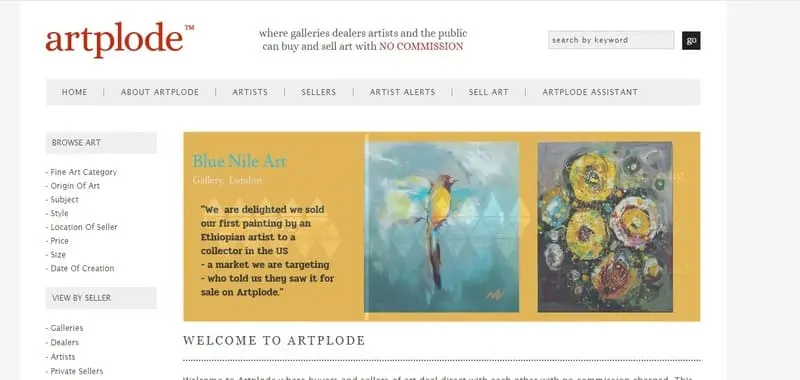 Artplode is a worldwide online art gallery dedicated to selling art for emerging artists. It also sells limited edition art prints. Artists on Artplode receive payment for sales that they receive after selling the artworks on the website.
Aside from being an online art gallery, Artplode also makes artworks available to print on demand. If people like your work, they can purchase your artwork or gift it.
Create an account, click on Sell Art to start selling your work and start making money from your artistic talents. Earn money for all your drawings today.
13. Sell on Stock Vector Site
Stock Vector illustrations on VectorStock are very popular among creative professionals. Artists can upload their vector artwork and promote themselves by writing a blog or on social media.
VectorStock accepts diverse artwork such as vectors, illustrations, and drawings, artwork including cartoons and artistic type scenery as well as vector cartoons.
Artists can sell their artwork and make a profit of up to 75% of the sale price.
14. Cafepress

Cafepress is a site where you can make money by selling merchandise or clothing online.
You simply upload your art onto Cafepress and design a product around it to sell on the site. You earn money for every product you sell on the site through Cafepress revenue sharing program.
This revenue sharing program divides the profits between the seller and the cafepress company based on the type of product sold. The profit percentage varies depending on the product type sold.
Cafepress prints your art on different merchandise from tees to personalized mugs and shirts. Each item you can buy will have a retail price set by you, but this price is not your cost.
Cafepress will take a margin from your sale and it will take care of printing and shipping for you so you don't need to handle shipping and packaging yourself.
15. Teespring
Teespring is a famous clothing company for artists. Artists can use the company's e-commerce platform to sell T-shirts, hoodies, and other apparel. Teespring provides a platform for artists to showcase their artwork to a wide network of buyers.
Artists can also be a part of the Teespring community by designing t-shirts and selling them on this company's website. When an artist's design is chosen as one of Teespring's products, they will get paid 10% of the sale.
Artists on the platform can also create their own stores. Sellers in the store environment can sell any products that they set prices for and create marketing campaigns.
16. Fiverr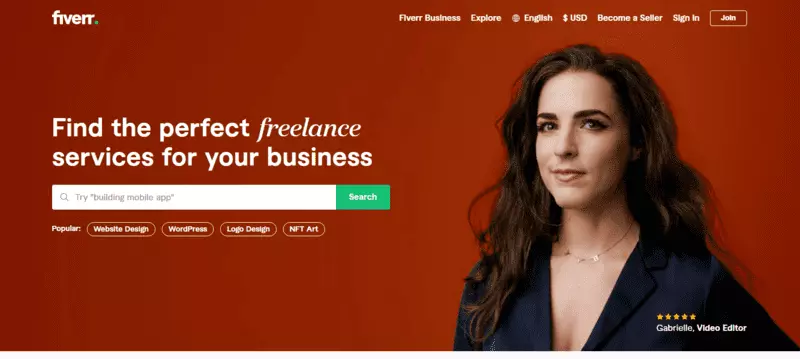 Fiverr is a global marketplace for work that consists of creative and technical services. It is the world's largest freelance website where millions of services are offered by top-quality freelancers.
Selling your drawings and artwork on Fiverr is one of the best ways to make money as an artist without investing a lot of money in setting up your online store, managing a website, or writing blogs to promote your work.
You can use Fiverr to market your talent to millions of people around the world and earn a reasonable amount of money for every service you offer on this site. You can sell your drawings to graphic designs through this site.
All you need to do is create a profile and then start offering the services you want to provide on the site for people to buy.
17. Zazzle
Zazzle is one of the world's biggest marketplaces for stationery, gifts, clothing and accessories, wedding products, mobile phone cases, and other stationery products. This marketplace is made so that the artist can create and promote their drawings and artwork to the world.
Upload your drawings on the website and choose the products you want to sell online then design your own shop and start selling your products to the world with Zazzle. This company also helps you advertise your brand on its platform by providing marketing tips, and other resources to help you succeed with your online shop.
Just like Cafepress, Zazzle also has a revenue sharing program that shares the profits made between the artist and the Zazzle company based on the number of products sold by the artist on the platform. You can promote and sell all your drawing designs on Zazzle's platform today and make good money out of it.
18. Redbubble
Redbubble is a marketplace for art and design products. Redbubble gives artists, photographers, and designers a place to sell their designs on a variety of products including T-shirts, posters, bags, stickers, and stickers.
To make money on this site, create an account, upload your drawings to the platform and place your drawings on products like T-shirts, bags, and phone cases, then start promoting them to make sales on your artworks.
The artist gets paid a commission for every product sold on the platform through the artist's account.
The more creative and unique your products look, the more chance you have of earning more from this site as more people will be interested in buying them.
19. Society 6
With Society6, you can turn your designs into unique products that people all around the world can buy.
You can upload your drawing on merchandise like clothes, phone cases, posters, notebooks, and more similar to Cafepress and Zazzle. Once you have your own shop, you can start selling your products and creating passive income.
When creating a shop on Society 6, you have 6 linking options to choose from.
You can choose to link directly to your website, Etsy Store, Facebook Shop, Amazon, eBay, or Shopify.
The linking options work well for people who already have an existing portfolio of drawings uploaded and want to promote products on their stores. A Society 6 storefront gives you the opportunity to showcase and sell unlimited products.
20. Spoonflower
Spoonflower is a website where artists can design and print their own fabrics for sale online. They specialize in fabrics, wallpaper, and other textile design materials.
If you are an artist then you can create your own design and print designs to things like home decor, apparel, bags, accessories, and more.
Create an account and upload your artwork, so that people can purchase the fabric with your designs. Sell a fabric with Spoonflower online and earn money per fabric sold depending on the size and fabric type you uploaded.
Also Read: HOW TO MAKE 250 DOLLARS FAST
Conclusion
The above methods show you can make money as an artist by selling your drawings online. There are many ways to make money as an artist without investing a lot of money.
I hope this article helps you in understanding how to make money as an artist from home fast.
The techniques listed above are some of the easiest and will help you make more money from your passion. So stop wasting time and start making money as an artist today.