13 Best Sites To Find Freelancing Gig Jobs In 2023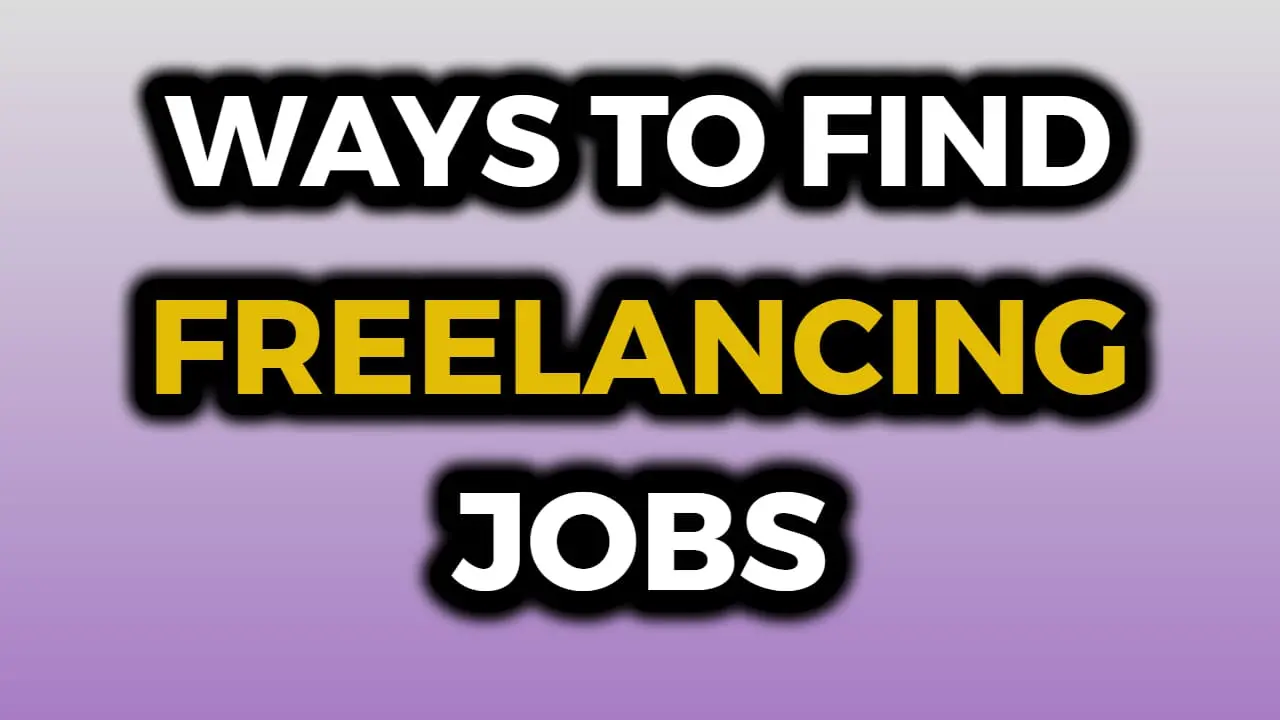 NOTE
If you want to make job replacing income and want to work online from the comfort of your home or anywhere in the world
Take a look at this - Live Chat Jobs
Freelancing can be a great way to earn money and work from home. However, before you take the plunge into freelancing, this article will provide helpful tips for finding freelance gigs that will get you started.
Gig job sites are a great place to begin your search for freelance work. These types of websites allow you to search for jobs by industry, location, and job type, making it easy to find exactly what you're looking for. Some freelancer sites also have message boards where employers post jobs they are looking to get filled. This can help get your name out there and help you connect with the right people.
Freelancing can be a great way to make money without having to commit to a full-time office job, but it is important that you connect with professional employers. A good way to find the right clients is by networking with other professionals.
Gig jobs are part-time jobs that people take on to supplement their income. In addition to freelance writing, you can get paid to do a variety of things from editing photos and videos to performing voice-overs for animation. These types of gigs are ideal if you have a specific set of skills that someone is willing to pay you for.
Here is a list of 13 Best Sites to Find Freelancing Gig Jobs
1. Upwork
Upwork is one of the most popular freelance markets, with millions of users. You can find gigs in everything from web development to graphic design. Upwork is basically a platform that connects freelancers with clients.
This site has a rating and review system that lets freelancers rate their employers as well as vice versa. This allows you to find the best clients and work for those who treat their freelancers right. You can read reviews on potential clients to find out what others experienced working with them.
Signing up for this site is free, but you have to either pay a fee if your job results in a hire or if you want to be contacted by employers. You can sign up as a freelancer or an employer. Employers post jobs that they want to be done, and freelancers have the opportunity to bid on the job.
One-time jobs and long-term contracts are both available through this site. Depending on the type of job you're looking for, your payment will vary. Upwork's website is used to handle the contract, which includes time monitoring and billing and you're paid via a variety of methods, including direct deposit, PayPal, bank transfer, and more.
2. TaskRabbit
TaskRabbit is an online marketplace where you can get paid to do a variety of odd jobs like running errands, moving furniture, and dog walking. If you're looking for short-term work on the weekends or temporary gigs while you search for more stable positions, this site may be right for you.
This website differs from others in that you aren't applying for a specific job. Instead, you're bidding on jobs that will be allocated to the lowest bidder.
In order to get started on this site, you have to define your work preferences, which include where you live and the types of tasks that interest you. You can indicate if you are available for full-time or part-time jobs. Payments are made via direct deposit or PayPal.
Users frequently save their favorite Taskers for bookings later on. If someone has already received positive reviews you can click on their name to see what they are like for future gigs. So, with TaskRabbit, gaining repeat work is very much possible.
3. Freelancer
This is another freelance site that connects employers with freelancers. You can search for jobs by job title, skills required, and more to find the best fit for you. This site also has a rating system, so you get an idea of what other users thought of their work experience.
Freelancers on this site set up accounts where they can set up a portfolio, create a profile page, and upload past examples of their work. Employers pay you directly through this site to ensure that you're paid correctly and quickly.
The payment varies depending on the type of job as well as the length. Invoices are sent to employers from Freelancer for jobs completed.
4. FlexJobs
Flexjobs is a site dedicated to professionals in the fields of technology, healthcare, and business who are looking for flexible jobs, such as telecommuting and part-time positions. For example, you can find jobs in traditional office settings, but also work-from-home ones.
This site does require a fee to use the service and offers coupons for discounts from time to time. The company is transparent about its billing practices and says that they do not share your personal information with anyone without your permission.
It's also free to sign up for this site. You can create a profile and upload your resume, which will be one of the things employers look at when considering you for potential jobs.
Flexjobs charges employers for posting job ads on their site, so they have no need to contact you directly with marketing promotions that are common in the freelance world.
How does it work?  – You can select your desired skills, location, and hourly wage to get started when creating an account on the site. Jobs are generally assigned based on skill level, but some sites prefer that certain professionals handle others due to past quality of work completed or their personal relationship with the client or employer.
Before jobs are posted, they're checked by Flexjobs staff to ensure that the details of each job meet their requirements and qualifications. Job seekers can also apply for jobs directly on the site without waiting for a specific position to become available; this is helpful if you would like to be considered but aren't actively looking for work right now.
5. Guru
Guru is a freelance platform where your projects are posted and bids from freelancers are submitted. You can find legal, administrative, IT, and other types of work on this site as well as the more standard writing jobs.
This website has positive reviews which you can read up about before bidding for jobs. To join guru .com, you need to create an account with your name, email address, and password.
You do not have to pay anything when registering or bidding on jobs. Guru also doesn't charge sellers any fees for posting their projects.
How it works –  When you've found a job listing that interests you, simply click 'Review Job' to read more about it. If you are interested in working on the job, click 'Bid for this project.
To start bidding for a job, you need to sign up on Guru. You can do that by clicking the "Sign Up" link at the top of the page under search results.  When registering, you'll be asked to share your personal information. Fill in the form to complete your registration.
Companies that hire –  Amazon, Global Market Exchange, Fiverr. Payments are made on a per-project basis. 
6. People Per Hour
Another great freelance market is People Per Hour. It allows you to connect with employers from across the world. This site charges a fee to clients who hire freelancers, so it is meant for only those who are serious about hiring a freelancer.
Peopleperhour offers a wide range of jobs, from coding to logo design and everything in between. You can also bid on hourly projects if you're willing to work for an affordable rate.  You can add your profile picture and boost your chances of landing popular jobs by selecting the best category for yourself.
How it works  – Peopleperhour has an easy and intuitive interface that lets you search for jobs, create a profile, and bid on them. To apply for a job, click on the 'Apply' button under the description of the project and describe how you can meet its requirements. You need to bid within 24 hours or lose out on the opportunity.
You can also submit your CV, which will be seen by employers if they are looking for someone with specific skills.  Keep in mind that you'll be outbid if the project owner already has at least one other freelancer bidding on the job.
Once the job is completed, payments are made by bank transfer Payoneer or Paypal.
7. Fiverr
Fiverr is a platform that offers creative and technical services in the form of gigs. Prices are set at $5 USD, which is why it's called Fiverr. You can use this site to get help with design needs such as graphics, logos, and banners for your website.
Another option on Fiverr is to get content writing services. Whether you're looking for someone to hire you as a writer or editor, one can find many freelancing jobs on Fiverr.
There is also a large marketplace of writers and editors on this platform who will edit and proofread your work for less than $5 per page. You can choose one based on the reviews written by previous clients.
8. Toptal
Another site you can use to find someone who fits your needs is Toptal. This website specializes in finding freelance software engineers.
Their Preferred Freelancers are extremely talented and mostly come from a university background. They also offer an enhanced screening process that only allows the highest caliber developers on their network.
One of the best things about Toptal is that you can enjoy their services for three days without signing up. This allows you to test out the network and see if it's worth your time.
If you like what you see, sign-up for a membership with Toptal by following the steps on their website. To start using this site, sign in or make an account, select a job you'd like to work on, and submit it. You can also look for opportunities by browsing categories such as programming languages or software development domains.
Fees –  Since Toptal moves the responsibility of finding and hiring freelance developers back to businesses, there is no fee involved. The site is free for freelancers and clients worldwide.
9. 99 Designs
99designs is the world's largest graphic design marketplace. It allows prospective clients to post projects in search of a designer.  You can apply for jobs that are within your skill set or bid on contests.
Some professions you can find on 99designs include logo designers, web designers, and mobile app developers. If you have a special skill that isn't mentioned, you can anyways provide your design services on this platform.
Some of the benefits of using 99designs are getting bids from multiple designers and choosing the best work to be delivered to you. You can also see past projects completed by freelancers making it easy for you to make a decision regarding their capability. If you have a lot of money to spend on the project, you can even get multiple designers working simultaneously.
You can skip the middleman and go straight to a freelancer by posting your design needs in the marketplace. Designers who have signed up with 99designs will see your post and submit their designs to win your business. This eliminates any confusion that may arise when using 99designs to find the most suitable designer for your project.
10. ZipRecruiter
ZipRecruiter is a site that allows businesses to connect with potential candidates. They offer email alerts for jobs posted on the site, which can be customized by industry or location.
You can use this website to find freelancers who are looking for work in programming, writing, design, and customer service among others.  It's easy to apply for jobs with ZipRecruiter and you can start doing so by signing up and entering your email address. The site will send you notifications regarding the latest job openings matching your selected criteria.
There's no fee involved, and the site only requires an email account and phone number to sign up.
11. Cloud Peeps
If you're looking for freelance gigs, Cloud Peeps is a website you can use to connect with brands and companies. This platform allows businesses to find freelancers who live in different parts of the world and work according to their time zone.
It's possible for you to look for opportunities by browsing through categories of freelancers such as marketing, copywriting, data science, etc. Once you've selected the category that interests you, you can look through available jobs and start applying for those that interest you.
Cloud Peeps' pricing is transparent. It charges a finder's fee on contracting deals done via its site (excluding deals with a value less than £400). The platform offers a payment guarantee in case clients fail to pay freelancers on time.
12. Behance
Behance lets you showcase your work and build a portfolio. It has more than 500 million users, which means there are tons of opportunities for freelancers to get hired.
Some of the freelance jobs you can find on Behance include digital design, web development, photography, illustration, industrial design, etc. The platform allows businesses to post projects which are open to bidding. You can also register your profile on Behance if you're a freelancer who wants to keep track of new opportunities.
To join Behance, you simply need to create an account on the site. It doesn't cost anything, and you can start looking for freelance jobs by browsing through the different categories.
13. Craigslist Gigs
Craigslist has a unique kind of job board that's available to its users. Users can post gigs related to almost anything under the sun.
You can find freelance web development jobs on Craigslist, but you need to be careful about applying for them since they're not curated like other freelance sites. Sometimes you may apply for a job and never hear back from the employer.
Joining this site is quite easy. All you have to do is create a free account and you'll be able to look for jobs through their site. You can search Craigslist job posts by city, making it easier for you to find the most suitable gig in your area of expertise.
Conclusion
Freelancing can be a nice way to earn money without the commitment of working within an office. Whether you're looking for web development jobs or other types of projects, these sites mentioned above should help get things rolling.

Since there is such a wide variety of types of work offered on these platforms, it's easy for freelancers to get their foot in the door with one side while keeping an eye out for other opportunities elsewhere.

Let us know if you have tried any and which site has been most successful for you.