How To Be A Money Making Instagram Influencer (in 9 Steps)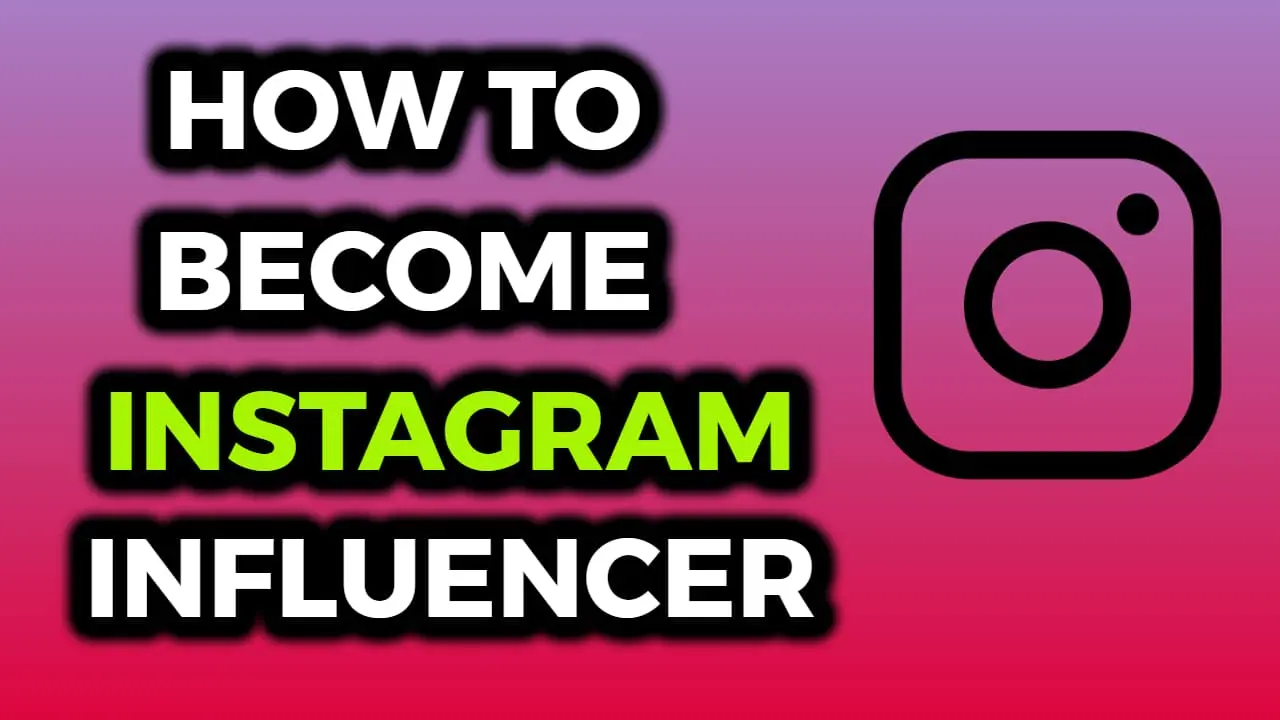 NOTE
If you want to make job replacing income and want to work online from the comfort of your home or anywhere in the world
Take a look at this - Live Chat Jobs
Influencer marketing is the future. It's one of the fastest-growing industries in America, with a projected value of $30 billion by 2030.
The idea behind influencer marketing is to find people who are already popular in their niche and have them promote your product rather than trying to create buzz for it yourself. For example, you might partner with an Instagram fitness star or YouTube beauty guru for a sponsored post on their account.
You can also pay influencers to mention your brand in posts that they write themselves or pay them to wear clothing from your company while they go about their day-to-day life (this type of media is called "Influencer Marketing"). The point here is not necessarily getting someone famous like Kylie Jenner to talk about your product, but getting someone who already has a sizable following and whose fans are most likely to become interested in what you're selling.
How much money can you make as an influencer?
Influencers on Instagram can charge anywhere between $70 to $3,500 for every post. Even if they're on the lower end of the range. Here's what people are earning on Instagram at the moment:
Influencers with over 10 million followers charge high rates (think $200,000 per post) depending on their level of engagement with an audience.
Influencers with 1 to 3 million followers charge around $30,000 per sponsored post.
Influencers who have 500,000 to a million followers can earn between $10,000 and $20,000 for a single Instagram post.
Although these figures are changing constantly, they give you a good idea of the range of money that's out there for influencers on Instagram.
Keep in mind that this number varies depending on the size and quality of their following as well as how engaged their followers are with them and what price they set for a sponsored post.
This is the reason why several people have decided on this career route to become social media influencers, earn money on Instagram, and gain popularity.
Many influencers have spent years building their social media presence, and that takes a lot of time and dedication. As an influencer with gradually increasing popularity, it can be hard to tell when your star is on the rise and when you're simply having a good day. If you're an influencer who wants to monetize their following, it can be difficult knowing where to start.
This guide will walk you through how to become an influencer on Instagram with the potential of making a good amount of money.
1. Identifying Your Niche
Just like with any business, it's important to identify where your strengths and interests lie. Consider what topic already has a following in or what you think you could create an audience for. If there isn't anything that you can imagine yourself doing full-time, try broadening the scope to a type of account that you're passionate about. For example, maybe you want to be an influencer on Instagram who discusses spirituality and self-care or vegan cooking?
2. Register A Business Account
Business accounts are the best type of Instagram account to have if you want to make money with your following. Once you set up a business profile, people will be able to click on your username and visit your 'about' page where they can learn about your brand or company, see your contact information.
One of the most notable benefits is that you gain access to Instagram Analytics with a business account. You can watch not only the demography of your followers, but also what posts are garnering the most interaction.
This is a tool that allows you to see how people interact with your profile so you can get a better idea of what content works best and what doesn't.
Another benefit of a business account is the opportunity to run advertisements. You can choose to advertise one of your postings if you wish to increase interactions.
If you want to monetize your Instagram following, having a business account is the way to go. It also allows higher engagement and gives followers a place to click through for more information about you and your brand.
3. Networking With Other Influencers
When looking for guidance as a starting influencer on Instagram, it might be helpful to look up other accounts in your niche and see what they're doing right. How often do they post? How long are their captions? What types of media do they use to promote themselves on the platform?
This step is all about research, observation, and preparation. Once you've gotten a clear idea about how your favourite influencers are building their brand, it's time to start networking.
4. Select Correct Hashtags
Hashtags are one of the most important factors that can help grow your Instagram account. Most people use up to 30 hashtags on their posts, but it's recommended you only use between five and seven. The best way to find relevant hashtags is by looking at what other influencers in your niche are using. If there isn't anyone in your niche, you can check out what is trending within the larger Instagram community.
The trick to using hashtags on Instagram is to always be relevant without coming off spammy. Use tags that are most relevant for your brand in order to get the best possible following and engagement on your posts. All of this will hopefully lead to making money on Instagram.
5. Create Engaging Content
Influencers can make money on social media by promoting products in their posts, but that's not the only way to monetize your account. One of the best ways to attract others is through creating compelling and engaging content.
There are several ways to go about doing this. You can create original photography, video, stories or even just bring your voice to the table by writing about your experiences. Having interesting content on your page is one of the most significant factors in gaining a devoted following that will hopefully be willing to buy into what you're selling.
You can post anything from tutorials, DIY projects, quotes, or polls to engage your audience. The content you post should be centred around the theme of your niche while also being appropriate for all ages.
6. Keep Posting Regularly
During the first few months of your Instagram influencer career, it's important to post consistently. Influencers should aim for at least 1-2 posts per day if they want to attract a following.
One way many people go about doing this is by using the "scheduling" feature that is available through something like Hootsuite, Buffer or similar. You can upload what you want to post and schedule it for either the same day or several days in advance, depending on your preference.
Increased content publishing frequency has been shown to increase engagement rates found in research. Using Buffer you can schedule upto 10 posts in advance.
Not only posting content regularly is important but also make sure you post high quality content to attract more followers.
7. Sharing Stories On Instagram
Connect with your audience with instagram stories. More and more people are looking for personalised content from influencers who can connect with their followers.
One way that you could attract a following is by sharing your stories in a series of images or in video format. You could even do it in a less conventional way, such as through written posts or live videos. This kind of content is popular because it's engaging and allows people to get to know you better.
8. Gain Followers With Engagement
As you probably know, engagement in the form of likes and comments comes in part from how compelling your content is. However, there are also other ways to get people to interact with your posts.
You could encourage followers to engage with each other by creating polls or simply asking them questions about what they think. This kind of mutual interaction will help your Instagram account grow.
On Instagram, you may use the "Explore" feature to find content to interact with and you can also follow hashtags that match your content, which then will show up on your feed.
9. Contact And Tag Suitable Brands
One of the best ways to make money on Instagram is by wearing, using, or promoting products that relate to your niche. Whether it's a fashion line or a new makeup palette, you could approach the brand directly and ask them if they would like to pay you for an ad post.
You can contact brands directly if you believe they are suitable to your niche. Particularly if you've seen them deal with some other influencers in your niche.
You can also join platforms such as Grin.co, InfluencerBay, TapInfluence an influencer marketing platform that provides a direct connection between brands & influencers. This is considered more of an ad than just straight up sponsorship because you're paid to post on your page and hopefully get others to follow the brand as well.
You can make money off of your account by simply charging a flat rate for every post posted by brands or companies
FAQs on How to Be An Instagram Influencer
Q. How long does it take to become a successful Instagram influencer?
A. The time needed to become a successful Instagram influencer varies from person to person. While some people may see success fairly quickly, others may have to work just as hard if not harder over a longer period of time.
Q. What skills are necessary in order to be an Instagram influencer?
A. In order to be a successful Instagram influencer, you must have a certain set of skills. These include but are not limited to: creativity, time management, and exceptional photography skills. It is also helpful if you have an engaging personality that will draw in your audience for further interaction.
Q. What are the most common ways that Instagram influencers make money?
A. There are many different methods that Instagram influencers use to make money. Some of these include sponsorships, ads, affiliates, and brand deals.
Q. What kind of things will Instagram influencers promote?
A. There are a lot of different items that Instagram influencers may promote including but not limited to: products, services, events, and even other influencers.
Q. What advice does a successful Instagram influencer have to offer?
A. Successful Instagram influencers may offer a variety of different pieces of advice to those who want to follow in their footsteps. Some great tips include always staying true to yourself, creating your own content if possible, and growing as an influencer by learning from your mistakes.
Q. How much money can you make as an Instagram influencer?
A. It is not uncommon for some influencers to make anywhere between $50 and $1,000 per post. However, the amount of money that is made per post can vary greatly depending on a number of different factors.
Q. For Becoming an influencer, how many Instagram followers do you need?
A. To become an influencer, one typically needs engaged followers. There is no perfect minimum number that one can point out for becoming Instagram Influencer.
Nevertheless to get an estimate here are how many followers you'll need to become an influencer:
Mega influencers: 1 million + followers
Macro influencers: 100,000 – 1 million followers
Micro influencers: 10,000 – 100,000 followers
Nano influencers: 10,000 followers or less
Final Thoughts
It takes time, effort and patience to be an influencer on Instagram. Patience is key, but so are creativity and authenticity. Spend your energy wisely by choosing what you want to focus on for your feed
Be sure that whatever it is matches who you really are! Don't worry if followers don't come naturally at first or if they trickle in one by one; these things take time. Keep creating great content that reflects your interests and passions, not just what will get more likes. And remember how important it is to engage with others as well as like other people's posts too!
As an Instagram influencer, so don't be afraid to get creative!
Being an influencer takes a lot of hard work and dedication. However, the journey can also be very rewarding! If you have what it takes to become a successful Instagram influencer then go for it!