How To Make Money On CafePress With Your Original Designs
Do you enjoy expressing yourself through graphic design? Are you always looking for ways to empower yourself? Are you interested in earning some money while showing the world your creative talents? Do you also enjoy art? If so, there is a graphic design platform that allows you to do these things and more: CafePress. With CafePress, you're capable of displaying the quality of your work to the world.
If you want to earn decent money through your designs then you should consider selling them on sites like CafePress. With an online graphic design portfolio, you're capable of displaying the quality of your work to the world. Whenever people want your graphics, you merely need to upload them to your gallery, place them in an attractive format, and send them an invoice.
Cafepress is an online marketplace that allows graphic artists to sell their art and designs. With over 2 million products, Cafepress has made it possible for people to purchase merchandise that delights them. If you're interested in becoming a graphic artist and starting your graphic design career, then consider creating a professional portfolio on CafePress.
So now that you've read what CafePress has to offer, you might be wondering how to get started.
How to Make Money on Cafepress?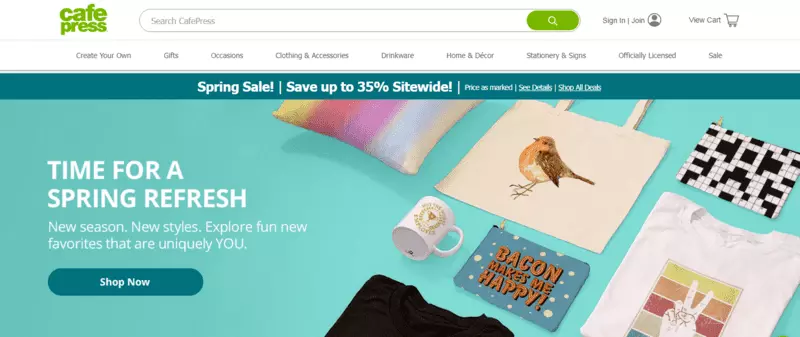 CafePress is a great place to earn money with your graphic design portfolio. However, like most online marketplaces, CafePress requires customers to have an account.
Here's how it works: You do the designing. Once you're done, you upload the design to CafePress. They accept a multitude of file types, including PDF, PNG, JPEG, SVG, EPS, and AI. The graphics must be at least 600 pixels wide. Once your product is approved, you upload it to the CafePress marketplace, and voilà!
After you upload your designs, CafePress gives you a URL you can use to link to your product. You promote that link wherever and whenever you like, such as in a blog or on a social media page.
No need to think bout inventory or shipping costs. CafePress does all of that for you. Until your orders start coming in, you'll only pay a 10 percent commission on each item sold.
1. Upload your design and get royalty payments. When someone uses your artwork on CafePress, they'll pay you a royalty. The royalty rate varies depending on the product.
2. Select a product, customize it with your design and sell inside the CafePress marketplace. CafePress charges you a predetermined base price plus a fee, and the profit is yours to keep.
3. Cafepress Partner Program: For designers who want to pursue extra revenue opportunities, CafePress Partner Program allows you to sell products, and when someone joins and makes a purchase you earn a commission.
1. Get Royalty Payments
This phase is simple; you simply upload your design to CafePress's "list in marketplace" service.
Cafepress decides where and which product to apply your designs on. CafePress will customize the product with your designs
Whenever a sale happens of that customized product, you'll get a commission. The commission is between 10-25%, depending on the product. You receive your payment directly in your Paypal account.
2. Create your own Shop on Cafepress

This step is highly recommended to take advantage of all the possibilities that CafePress offers. Every shop on CafePress features products, which you can customize with designs from your graphic design portfolio. You can make money from your designs by selling your own products.
There is no limit to the number of designs you can upload and sell, so you can put your designs on all kinds of products: t-shirts, mugs, mouse pads, etc. You can also sell your custom designs as prints or posters.
If you like to design just about anything, you can use CafePress to make a nice stream of passive income. When a sale happens they take a 10% cut
Cafepress has organic traffic which you can take advantage of by putting in the right keywords. In addition, you can drive traffic to your Cafepress shop by placing ads in Facebook groups or by simply attracting visitors by placing ads on a niche website. You can also use social media to share your designs, which will increase exposure and potential sales.
3. Cafepress Affiliate Partner Program
Cafepress has an affiliate partner program where you can earn a commission of up to 25%. You can promote Cafepress in your blog posts, social media, or email newsletters.
If you have a good following on social media, you can post regular Cafepress designs to your Facebook page or Twitter followers and earn a commission every time people purchase the designs from your link.
Anyone can use this link to sign up with Cafepress and get access to its affiliate partner program. It's totally free to join, but in order to earn a commission, you will need to promote Cafepress products on your website.
Tools for designing
You'll need a graphic design program to create original graphics for Cafepress. Some popular options for creating graphics are Photoshop and Illustrator.
You can use online websites for designing like Canva, Stencil, or PicMonkey.
You can also design your graphics with Microsoft Paint or Gimp.
However, if you are a beginner, you should consider using one of the free options available like Canva, Stencil, or PicMonkey.
Conclusion
For designers to succeed on Cafepress, they need to have an original concept and a high-quality design. The more people see their designs, the more likely they are to purchase them. With Cafepress, designers earn great money by selling designs such as shirts, mugs, pillows, tote bags, and more.
Designers can make decent side hustle money using Cafepress, but it's a matter of playing the long game. Even without a huge following on social media, you could make money off of Cafepress if you have great designs to sell.
Cafepress is definitely worth the try, as it doesn't cost you a lot of time and it's totally free.