15 Best Website Builders in 2023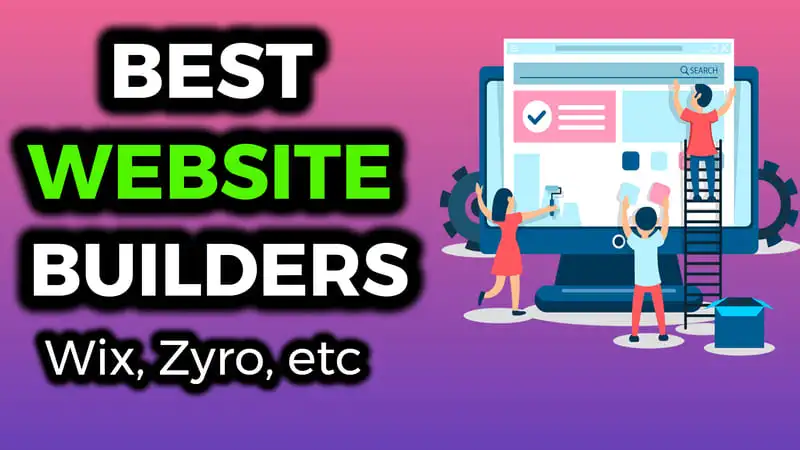 NOTE
If you want to make job replacing income and want to work online from the comfort of your home or anywhere in the world
Take a look at this - Live Chat Jobs
It is never been easier to build a website.

In the past, people who wanted to create and host their own website had to learn HTML and CSS coding by themselves, or pay someone else to do it for them. Nowadays, it's possible with just a few clicks of your mouse! Whether you're looking for an easy drag-and-drop solution like Wix or Weebly or want more control over design and functionality like with WordPress, there are plenty of options out there that offer all the tools you need.

Selecting the Most Effective Website Builder can be exhausting, there are dozens of different elements to consider when choosing the right website builder for your needs.

While not all website builders are created equal, because of the sector's growth, you now have more options than ever before, and you can simply pick the finest website builder they can all help you accomplish your goals with ease.
Here is a list of 15 Best Website Builders in 2022
1. Squarespace
Squarespace is a website builder targeted towards people who have limited technical knowledge. The company offers a range of services, from hosting and domain registration to security and customer service, all under one roof.

The tool uses an intuitive drag-and-drop interface that allows users to design professional-looking websites in just minutes. It also contains all the tools needed to run an e-commerce store, create forms for collecting leads, and manage subscriptions.

They top the list in terms of design, with over 150+ design templates to select from. Squarespace layouts are beautifully designed and carefully planned. The personal plan costs $12 per month and the Advanced plan costs $40 every month.
2. Wix
One of the most popular website builders out there is Wix. Their easy-to-use drag-and-drop editor allows anyone to build a professional looking website without having any prior design experience. Wix offers great support and allows users to live chat with customer service at any time.

Wix is very affordable, especially if you are just starting out. Their StartUp plan is only $4 per month, which includes all of their essential tools like SEO optimization, e-commerce capabilities, and ad credits for Google Adwords.

They also have a $24 per month option that has all the same tools as start up, but also includes more business-oriented features like customer support and premium templates.
3. Weebly
Weebly is another very popular website builder. It has a simple and intuitive design, making it one of the easiest tools to use on this list.

The platform comes with templates that cater to all different types of businesses: from small personal blogs to e-commerce stores and websites for doctors' offices. If you want more control over your site, you can choose from their premium templates.

Weebly offers a free plan that only includes simple features like a custom domain and unlimited storage space. Their paid plans start from $5 to $25 per month for hosting, customization tools, and search engine optimization.
4. Zyro
Zyro allows for easy customization of everything from footers to headers, making it simple for users with no design experience to create the exact site they are looking for.

They also have an ad-free plan, which starts at $3 to $15 per month and goes up depending on your number of social media followers. Zyro is great if you are a blogger or own a small business looking to expand your social media presence.

Zyro is one of the most affordable website builders on this list, especially considering they offer internet marketing tools for bloggers and e-commerce platforms for businesses.
5. Shopify
Another popular website builder is Shopify, which specializes in e-commerce. Their tools include free hosting, the ability to sell offline, and a built-in payment processing system. Shopify also has great security features like SSL certificates for protecting sensitive information during transactions.

Their plans are pretty affordable compared to some of their competitors, starting at just $29 to $299 per month. They also have a 14-day free trial for potential customers to try out their tools before committing to a monthly billing cycle.

Shopify is the best option if you are looking to start an e-commerce business and need a platform capable of running it from start to finish. Shopify offers a 14-day free trial without any credit card necessary if you want to give it a shot.
6. Webflow
The final website builder on our list is Webflow. You will have a site up and operating in no minutes with highly qualified designs.

Webflow.com is ideal for those who are just getting started with their own blog, portfolio, or internet business, the site also assists with website designing, search engine marketing, and pay-per-click marketing.

The site also allows you to use a CSS-based approach to make modifications to several items at once. You can add custom created codes to any page of the site.

Their starter plan comes with hosting included and starts at $12 per month and $36 for business features. If you have an item or brand to sell, you can quickly set up an online eCommerce business.
7. Ucraft
Ucraft is a great option for those who want to build their website from scratch.

Their editor allows you to pick your own colors, fonts, and layout for every single section of the homepage and inner pages. They also have tons of great tutorials and help sections if you need any assistance getting started.

Ucraft features over 90+ responsive website designs that cover a wide range of topics. They also feature over 100+ pre-made blocks that you may use on your pages.

You can start using this for free but they offer paid version with more tools aswell, Ucraft's tools start at $10 to $69 per month and include tools like online storage, analytics for tracking site traffic, and live chat support.
8. Jimdo
Jimdo is another very simple platform to use, making it one of the easiest to learn. It also has a variety of templates that are great for all different types of businesses.

Jimdo AI asks you specific things and creates a website tailored to your business. If you require stock photos, Jimdo can assist you out by using AI to create images for your site from their media library. They also develop navigation menus and pages that are tailored to your profession.

Their free plan includes tools like hosting and domain registration but comes with banners on every page. The site provides a free plan with basic functionality and on-site advertisements.

You get a free domain during the first year, an ad-free site, powerful Seo capabilities, and analytics data when you subscribe to their $9/month plan. Jimdo is a great option if you want to create a website within just 5 minutes using artificial intelligence.
9. BigCommerce
BigCommerce is an e-commerce builder for running online stores. It offers everything you need to get started, like product images, SEO tools, inventory management, and reporting.

BigCommerce has more complex features than any other builders on our list if you're hoping to develop a website with the possibility of selling things in the future.

Websites look amazing, load quickly, and convert well. The speed is incredible. BigCommerce utilizes API to enable front-end information on WordPress and a back-end eCommerce engine on BigCommerce, rather than clogging up hosting provider's shared hosting resources.

Their starter plan starts at $29 per month and includes unlimited products, bandwidth, analytics, coupons & deals, search engine optimization (SEO), customer reviews, and more.
10. WordPress
If you want full control over your blog or website, WordPress is a great option because it's free to use and offers plenty of customization options. They have tens of thousands of free themes and plugins that can be added to a site for extra functionality.

There are 2 platforms on wordpress first one is wordpress.org and second is wordpress.com

WordPress.org: This one is the open-source version of WordPress, which offers more freedom but is more difficult to be used for non-technical people.

WordPress.com: For this you have to pay. Although you can get assistance with theme installation and management, it is often less configurable.

Their premium plans start at $4 per month to $45 for ecommerce setup and include tools like a staging environment, daily backups, ad removal, and shopping cart abandonment recovery. They also offer 24/7 support from their WordPress experts if you need assistance with anything while building your site.
11. SITE123
If you're looking for tools like e-commerce, clickable mockups, and image galleries, SITE123 is a great choice. They also provide free hosting for your site if needed.

They have a 99.97 percent up-time guarantee and over 210+ design templates to pick from. They also include SEO tools to optimize your titles, meta descriptions, and other stuff needed to increase your ranks once your site is public.

If you want to create a new website using SITE123, you can do it by registering a free domain name, selecting a basic plan, and using the site builder.

Ultimately, SITE123 is the greatest drag-and-drop builder for individuals who don't have access to a web designer and want to get started creating websites without knowing how to code.

One can use the site for free, they also provide paid plan of $13 per month depending on what features you need (premium images, domains included in the price, modules & API, etc.).
12. Web.com
If you're looking for a big platform that encompasses all of your online needs, Web.com might be the best choice. Anyone can have a site up and operate in no time with expert designs and layout.

This is also a terrific option for a seasoned marketer who doesn't want to go through the trouble of building a website from the ground up.

Their prices start at $4 per month and include tools like hosting services, email addresses, video conferencing, live chat support, domain names, and more! They also have great customer support if you need any help getting started.
13. Designmodo
Designmodo offers a wide range of website templates and tools for building stunning websites.

Designmodo Slides allows you to make your own stable and animated website layouts. Many popular brands like Nike, Ikea, Microsoft use Designmodo.

There are over 250 slides, 130 website layouts, and 30 panels to pick from, these are premade website templates designed for you.
Designmodo builds sites that are mobile-friendly, tablet-friendly, and desktop-friendly. It also works with all retina displays.

The fact that Designmodo includes an email builder is also a benefit, as it allows you to properly combine your website and email marketing efforts effectively.

Designmodo Plans
Free
Business: $21 per month when billed yearly
Agency: $29 every month when billed yearly
14. Google Sites
Google Sites is a tool available in Google Drive that allows you to create and collaborate on web pages. The best part? It's completely free! There isn't even an option to upgrade, so it really does offer everything for everyone.

A sophisticated website with moving menus, scrolling social network feeds, and other features isn't required for everyone. A simple Website with a few static pages may serve for some. If this fits you then Google Sites would be perfect for you.

The reality that Google Sites websites are collaborative distinguishes them from the competition. Different users can be invited to contribute material on the website.

Website owners can use Google Analytics (if they have a Google account) to track traffic statistics, like page views and unique visitors, as well as demographics like location and device.
15. Duda
Duda is an all-in-one website builder that offers tools for designing, hosting, and marketing your site.

Their prices range from $14 to $44 per month depending on what extras you need (e-commerce capabilities, social integrations, etc.), but the basic plan includes everything necessary to build a professional site.

Lastly, they also have a free plan for those who want to test it out before committing. They feature a drag-and-drop editor that makes it easy to build your website from scratch or import content from your old site. You can even use Duda's eCommerce tools if you're looking to start selling products online!
What is a Website Builder and Why Do You Need One?
The website builder is a user-friendly online platform that allows anyone to build their own website easily with lots of great features. The site builder features a drag and drop interface that allows you to easily create pages on your site and customize them by placing images, text, and other new elements. This makes it simple for beginners to use their creativity and put together a nice looking website at no cost.

Generally, most website builders offer lots of free templates that users can choose from if they want to build a simple one-page website, but many complex features are also available if you want to build a more advanced site.
The Benefits of Using a Website Builder
There are many benefits to using a website builder. The best part is that they allow anyone to build their own website without the hassle of dealing with coding, learning HTML or messing around with databases.

Because these features are way too advanced for most people, you should consider using one if you're looking to get started in building your site and don't have much technical know-how.

We may say that it took the web building industry by storm because of this – anyone can browse these products and see if they feel comfortable using them to build their own site.

Since many of these website builder platforms are quite popular nowadays, you would be able to find a lot of support online as well. There are millions of visitors on these websites at all times looking for tips and tutorials, so you would always have a lot of support when it comes to building your new site.
Website Builders to Consider for Your Needs
There are hundreds of products on the market that you can try and many different features that they offer. There is a quote saying "You get what you pay for" and this may be true when looking at website builders as well. A free product would most likely not have as many features as a paid one, but this also does not mean it's not worth it.

There are many website builders that offer free plans, but some of them might not be as customizable or powerful as their paid competitors. However, you should still consider the basic features of every product before making a decision because even the most basic package may have all of the tools you need to build your new site successfully.

Some things to consider when choosing the best website builder for you, include costs, ease-of-use, and design capabilities.
Tips on How To Get Started Building Your First Site with Any of These Top Rated Builders Today!
In order to get started, you should definitely check out some of the top website builders today. Take a look at what each site has to offer and decide which one seems like a good fit for your needs.

After that, sign up for a free trial or paid account and start customizing your site by adding elements from their free selection of templates.

You can start with a simple layout and then experiment with different site elements from the library to find out which ones would look good on your site so you can come up with a unique design.

In most cases, users will need some time before they see their desired results as far as overall appearance goes so try to focus on layout first and then move on to the more complicated aspects of your site.
Conclusion
You might be thinking that it would take years to build your website. However, there are plenty of website builders out there that can help you get started in minutes! What is the best one for you? Check out our list above and see which one fits your needs.

We hope you found our list of the top 15 best website builders useful. If you are looking to create a new site or redesign an existing one, we recommend that you take into consideration these different types of platforms for building sites and understand which might be best suited for your needs. Your business deserves nothing but the best so choose wisely!