19 Top Websites That Pay To Take Pictures And Sell Photos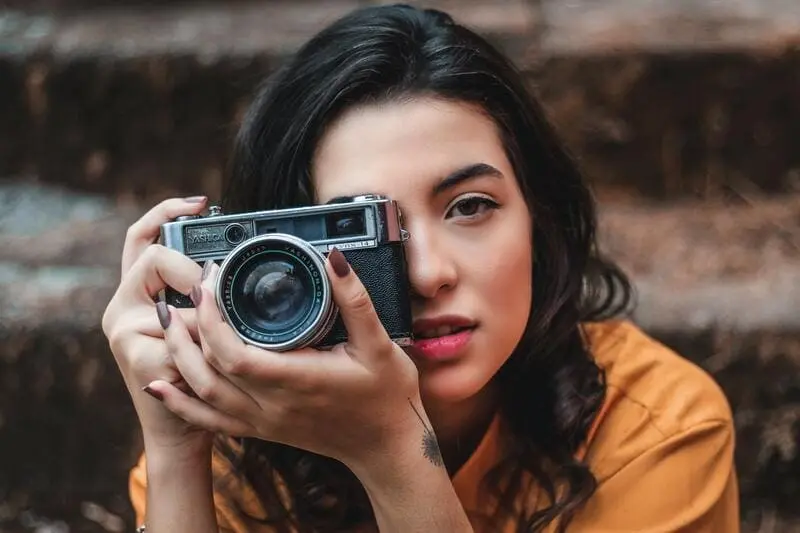 NOTE
If you want to make job replacing income and want to work online from the comfort of your home or anywhere in the world
Take a look at this - Live Chat Jobs
Searching for the best websites that pay for photos, then you've come to the right place. If you love photography, becoming a member of the best photograph selling sites can help you reach all of your creative goals.
I've compiled a list of the best websites that pay you to take pictures. Some are well-known brands, others are up-and-coming brands that are looking to grow their social followings. One thing they all have in common? They're looking for beautiful photos they can use on their websites!
Want to know the best websites to get paid to take pictures?
Well, look no further. Today, I'm sharing a list of the best places to get paid to take pictures online.
Some of these sites will pay you $10 for a picture, others $1 or $100.
These websites all have different requirements for image submissions, so you'll need to read the terms and conditions to make sure you qualify.
Here are the 19 Best Websites That Pay To Take Pictures
1. Foap

Foap lets you upload pictures to their website. They'll then sell your picture to commercial buyers. You get $10 per picture sold and you receive your money every 30 days. They currently have over 600K registered photographers.
Foap also has a mobile app that lets you upload pictures to their website and sell pictures to buyers on the go. Just download their app from iTunes or Google Play to get started. Earn money by selling your photos on Foap.
2. Imagekind
Imagekind lets you upload and sell your favorite pictures. You'll receive a 100% royalty on anything you sell and have the ability to set your own price.
You also have the option of taking a commission per sale. Imagekind has an API that lets you connect Imagekind with your website or app so you can upload and sell your art on your own site.
Start uploading and selling your art on Imagekind today. Get paid to take good photos at ImageKind.
3. Snapwire

Snapwire is a stock photography marketplace. Here you can buy and sell royalty-free stock photographs. Snapwire has millions of photographs for sale from over 70,000 photographers.
You can browse through images by category and by price. Once you've found a photo you like, you can buy it right then and there. Snapwire has flexible pricing and payment terms, allowing you to choose what you can afford.
Furthermore, Snapwire allows you to set your own royalty rate for each photo you sell. This allows you to maximize the revenue you receive for each photo you upload. Snapwire has millions of users, making it easy to sell photos on the site. Snapwire is a great resource for photographers looking to sell their photos online.
4. Getty Images

Getty Images is one of the world's largest photo agencies. It's a great place to sell photos, illustrations, or footage. It's the largest stock photography agency in the world. You'll get a 45% commission on your photos sold through Getty. Getty also gives you access to their global audience. You can sell photos on the platform, or receive it through their API or directly on their mobile app.
Getty also has an app called Stockimo where users can snap pictures, apply filters and sell them to Getty or other users.
Getty Images is the world's largest multimedia agency and they're always looking to buy usable photos, illustrations, and royalty-free footage to add to their collection. Make money by selling photos through Getty Images/
5. Dreamstime

Dreamstime is an online community of professional photographers who sell their artwork on the Dreamstime website in exchange for royalties every time one of their images is downloaded or used for commercial purposes.
You can create an account for free and start uploading and selling your photos right away. They currently offer over three million stock photos in a wide variety of categories including animals, nature, people, food, and more. They offer flexible pricing options and payments are made on a monthly basis via PayPal .
Your photos should be high-quality and high-resolution to be considered for publication. Dreamstime has millions of users, allowing you to sell your own photos or collaborate with other users and earn more revenue per photo.
Dreamstime is great for selling your photos to a global audience and earning more per photo than you would be able to do on smaller sites
6. Can Stock Photo
Canstockphoto.com is an image library that accepts photos from beginners and professional photographers worldwide in exchange for a fee every time someone downloads your image for commercial use.
If selected, your photo will be entered into CanStockPhoto's growing collection which receives over two million monthly visitors from over fifty different countries worldwide. You can earn up to $1 USD for each download of your photo and you can withdraw your earnings at any time via Paypal.
All you need to do is sign up and upload your best shots. Create an account with Canstockphoto.com and start making money with your photography today.
7. 500px

500px .com is a website where you find some of the world's best photos. When you create an account, you can upload your best photos and sell them on the website. You will receive royalties for every download of your photo, just like a traditional stock photo agency would.
If you've uploaded a lot of high quality images, you can earn some serious cash through the site as well. You can also promote your work on Instagram and get the exposure that way as well.
Each month, they run a contest where you can win cash prizes if your image is chosen as the winning shot of the month. To qualify for the contest, all you have to do is submit your best shots to their contests page.
You'll be automatically entered to win up to $500 in cash prizes if your image is chosen the winner! Every month, they run a different contest with different themes, so it's easy to enter and win cash prizes.
8. SmugMug
SmugMug lets you upload pictures to their website and set your own price. The easiest way to start earning money with SmugMug is to sign up for their Premium Membership where they charge you $40 per year to display your pictures on their website, sell pictures directly to customers who email you directly from SmugMug, and let you protect your pictures from people who aren't Premium Members.
If you don't want to pay that much money, then you can upload one high resolution image with the watermark removed for free.
You earn money by selling your pictures on SmugMug's website to your friends or family. They give you 100% of the profit! However, you can't sell your pictures directly to the general public without becoming a Premium Member first.
Related Read: 27 Best Places To Sell Used Furniture And Make Extra Money
9. Stocksy
Stocksy United is a community of artists that work together to create beautiful images together while sharing their work on Stocksy United's marketplace for others to purchase as royalty-free stock photography for creative projects of all kinds.
They have free and paid membership options that allow you to make money from selling your images through their platform. As a member, you retain full copyright to your works, receive 100% of the profits from sales, and have full access to editing tools, customer support, and more.
Get paid when other people use your photos. Just upload your best photos and make money when other people download them. Easy! To get started, register for a free Stocksy account and upload your best work. If they like what they see, they'll also feature it on their blog for more exposure.
10. Depositphotos

Depositphotos is a website where photographers can upload and sell their work in exchange for royalties every time someone downloads a photo from the website for commercial use.
Photos are priced at $0.20-$0.50 per download and you get paid monthly via PayPal for your royalties. You set your own prices and decide how many downloads you want to receive per month before your payment threshold is reached.
You can choose to receive a payout when your balance reaches $10, $50 or $100. Sign up and start uploading your work now.
11. Photocase
Photocase is another website where you can upload your photos and sell them to an audience of millions around the world. With a large community of photographers, the site is a great place to sell your photography online and get paid royalty for every download of one of your photos.
All sales are final, so the buyer won't get any refunds if he doesn't like the photos that he purchased, but this website is a great way to earn money from your photography. You can create a free account on the site and start uploading and selling your photos.
12. Etsy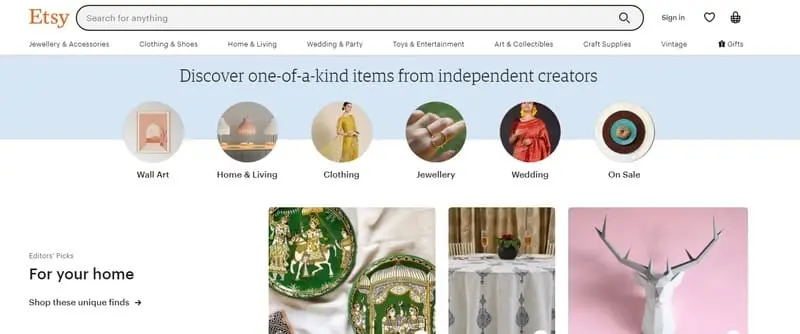 Etsy.com is a marketplace mainly dedicated to handmade items & crafts but some people also sell their photos on Etsy as well. It's a great place to sell your products and crafts online if you're crafty and creative.
You can also sell your digital products on Etsy as well. For example, you can sell your photographs on Etsy or design and sell a graphic t-shirt there. With Etsy, you can literally sell anything online.
13. miPic
miPic.co is a website dedicated to art lovers where you can purchase and download high-quality images for as low as $0.08 each. There are no subscriptions required and there are no hidden fees involved either.
Just upload your photos and set your own price on your photos. You can earn up to $30 per photo you sell. You can withdraw your money anytime you want. It's super easy to get started. Sign up with miPic today.
14. Your Best Shot
Your Best Shot is a great website to use if you love taking pictures for sports, pets, nature, and adventure. They offer the highest payouts in the industry – up to $50 per picture. Your Best Shot is a cutting edge stock photography website that connects amateur and professional photographers with buyers all over the world.
You can upload an unlimited number of photos and set a sale price on each photo. You can also specify whether or not you want to include your image in the sale galleries. One can earn money by selling photographs on Your Best Shot.
15. Splitshire

Splitshire lets you upload pictures to their website and set your own price. The easiest way to start earning money with Splitshire is to sign up with their free membership and promote your pictures on social media to earn likes and comments.
Making money selling your photo has never been easier. Upload a picture to Splitshire and choose a price you think it's worth and let the site do the rest for you. Once your picture gets enough likes, it's automatically sold and you can withdraw your money anytime you want. Signup for Free, best of all, it's free to join.
16. iStockPhoto
iStockPhoto lets you upload your pictures to their website and sell them at your own price. They pay you up to 44% royalty on every sale. You can sign up with iStockPhoto for a free account and upload 15 pictures for free every 30 days. You can also pay a one-time $99 fee to upload an unlimited amount of pictures.
Once your photos get approved, you can get upto$2 for each approved photo that is downloaded by a buyer for commercial uses. You keep all your copyrights and can withdraw your money at any time. It's super easy to get started. Get started now!
17. Fotolia
Fotolia is another great place to make money selling your pictures online if you're a photographer who loves to shoot nature, landscapes, wildlife, travel and more! As a photographer, you can sign up as a contributor on Fotolia and upload your best work to the website and earn a commission on every sale made through the website.
To join Fotolia as a contributor, you need to submit your best work and go through an approval process which may take a few days to complete. Once your photos are approved, you can start making money from your sales.
Also Read: 19 Best Places To Sell Your E-Books And Make Money
18. BigStockPhoto
BigStockPhoto is another stock photography website and a place where you can sell stock photos for as little as $1 each! That's right! Just $1!
You have full control over the selling price of your photos and you can set the price as low or as high as you want. There's no minimum payout requirement so you can withdraw your money whenever you want.
Upload your best photos today and sell them at your own price! No hassle! Start selling now and begin earning money with BigStockPhoto.
19. Shutterstock
Shutterstock is one of the most popular websites to make money from selling your photos online if you own a digital camera and love to take pictures then this site is perfect for you
Sign up for a free account and upload your best images to the website and set your own price for each photo you upload. The best part about Shutterstock is that you don't have to pay any commission fees on any sales you make. You keep all the money you earn from each download. You can get paid once a month when you reach the minimum threshold.
FAQs
Do I need a photography degree to get paid to take pictures?
No, you do not need a degree in photography to get paid for taking photographs. Many photographers start out as hobbyists or amateurs who eventually gain enough experience and skill to become professional photographers.
Some professional photographers earn their living by taking photographs for other people or companies, while others run their own businesses and charge people for their time and expertise to take photos for them.
There is no right or wrong way to become a photographer – only a way that works best for you.
How much money can I make taking wedding photographs?
Weddings are big business these days and there are many couples who are willing to pay good money to have a professional photographer take pictures of their wedding for them. How much can you make? It depends on a lot of factors – such as where you live, what kind of equipment you have, and how many weddings you shoot in a year.
Can I get paid to take pictures with my phone?
Yes! There are many companies that will pay you to take photographs of their stores or products, and then upload them to their website or Facebook page. These photographs help the company to advertise its products and boost sales.
A reputable company will compensate you well for your time, and maybe give you a nice discount in the store if you mention you are a photographer working for them.
What are the best times to take pictures?
The best time of day to take pictures is early morning or late afternoon when the sun is low in the sky. If the sun is too high in the sky it will cast harsh shadows and cause your subject to be underexposed. A midday photo shoot is not advised unless you are shooting in the shade.
Final Thoughts
The list above consists of various websites out there that pay you money for your pictures. It's a great thing for photographers because there are many freelance opportunities for them to earn money from home with their cameras.
Hope this article helps you to make some money with your camera. If you have any questions feel free to leave a comment down below and I'll get back to you as soon as I can. Thanks for reading. All the best.