How Can Social Media Influencers Be Used?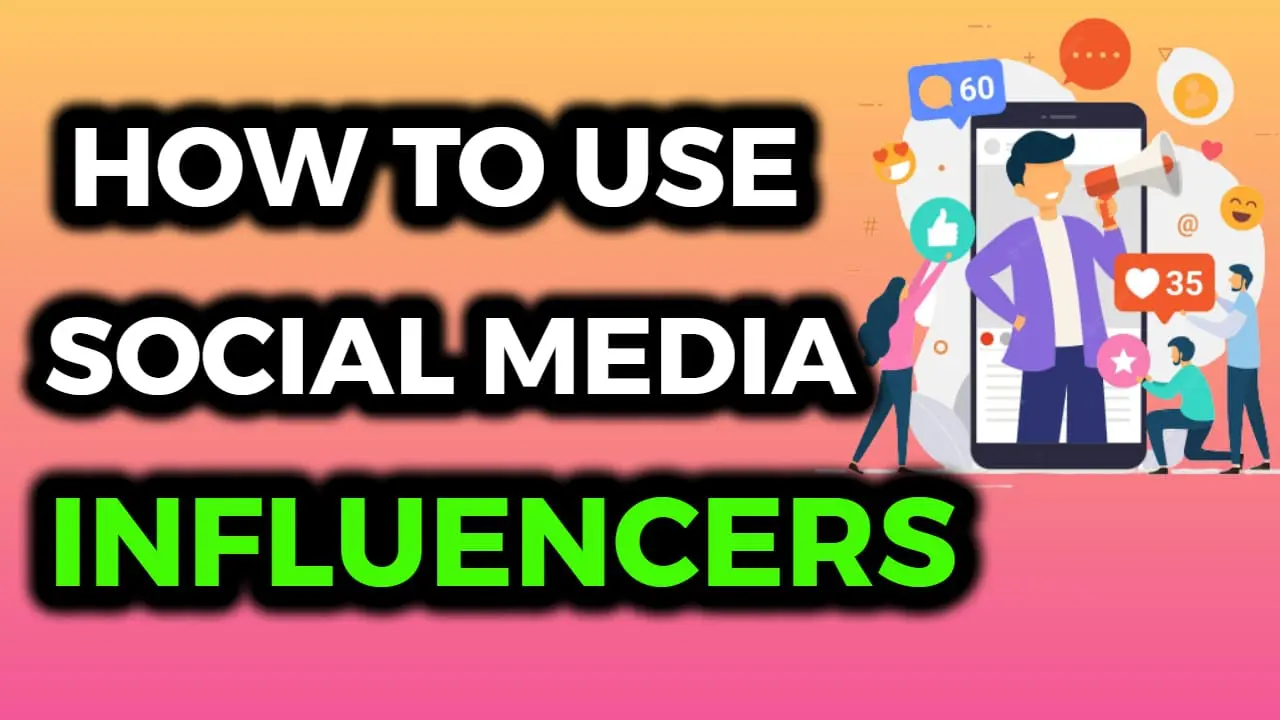 NOTE
If you want to make job replacing income and want to work online from the comfort of your home or anywhere in the world
Take a look at this - Live Chat Jobs
Social media influencers are best known for reaching millions of potential customers. They constantly post engaging content on social media platforms such as Facebook, Twitter, and YouTube. As a result, social media users rely on them for up-to-date news and product trends.
With all that being said, brands are always looking for new ways to leverage the influencer market to increase sales and increase brand awareness. Influencer marketing is a hot topic right now because it has proven to be effective for many businesses out there.
That being said, many marketers are still confused about how influencer marketing works and what strategies work best for their business.
What Exactly is Influencer Marketing?
The marketing strategy known as "influencer marketing" is focused on people with a following rather than the target market as a whole. The goal is to have these influencers share and promote the brand's message with their audience.
These influencers could be celebrities or social media stars with a large online following. According to reports, 92% of marketers who work with micro-influencers find a positive ROI from their campaigns.
Therefore, this type of marketing strategy is one that most businesses are considering in their digital marketing strategy.
Which Social Media Channels Are Best For Influencer Marketing?
The most popular Social Media platform for Influencer marketing is Instagram and Youtube because of their high engagement rates and ease of use for both brands and influencers.
In fact, Instagram has over 900 million active users worldwide, most of whom are under the age of 35.
When it comes to Youtube, it is the second largest search engine in the world after Google itself. It hosts billions of videos daily and has over a billion users visiting the site every month.
Many marketers have realized that influencer marketing works for them because consumers trust influencers more than traditional advertising.
What Type of Content do Brands Share with Their Followers?
The most successful social media influencer posts will educate their followers about the product they're promoting while also keeping it entertaining and engaging at the same time.
For example, an influencer could post a picture of themselves wearing their favourite pair of sunglasses with the brand name displayed at the bottom of the photograph, along with a link to the product page on the brand's website. It's a fantastic strategy to increase website traffic and sales in the long run.
Another Example would be a Jewelry brand that can collaborate with a Fashion Influencer on Instagram to feature their jewelry in the posts and Instagram stories in exchange for a free product or a paid sponsorship fee.
Additionally, Instagram enables businesses to promote their goods or services through sponsored posts, allowing the companies to target their audience effectively and reach them instantly.
Youtube is probably one of the most versatile social media platforms for advertisers as well because it allows them to share brand messages through video ads which are far more engaging than text posts.
Important Social Media Platforms for Influencer marketing
Instagram
Youtube
Facebook
Twitter
Linkedin
Pinterest
Snapchat
Businesses can use Linkedin as an influencer platform to reach out to other professionals in their industry and build strong relationships with them. It can also be utilized to build brand awareness among professionals and attract new leads for your business.
Pinterest is perfect for promoting your products through visually appealing graphics. It is a platform where users can pin interesting images to their boards and share them with their audiences.
Why Brands Use Influencers?
Brands can use social media to interact with influencers and create authentic relationships with their audiences. By collaborating with social influencers, a brand can gain the trust and loyalty of their followers because they trust that the influencer's recommendations are reliable and trustworthy.
In addition, partnering with an influencer gives your brand an opportunity to reach a new audience that your business might not have access to otherwise.
Some brands that have used social media influencers include L'O real, Adidas, Coca-Cola, Gucci, etc.
How Can Businesses Leverage the Power of Influencer Marketing?
There are many ways in which a business can leverage the power of influencer marketing. One of the ways they can do this is by researching the most popular and influential people in that particular niche.
Once a brand finds the perfect influencer to partner with, they can reach out to them and ask them to promote their products to their audiences in exchange for payment or free products.
However, finding the right influencer to collaborate with can be challenging at times, so here are a few pointers to help you out:
Choosing the right Influencer: When trying to find the right fit, businesses need to ensure that the content they share with their audiences aligns with the brand and that their values align with the importance of the brand as well.
For example, if your brand is all about being eco-friendly, you may want to look for an Eco-friendly influencer to collaborate with and share their content with your followers. This would help attract similar audiences to your business and grow your audience organically over time.
Choose the appropriate social media network for the campaign: Since every business has a different target audience, they should choose the platform their audience uses the most.
For example, if your audience is mainly teenagers, then YouTube would be the ideal platform to choose for the campaign, as most teenagers use YouTube daily.
Keep the budget in mind: Even though it may seem like a good idea to partner with a famous celebrity to promote your products, it may not always be the best option for your budget. Instead, you could collaborate with a smaller but highly influential person in your niche as it could prove to be much more effective for your budget in the long run.
Monitor the campaign: Once the campaign starts, you should monitor its success closely to assess how well things are going and whether or not any changes need to be made in the future.
How Can Businesses Use Social Media Platforms to Find an Influencer?
There are many tools out there that allow brands to find potential influencers to partner with on social media platforms. The most widely used tools are:
Buzzsumo: Buzzsumo is a marketing tool that allows brands to identify the most influential people in a particular niche based on their audience size, engagement rate, and a number of shares on social media. Buzzsumo can also be used to track the success of a campaign and identify which posts are increasing engagement on social media.
Followerwonk: Followerwonk is another helpful tool that helps brands find relevant people to connect with in their particular niche based on keyword searches. It also allows them to identify people who are likely to collaborate with their brand based on their interests, followings, engagement rates, etc.
SocialBlade: SocialBlade is another useful tool marketers use to find influencers to work with for their campaigns. It allows them to compare metrics, such as follower count, engagement rate, etc., across various social media platforms to find the most relevant ones.
Final Thoughts on Social Media Platforms For Influencer Marketing
Although there are many social media platforms that brands can use for influencer marketing, some platforms are more effective than others, such as Instagram, Youtube, and Facebook, because of their high engagement rates and unique targeting capabilities.
Social Media Influencer has helped many marketers, small businesses and brands to increase brand awareness and attract new leads for their business.