Important Ways to Boost Customer Satisfaction Using Social Media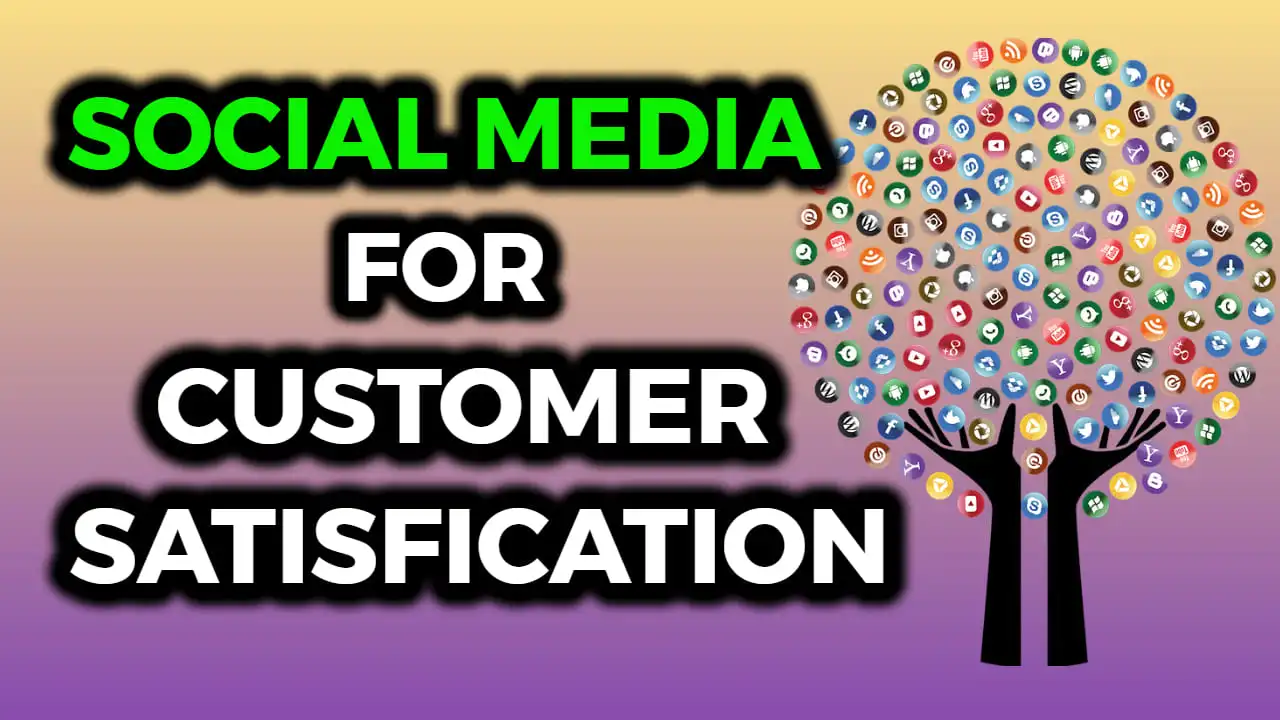 NOTE
If you want to make job replacing income and want to work online from the comfort of your home or anywhere in the world
Take a look at this - Live Chat Jobs
Customer satisfaction is a top priority for businesses. If customers aren't satisfied, they'll leave your business. One way you can increase customer satisfaction is by communicating with your customers through social media.
Did you know that a high percentage of consumers trust recommendations they receive from friends and family over any other form of advertising/marketing? Or that 62% of consumers trust online reviews as much as personal recommendations?
With social media being such a powerful influence in the purchase process, it's no wonder that 73% of businesses see social as essential to their marketing efforts.
If social media is important to your business, then it's vital that you monitor what people are saying about your brand or business online. That's why today I'm sharing how to increase customer satisfaction using social media.
What Types of Social Media Are There?
There are many different social media platforms available but for the purposes of this post, I'm going to focus on the top sites like Facebook, Instagram, Youtube, Twitter and LinkedIn.
These platforms are the most commonly used and have the most impact when it comes to increasing customer satisfaction. Social media is a great way to build a positive reputation with your customers and increase brand awareness for your business.
It also provides an easy platform to engage with your customers and hear what they have to say. But don't just sit back and watch; you need to take action too.
So make sure you have a profile or page on these top social media networks.
Customers Assume That Companies Will Use Social Media.
If you don't use social media to connect with your customers, they'll find someone else who does. And chances are they'll be more satisfied with that business than with you if they don't hear back from you quickly on social media.
Studies show that if a customer tweets to a business but doesn't receive a response within two hours, they're likely to go to a competitor instead. So don't delay responding to your customers' comments or questions on social media; this increases their satisfaction and
If companies don't use social media, customers will be unhappy. In fact, nearly nine in 10 people say they are more likely to buy from a company if they interact on social platforms such as Facebook and Twitter. social media and customer satisfaction go hand in hand.
Customers Can Use Social Media to Ask Questions, Provide Feedback, and Voice Complaints.
Social media helps customers ask questions about products and services and get answers quickly. Plus, customers are far more likely to share their positive experiences with others through social media channels than they are to share negative experiences.
If customers have complaints, with the use of social media they can raise complaints where they can be heard without the fear of retribution. But don't forget, you need to respond to these complaints too. Negative criticism should never be ignored. It's better to address it head on than let negativity fester and spread like wildfire across the Internet.
So make sure you're always monitoring your social media feeds for mentions of your business.
You Can Quickly Respond to Customer Questions, Comments, and Feedback on Social Media.
If they don't hear back in a timely manner, they may become frustrated and leave negative feedback on your social media channels. This can damage your reputation and cause even more customers to leave negative reviews about your business.
Once a customer posts a comment or question on your social media channels, be sure to respond in a timely manner. It only takes a few minutes to respond to a comment or post but it'll mean a lot to your customers if you do so promptly.
If you have staff monitoring your social channels, be sure they know how important it is to respond to comments and questions as quickly as possible as well. They'll be less likely to receive complaints if they respond quickly to customer concerns or feedback on social media.
A quick response goes a long way in building customer trust and loyalty. And that's important when it comes to increasing customer satisfaction.
Social Listening can Help Identify Customer Issues To Improve Customer Satisfaction.
Social media can also help you identify positive feedback from satisfied customers when you weren't even aware they were giving you positive feedback.
You'll also be able to address negative comments or reviews so they don't become viral and destroy your reputation and business. This way you can show potential customers that you're serious about customer service and willingness to go the extra mile to make everyone happy.
Plus, you'll find out which of your products are most popular with your audience so you can develop more products that will appeal to them. You can also use social listening to find influencers in your industry that you can partner with to help spread the word about your brand or business.
This is a great way to increase your reach and build loyalty among your customer base. By knowing which products or services are popular with your audience, you'll be able to serve them better in the future.
How Can You Create Actionable Insights From Social Listening Data?
Social listening data can be used to create a strategy across your organization by uncovering key insights related to your brand, products, competitors, markets and more.
By monitoring and analyzing social conversations, you can gain a better understanding of what your customers are saying about your brand and business – both positive and negative – and identify opportunities to improve your business and gain a competitive advantage over your competition.
To do this effectively, you'll need the right method of social listening to help you make sense of all the chatter happening around your brand online. Here are some key features to look for in social listening
Real-time alerts: With real-time alerts, you'll be notified immediately when one of your keywords is mentioned so you can respond right away and keep your customers happy.
Sentiment analysis: You can analyze the sentiment of comments made around your brand to uncover key insights that can help you make strategic decisions for your business and improve your customer experience.
For example, if a lot of consumers are complaining about long wait times at your restaurant, you can use that information to inform your staffing strategy so you don't have a long line waiting to get in for dinner anymore.
This helps you make data-driven decisions to ensure you're meeting your customers' needs and increasing customer satisfaction and loyalty.
What Can Businesses Do To Improve Their Presence on Social Media?
Here are some ways businesses can improve their presence on social media channels and increase customer satisfaction.
1. Positive Reviews and Testimonials
If you're looking to improve your online presence and increase customer loyalty, one of the best ways to do so is to ask satisfied customers to post positive reviews and testimonials about your products and service on third-party sites where your target audience can see them such as Yelp and Google My Business.
You should also encourage existing customers to share their positive experiences on social media where they can reach a wider audience with their kind words. The more you ask for reviews and testimonials from satisfied customers, the more you'll gain over time and the more you'll improve your reputation online.
2. Customer Service on Social Media Channels
If you haven't yet created a social media presence for your business, now's the time to do so! More than 2 billion people around the world use social media to connect with friends and family and share updates about their lives and businesses use social media to engage with their customers too.
In fact, 80% of consumers prefer to connect with brands through social networks rather than over the phone or email. That means you need to be where your customers are if you want to increase customer satisfaction and loyalty.
3. Keeping a Daily Schedule of Social Media Posts
If you've just started using social media for your business, it's important to create a posting schedule that you can follow every day so you know exactly which content to share and when to share it.
Creating an editorial calendar for social media can help you keep track of all your posts and ensure you're always sharing engaging content that will resonate with your target audience and help grow your business.
Plus, you can create and schedule all of your social media posts in advance so you don't need to worry about having enough time to create and post new content each day.
4. Team Collaboration to Ensure a Consistent Message Across Social Media Channels
Your team can collaborate to create consistent messaging across all social media channels and marketing campaigns so that your customers know what to expect when they interact with your business on social media or on your website.
You can promote the same message across channels to ensure a consistent brand experience. Having a consistent brand experience is important if you want to build a loyal customer base because they'll know what to expect every time they interact with you, whether it's online or in person.
For example, if you sell clothing online, you might post an image of a new outfit on Instagram and Facebook at the same time on the same day to promote the same outfit.
You can also share product updates and information about sales and discounts across your social media accounts to help generate excitement and encourage customers to shop with you instead of your competitors.
5. Using Social Media to Give Back or Support Community Causes.
When you support a cause or community initiative that's important to you or your business, it can help build your reputation as a company that cares about the community and the issues the people care about too.
It can also make you stand out from your competitors and give customers a reason to choose you over others in your industry.
For example, if you run a cake shop, you could partner with a local food charity to host a bake sale to raise funds and supplies for the food charity. Or if you own a hardware store, you could donate a portion of sales to a local community project that helps families fix up their homes.
By giving back to your community, you can improve customer loyalty and increase brand recognition among your local community.
Conclusion
Hopefully, from the above points, you can see that there are a number of ways you can improve your online presence and increase customer satisfaction and loyalty through social media and other channels.
Many businesses and brands make the mistake of thinking that being active on social media is enough to improve their online presence, but it's much more important to create a strong brand identity with consistent messaging across all channels and campaigns if you want to succeed online and make a positive impression on your target audience.
So focus on building a strong brand presence and being active in replying to your customers across all channels and you'll have a better chance of increasing customer satisfaction and generating more sales.