17 Best & Newest Ways To Promote Affiliate Links In 2023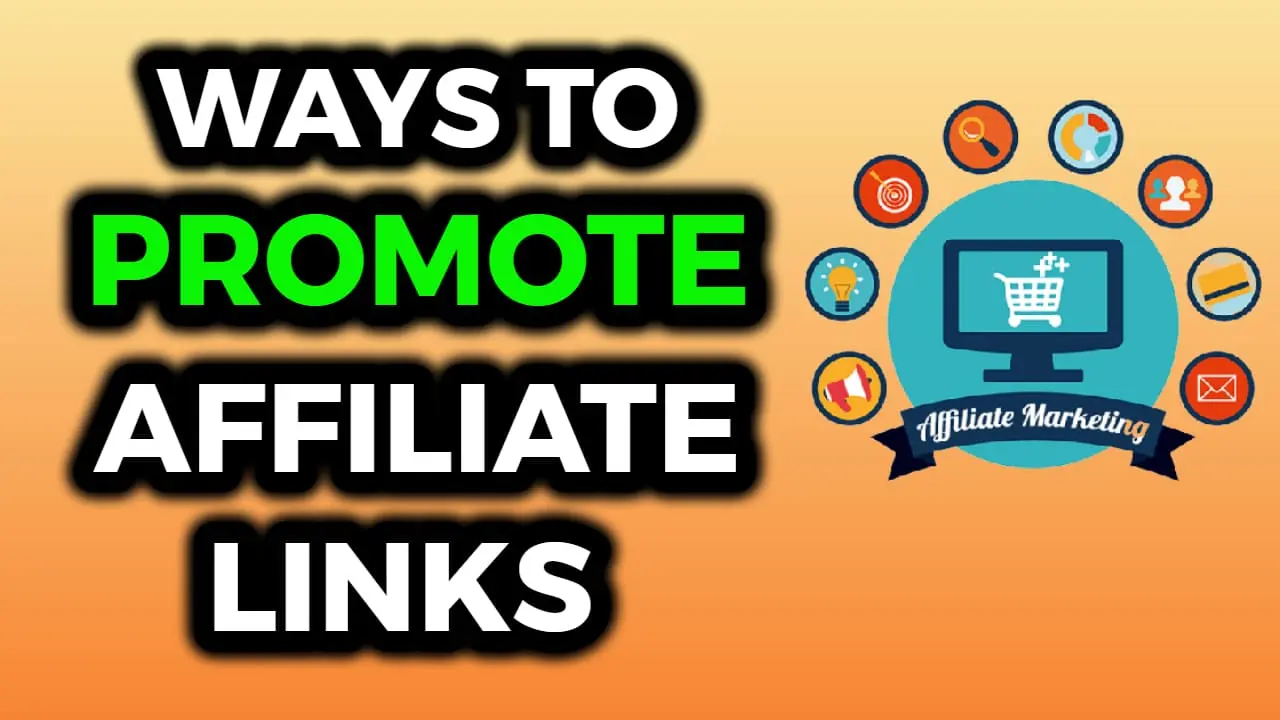 NOTE
If you want to make job replacing income and want to work online from the comfort of your home or anywhere in the world
Take a look at this - Live Chat Jobs
This article will show you how to promote affiliate links through various methods; some are free and others that require a little bit of money.
Whether you're promoting your own affiliate link or one for someone else, the important thing is to understand what works best for your particular situation!
After reading this article, you'll be able to create an effective strategy for promoting any type of product on the internet.
Here are the different ways how you can promote affiliate links
1. Promoting Affiliate Links on YouTube.
Youtube is a great way to promote affiliate links. For many reasons, YouTube is now one of the most popular locations for individuals to see product reviews and customer opinions.
You may also embed YouTube videos in your blog posts if you create them. You'll be able to increase your stay on page and get your affiliate links in front of even more people along the way.
It's very easy to do, all you have to do is post a video with your affiliate link in the description box and you have, express it in your videos.
Another strategy is to use annotations on YouTube. These are the translucent bars that appear at predetermined times and locations throughout a YouTube video, usually with a call to action. Every bar is linked directly, allowing you to add your affiliate links in the most convenient location.
Do use both YouTube affiliate link techniques to your benefit for the maximum effective.
2. Website Reviews
If you have your own blog or website, then this is a great time to review some products on your website that you either currently own, used before, or are interested in buying.
Just make sure you don't give false information bout the product on your site!. You can include affiliate links in your video reviews, written reviews, or even in the voiceover.
Give details on everything a prospective buyer would have to consider in these reviews.
Make sure you make your readers understand what this product can do for them by demonstrating how much it has benefited you and how it can support them with an issue or situation they are facing.
3. Using Banners
Affiliate banners are a good way to link ads to the products you love. You can use this on your blog or website, where ever you feel necessary.
You can also check with online marketing forums and see if they allow banner advertising on their site, as they are usually more lenient about what they call affiliate links. This type of forum is usually for internet marketers who are promoting affiliate links all day, so it's probably not going to be an issue there.
Using affiliate banners will help to increase your chances of obtaining sales for the affiliate products you are selling or promoting.
4. Paid Advertising Methods
Paid advertising methods are another easy way to promote affiliate links. If you have the money to pay for advertisements then by all means go ahead! There are many places that provide ad space for reasonable prices, but it's very important to know what you're getting yourself into before spending any money.
You can check out advertising options on Google Adwords, Bing, Yahoo, and Facebook. As long as you have your affiliate link handy, you should be able to set up a paid ad in a matter of minutes.
5. Native Ads Method
Native ads are a fast-growing method of advertising and one that can be very effective if done right. It's a great way to get your affiliate links in front of a targeted audience without spending too much money on paid ads.
It's also something you can do from scratch with little or no experience. Look for websites who have the same audience you're trying to reach and see what kind of content they publish. In most cases, it will be related to your niche so do try it.
The more native ads you run, the better results you'll get! You can try Network like Taboola, Outbrain, Yahoo Gemini etc.
6. Tutorials for Products
Creating tutorials for products is another way you can promote affiliate links. If you are interested in creating tutorial videos, there are many services available online to help get started. One example would be YouTube's video editor , which is free and very easy to use.
Making tutorials for products you already have or are interested in buying can be a great way to promote your affiliate links. You can link the product you show in the video and include it in written reviews, annotations and advertising banners if possible.
You can also work with other YouTube content creators and share each others' videos, link out to each others' websites, etc.
7. Welcome Emails
When a website visitor signs up for your email list, an automated welcome message is usually sent out. You can take advantage of this by including a promotional message within the email.
Email marketing is a powerful tool for attracting visitors to your website, spreading content, and maintaining a connect with readers.
Emails can easily be sent out to your list when you add products and promotions to your website. You can also include your affiliate link in the signature of email messages if allowed by the email service provider.
8. Inside an Ebook
If you want to provide a lot of information about a certain product, or just want to create an ebook for marketing purposes, why not include your affiliate link in the PDF document?
This will allow those who purchase your ebook can easily access it at any time. It won't take up extra space either!
People will be interested in this ebook, as they know it's a completely unbiased source of information. You can create an ebook with ease using the many free tutorials available online.
Make sure the affiliate product should not feel like sales pitches, but rather opportunities for users to understand more about a specific subject.
9. Affiliate Links on Facebook.
You can create Facebook ads that include affiliate links. This is a great way to promote your products if you have an official page on Facebook. All you have to do is create an ad, upload the image, and then put in the URL of your product website!
You can also promote on Facebook Page. The key is to make your Facebook page interesting and informative. You can also include a link to your website in the "About" section of your profile if possible.
Using Facebook Groups, take part conversations on a regular basis, and try to assist as many members of the community as possible. Over time, you can leverage your affiliate link to assist users with their difficulties.
10. Affiliate Links on Guest Post
One of the easiest ways to promote affiliate links is through writing guest posts. Guest blogging allows you to write content for other people's websites, and then include your affiliate link within that article.
Simply write about a topic you have previous expertise in, then publish the content on another website. That way, readers can get access to your information while you can promote your products!
Guest posting is popular among small and medium-sized blogs because it provides free content for them and in return, you get free visibility.
To do so, make a list of all the well-known bloggers who cover topics related to your affiliate offering and contact them to see if they'd be keen on you generating some informative information for their readers.
11. Affiliate Links on Linkedin
It is a great idea to promote affiliate links on Linkedin. You can include your affiliate link in the images you upload or within your personal description box.
There will be an intro section at the beginning of your Linkedin profile where you may give a brief description of yourself. If any followers or leads visit your profile, this is the ideal place to post your affiliate link.
This way, your products can be easily accessed by the people who visit your LinkedIn profile.
Other good options include creating ads for your products on Linkedin's homepage or the job board!
To do so, sign up for an ad account with Linkedin and create advertisements to post in relevant sections of their website. This is a quick and easy way to reach out to a lot of professionals.
12. Affiliate Links on Instagram.
Instagram is another social networking site that you can promote affiliate links on. All you have to do is create an image, upload it to Instagram, and include your affiliate link within the caption!
This is a fantastic way to get your affiliate products 'out there'. Instagram has many active users who are always looking for new and innovative ways to enhance their online presence.
You can also provide other tips on the image, such as other interesting leads that they should look at. This will hopefully assist your followers by giving them a list of useful resources to achieve their goals.
Users can put links to your Instagram Stories post once they reach 10,000 followers.
If you want to sell on Instagram, make an effort to first create a loyal following. These devoted followers are more likely to react on affiliate links in your profile or Instagram Stories.
13. Promoting Affiliate Links on Craigslist
Craigslist will allow you to promote as many affiliate links as you like. Just make sure your Craigslist ad is somewhat unique and there aren't any other ads on the site with similar content!
You can find other Craigslist ad examples for your niche and see how they've written their ads. You may also want to search Google for any web pages that have similar ads.
Sellers who post on Craigslist will be able to link out to whatever product page they'd like, so you'll be able to link out to the products within your affiliate account.
14. Affiliate Links on Pinterest.
Pinterest is a great place to promote affiliate links, as it allows you to create an image that will inform other Pinterest users about a certain product. It's very simple.
If you create an image that has your affiliate link within it, Pinterest will automatically generate a pin for your product.
If you want to get someone's attention, make sure the images are easy on the eye and relevant to their interests. You don't want to spam users with endless pins of affiliate links; this is not good etiquette!
Instead, create an image for each affiliate product you want to promote and keep them separate. For example, if you wanted to promote a health product, you can have its own image.
Build pins and boards around a certain product for optimal results.
15. Affiliate Links on Reddit.
Reddit allows you to include links in your submissions. There are a few things to be aware of when it comes to Reddit, as there is a process that needs to be followed first before posting any content!
Once you've submitted a new page on Reddit, you will be given the option to add 'media'. This is where you can upload images and videos of your products.
Reddit uses an up-and-down voting system for their content – users can vote on any submissions they like or dislike. Submissions that receive large amounts of upvotes will move up the Reddit ranks, giving them even more exposure.
You will be able to see the traffic that your submission drove on your website analytics too. This can give you a better insight of what content works well for users on Reddit!
16. Promoting Affiliate Links on Quora Answer
Quora is a great way to promote affiliate links, as you can write an answer and insert your affiliate link at the end.  This works because Quora will automatically include an image to accompany your answer.
Once a user clicks the link, they will be redirected to whatever affiliate landing page you've set up.
When writing an answer for Quora, make sure it's relatable and something that other people may want to know! You can also include your own opinions on the topic as long as they're credible. Readers really appreciate this, as it adds more value to their life.
Quora is a great way to drive traffic to your affiliate link, but you should be aware that there are many users that already use Quora for help and advice! If the answer isn't related to your product or niche, people won't click through – it's as simple as that!
17. Affiliate Links on Twitter
Twitter is a great place to promote affiliate links, and it's really simple too. All you have to do is create a tweet with your affiliate link within the text!
The tweet will include an image related to your affiliate product too.
You can also create tweets that follow the interests of other users. You can do this by looking at what hashtags they're using, who is their audience and what type of content gets the most attention on their feed.
Tweets work best when they're relevant – you want to drive traffic to your product, not annoy people!
PRACTICAL ACTION STEPS
1. Identify any social media channels you'd like to promote affiliate links on.
2. Create social media posts containing affiliate links for each channel (you can include images if possible!)
3. Identify other web pages that may contain affiliate links and try promoting those too!
Remember, you do not want to share your affiliate link on every page of your website, as This is not good behavior.! You need to make sure the pages are related and relevant. If you want to drive traffic towards a particular product or campaign, create images that follow the interests of the target market. For example, if your website is a health blog you can create images that show health products to promote.
Final Words
Affiliate links are a great way to drive more traffic and sales for your business. The 17 easy ways we've provided will help you get started with promoting affiliate links in different places online. From Facebook ads, guest posts or even Pinterest images, there's no shortage of opportunities to promote the products that you're passionate about!
Let us know which one you liked and want to give a try.