How To Earn As An Online Nutrition Coach?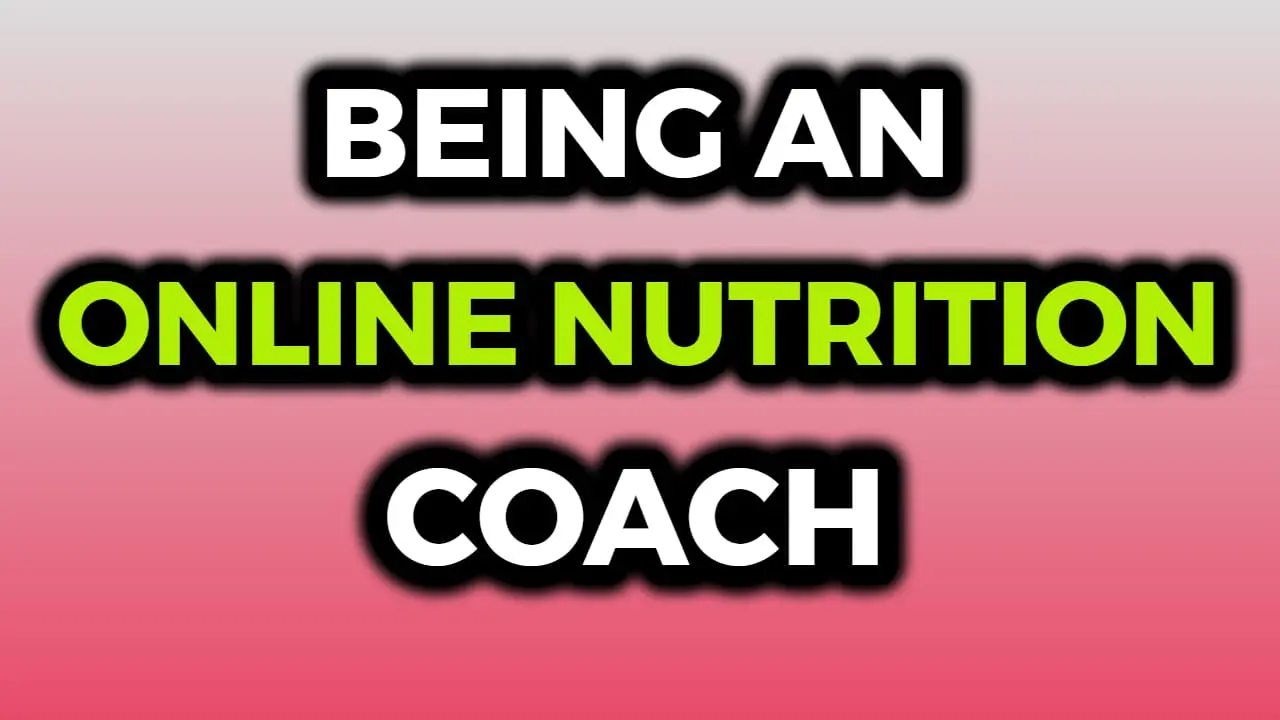 NOTE
If you want to make job replacing income and want to work online from the comfort of your home or anywhere in the world
Take a look at this - Live Chat Jobs
One of the easiest ways for aspiring nutrition coaches to earn is by selling their products or services directly to clients. If you have certifications and years of experience, you're already a skilled professional and on the right path. Many successful health coaches do most of their business this way.
The online nutrition industry is booming. People want better food, feel better, and appear better. But most don't have the time or the knowledge to find healthy alternatives. That's where you come in as a nutrition coach.
Online coaching works with clients worldwide, offering them a convenient and affordable way to get the help they need to become healthier and live happier lives.
What does an Online Nutrition Coach Do?
As an online nutritionist and coach, you provide clients with nutritional information to help them get fit or eat healthier meals and snacks. You work one-on-one with clients and help them achieve their health and nutrition goals through behavior modification and education on proper nutrition.
Nutrition coaching is a growing industry that doesn't require years of training but does require a deep desire for helping people get healthy and stay healthy for a lifetime.
Bureau of Labor Statistics (BLS) stated that the number of jobs for nutritionists is expected to grow by 23%, much faster than the average for all occupations in the U.S.
Becoming an Online Nutrition Coach Is Quite Simple.
Get certified: Based on your goal, there are different certifications you'll need to meet. If you're starting, the requirements will be less, but if you're aiming to get into field counseling, you'll need different certifications.
You may also be better off with an online or in-person nutrition coach course that provides more in-depth training. These courses usually include lectures, labs, and real-world experience, which will help you become more employable.
Get experience: Once you gain your certifications, you can coach your clients on health and nutrition issues. You may need to gain experience by volunteering at hospitals or other institutions that provide diet and nutrition advice. This is an excellent way to gain experience and meet new people in the field.
Where and How to Get Started as an Online Nutrition Coach?
To get started in online nutrition coaching, you'll want to create a website that allows potential clients to contact you and learn more about your services. You must ensure your website is professional looking and easy to use so potential clients can easily find you.
Once you begin working with clients, you'll want to establish your brand so that clients remember you. Consider creating a personal logo to help solidify your brand with your potential clients.
Getting clients can be tricky if you're starting, as there are already so many nutrition coaches out there looking for clients. You can contact any local businesses in your area that have healthy eating programs or improve people's health. They may pay you to educate their employees about healthy diets and nutritious food.
The important thing is that your customers want to know how you can help them reach their goals for better health and nutrition.
Different Ways to Earn as an Online Nutrition Coach
1. You can sell your nutritional plans online and create customized diet plans for clients. You can charge by session or charge a flat fee for each guide you make and sell services to anyone interested. In traditional coaching, you may be able to charge per hour.
2. Personal coaching is when your clients work with you one-on-one. They may see you in person, use Skype or another video chat service, or even email you. This benefit is that you can get to know your clients better, establish long-term relationships, and make a more significant impact.
3. However, it does take a lot more time and effort than online coaching since you need to meet with each client personally, and you'll need to travel to their homes or offices.
4. Set up your school. Some nutritionists start their own schools or offer online courses and coaching to get the attention of potential clients looking for professional help.
5. Starting your own business, Getting certified is a great start. However, to be a genuine business leader and impact your local community, you may want to start your own online nutrition coaching business and help others who wish to be nutritionists.
You'll need to talk with an attorney to ensure everything is in order — and, of course, have a solid business plan.
6. You can also generate income by sharing affiliate links to equipment, foods, and other resources with your clients to encourage them to get to their goals of better health and nutrition.
Benefits of an Online Nutrition Coach
Flexible hours: As an online coach, you can offer your services anytime (or night), depending on how many clients you have at a time. You can also meet with clients in person if you have a physical location for them to come to or if you want to offer in-person services.
Always on: Since you have a virtual office, you can connect with clients at all times. You don't have to go on break or take time off since you're not tied to an office or have any physical limitations (like vacation time). If you have some spare time during the day, you can answer emails and plan sessions for your clients.
Less expensive: You can set up a virtual office for much less than you would if you opened a brick-and-mortar office. You won't need to hire employees or buy equipment to maintain, and you won't have to pay rent on an office where you live or your office location. You can grow your business slowly and at your own pace.
How to Promote Yourself as an Online Nutrition Coach?
Promoting yourself as an online fitness and nutrition coach and getting people to contact you can be time-consuming.
This is where social media comes in. Make accounts first on Instagram, Facebook, and Twitter. Make great posts engaging clients and show why they should hire you. This usually takes a few months to reach your target market, but if you're persistent, it's a great way to build your client list.
Here are a few tips:
Use Instagram: Post photos of yourself in your gym clothes and promote healthy recipes you make for yourself and your clients. Share pictures of healthy meals you prepare and tips for others to make healthy meals for themselves and their families.
Use Facebook: Create a Facebook business page and invite friends and family to follow it and share your posts on their profiles. This will increase the number of people who see your posts and help you grow your followers over time.
Use Twitter: Tweet out links to your blog articles and encourage your followers to share the report with their followers and friends. This will enable you to reach more users with one simple tweet swiftly.
Other ways to market your business: Write guest blog posts for other websites in your niche — this will help you get your name out there and attract new clients to your profile and business.
Create videos for your YouTube channel and post regularly so you can attract more subscribers to your channel.
Create free webinars to teach people about nutrition and encourage them to join your email list so that you can be connected with them regularly and get more of them to purchase your services.
Promote your business at local events in your local community to attract local clients interested in your services — this is an easy way to network with other community members and meet more people who may need your services in the future.
You can build your client base through social media or by reaching out to bloggers and others who influence people's food choices.
You might consider a service like Healthify, which lets nutrition coaches create personalized websites and training programs for clients who want to get healthy. As a coach on Healthify, you can reach a broader audience than you would be able to with just your face-to-face clients.
What Problems Do Nutrition Coaches Solve for Their Audience?
Most people face problems related to what they should eat and how to eat well when they lack the time to plan meals and prepare food from scratch every day.
A client struggling to lose weight or gain weight may come to you for advice and help.
You may also help someone who wants to build muscles or improve their athletic performance to compete at a greater level in their sport of choice.
Other problems include someone who wants to feel healthier and more energetic throughout the day and improve their general overall health so they can live longer.
If you want to market yourself as a holistic nutritionist, you might help people suffering from stress-related health problems like anxiety, depression, and stress-related digestive issues. These are only a handful of the challenges that a nutritionist can help people with on a daily basis.
How to Get Clients as a Nutrition Coach Online?
Once everything has been set up and is ready to use, it's time to get your first client.
Reach out to your current connections: Talk to your friends and family and tell them that you're starting a nutrition and fitness business. Do they know of somebody anyone who needs your services, and send them a link to your website or social media accounts where they can find you.
If you don't know anyone, ask those you know who need help with their eating habits, whether they need help with weight loss, weight gain, athletic performance, overall health, or anything else.
Join your local networking groups: Network with other members at events and meetings — you never know who you'll meet and what opportunities arise.
Offer your services to local businesses: Contact local businesses in your area and offer your services to their corporate wellness programs. This is a great way to establish your brand in your community and reach people who may not know about your business yet.
Add a link to your website on all of your business cards and marketing materials: This will facilitate and make it easier for people to find you and learn more about what you do.
Conclusion
Online Nutrition Coaching is Here to Stay! Becoming a successful online health and nutrition coach is a great way to earn from home and build a thriving business for yourself at the same time.
You can start a small business and grow your client base over time as you learn new techniques and ideas that you can use to help more people stay healthy and eat better foods. So start now by setting up your coaching website and offering your clients the help and advice they need.