What Are The Risks For Investing In Digital Real Estate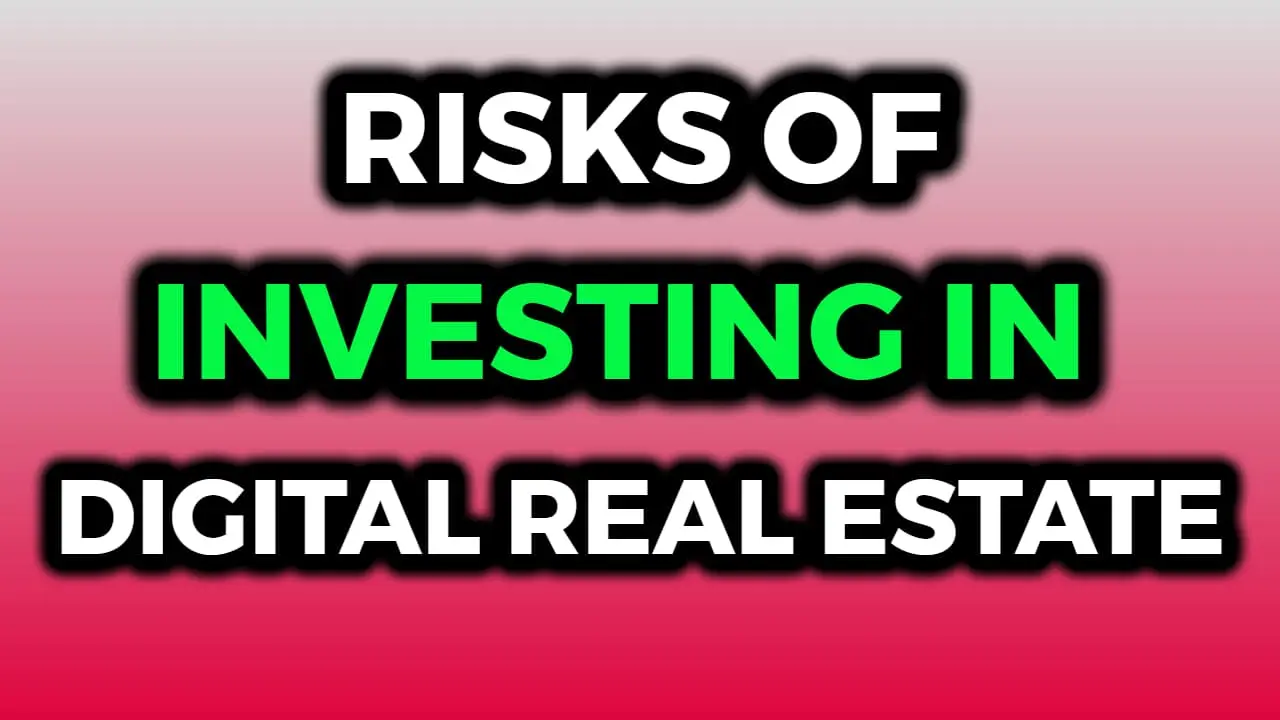 NOTE
If you want to make job replacing income and want to work online from the comfort of your home or anywhere in the world
Take a look at this - Live Chat Jobs
Digital real estate refers to real estate that exists in digital form. It can be an electronic document, an email, a scanned document, websites, digital products, digital worlds, online businesses, and other forms of digital media.
The digital world is still expanding exponentially. By 2025 almost 90% of the entire global population will be online, and an estimated 8 billion people will have Internet access.
Investing in digital real estate is becoming one of the most popular ways to invest. It is now said that digital real estate is the new green field investment, where opportunities abound everywhere.
Digital real estate, like websites, digital products, mobile apps, etc., can be bought and sold just like in the real world of real estate.
The reason digital real estate is worth it to invest. What is even better is that it doesn't require huge capital. It is an excellent opportunity to grow your money on a small scale with low risk and high return. With time you can increase your worth in the form of significant returns once your business or investment takes off.
What Exactly is Virtual or Digital Real Estate?
Virtual Real Estate is any property in a digital format, including software, virtual land, or even domain names.
Like natural-world properties, they can be bought, sold, and traded in the digital world. For instance, because they are an asset that is exchanged similarly to real estate or buildings, domain names can sell for more than $100,000.
Once purchased, it is yours forever unless you decide to sell it. Virtual properties are not physical but exist only in the online digital world.
Another excellent example of virtual property is a website or an online shop that sells clothes online.
What Types of Digital Real Estate Exist?
The different types of digital real estate assets are
1. Digital Products
Digital products are presented virtually and sold to customers online through an online store. It can take the form of e-books, music, videos, and other digital products.
2. Online Business
Online business is a type of business that is conducted online without a physical store. These businesses are mainly E-commerce websites that run using an online platform.
3. Digital Services
Digital services are services that provide online support to customers. The services include customer care, technical support, and bank advisory services. Their support is offered to customers online through smartphones, computers, or even phone calls.
4. Web/Domain name
A domain name is equivalent to the street address that identifies a particular business online. A website requires a domain name, like a house requires a name.
You can buy and sell domain names just like buying and selling real property. A unique domain name such as CarInsurance.com sold for $49.7 million.
5. Mobile Apps/Scripts
Apps and scripts are for mobile devices such as smartphones or tablets. These apps require programming skills to build them. They can be sold individually as mobile apps or developed as entire mobile applications or software programs for purchase as a whole package.
6. Cryptocurrency – Virtual currencies
Digital currencies are equivalent to real-world currencies like US-Dollar, Euros, Pounds, etc. Virtual currencies can keep records of transactions made using them online. Cryptocurrencies like Bitcoin and Ethereum are popular forms of digital or virtual currency.
7. Websites
Websites are sold and bought online. The profit determines the value of a website it can generate and the traffic or the number of people visiting it regularly.
Websites like flippa.com are well known for buying and selling sites.
What Are the Risks Associated with Investing in Digital Real estate?
While investing in any asset, be it real estate or online, there is always an element of risk involved, especially in terms of security, maintenance cost, and revenue generation capacity. However, for investing in digital assets, the risk involved is minimal.
Here are a few risks of investing in digital assets:
1. Security
As everything is now digital, the risk of theft of data or information is high. Therefore, having a solid security system is essential to protect the data and prevent hacking attacks that can cause loss of data and information to the website owner or business operator.
2. Maintenance Cost
Maintaining a website can be costly as it requires regular updating and maintenance. To ensure it remains functional, safe, and protected from malware and other viruses that can infect the system, causing damage to the website and affecting the revenue generation capacity of the website/app.
3. Revenue Generation Capacity
An online business to generate good revenue requires a good amount of traffic and visitors who visit the website regularly. To keep a steady range of visitors, it needs to maintain a good reputation and good content on the website that attracts visitors' attention and keeps them coming back to the website regularly for new information and updates.
4. There is a Risk of Scams
Scams and other frauds can affect the reputation of the website/business and its reputation in the online community, leading to loss of customers and the company's long-term success.
As digital real estate is online, it has chances of getting DDOS attacks, viruses, spam, etc. Hence it is essential to protect the system from attack and ensure smooth and uninterrupted operation of the website/business at all times.
5. Challenges in Selling
As many don't know, and there is a limited market for digital assets, it becomes a challenge to sell the asset quickly and generate a good return on investment for the investor/seller.
It is related to a lack of market awareness and interest in such assets, which delays sales and reduces the investor's or seller's profit.
6. Lack of Profitability
It is tough to determine the profitability of a digital business or asset, making it even more challenging to calculate its return on investment.
7. No Regulations
There is no requirement for selling/buying digital assets and no regulations governing the buying and selling of such investments. It makes the process complex and requires a deep understanding of the legalities involved to avoid future legal complications.
8. Fluctuations/ Market Volatility
In volatile markets, there is fluctuation in the prices of assets, which can affect an asset's market value, making it challenging to predict its market value and hence the profit it can fetch for the investor/seller.
In other words, you could lose money on your investment if you are not careful.
What Are the Best Ways to Invest in Digital Real Estate?
1. Buying an Old Website
Investing in a website that is old and already generating traffic is a good decision rather than starting a website and building it from scratch. Less risk is involved, and the probability of making a good amount of revenue is higher.
2. Investing in Starting a Website as a Business
Starting a website as a business is a prevalent method of investing in digital real estate. Many people create websites as a hobby, but only a few know the profits of starting an online business through a website/blog.
Many popular sites, like Ahrefs, Groove, etc., are run by small businessmen who have created them from the start and have now managed to turn them into successful businesses.
3. Buying a Domain Name
Investing in popular domain names and being searched by internet users is also an excellent investment method in digital real estate. It is always good to brainstorm or research popular terms people search for before investing in them.
Even single domain names can sell in millions. For example, voice.com sold for $30 million.
4. Investing in Online Business
Online business is also a great way of investing in digital real estate. Many popular e-commerce stores are now worth billions of dollars after being started online.
For example, popular online business stores like Etsy, Shopify, etc., are currently popular due to their ease of usage and revenue generation capacity.
5. Purchasing Digital Assets like apps
Many small unique, useful apps are available in the market that can be downloaded and used on mobile devices like smartphones and tablets. These apps can be bought and sold for quick money if the business has a broad audience base.
6. Cryptocurrency Investment
Investing in digital currency or cryptocurrencies can be a profitable way of investing in digital real estate. It is gaining popularity as most of the popular online business stores accept payment in the form of Bitcoin, owing to its convenience and high-security level.
Conclusion
The opportunities for investment in digital assets are increasing daily as more people prefer buying things online over going to physical stores and purchasing items there.
While there are several risks involved in buying such assets, many opportunities can fetch you a good return on your initial investment if wisely invested.
The boom in digital real estate has created many opportunities for investors to profit from selling or buying digital assets.
However, as mentioned earlier, it is prudent to seek professional help to understand the market and make investment decisions carefully to ensure maximum profitability and returns on investment.