15 Best Linktree Alternatives in 2022
Linktree is a great tool for bloggers, content creators and social media enthusiasts.

It's was the first one to offer you the ability to add your (blog posts, photos, videos or anything else) multiple links in bio using one link. Linktree is perfect for marketers who want to grow their following online!

Linktree was free up until March 2020, now they started added a option called "pro" and charg $6/month for it. Linktree has made it easy for many business to link multiple aspects of their business using one link.

Now there are many reasons why you might want to use a Linktree alternative-perhaps your budget is tight and you can't afford the yearly fee, or maybe you just prefer other features.

Regardless of what your reason for switching is, here's a list of some of the best Linktree alternatives you can use in 2021!
1. Pallyy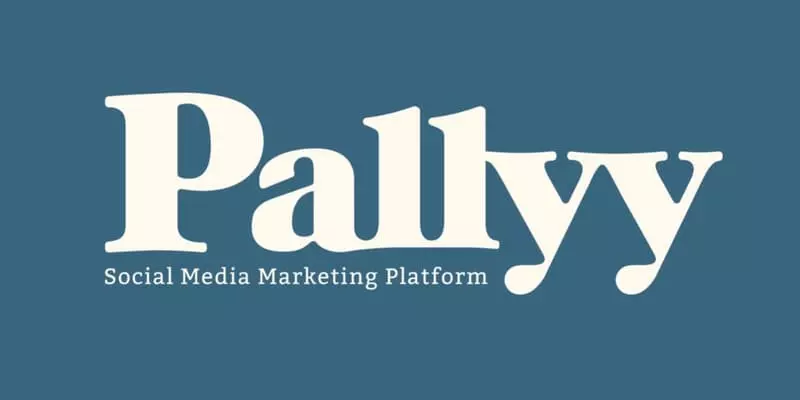 Pallyy is the Linktree alternative you want to check out. It's similar to Linktree in how it works, but there are some features that Pallyy offers that Linktree doesn't. For example, you can remove comments from your link page if needed. You also have the ability to change the color of your profile.

You may use Pallyy to make a custom landing page which can be used in your Instagram bio link. You may use this page to build buttons to promote your items, embed videos, blog entries, as well as other social profiles, and even add dropdown menus for more links.

You can change the backdrop of the landing page, add your logo, and change the design and background of the icons to match your business.

Pricing: Pallyy offers a pro plan that is $15/month. Also, there are no ads on the free version like there is with Linktree
2. Leadpages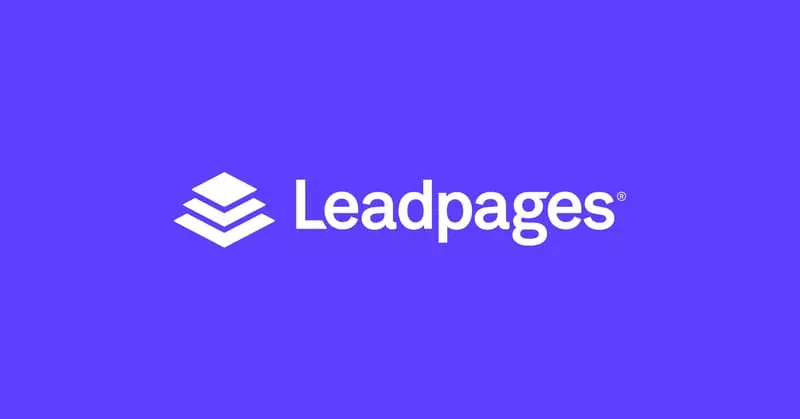 Leadpages is going to be one of the best alternatives to Linktree . One reason that makes Leadpages a top contender for Linktree replacement is there are no confusing menus or pages-it's simple and easy to navigate.

One of the best parts about Leadpages is that it's mobile-friendly. Leadpages is a great option for those who aren't as familiar with coding and want something easy and basic.

Leadpages lets you build landing pages, optin pages, webinar pages, event registration page, and more.
It's primarily used for business lead generation, but it's also one of the finest link-in-bio solutions available.

Pricing: Leadpages offers three different plans
Standard – $27 per month, Pro – $59 per month, Advanced $239 per month
3. Shorby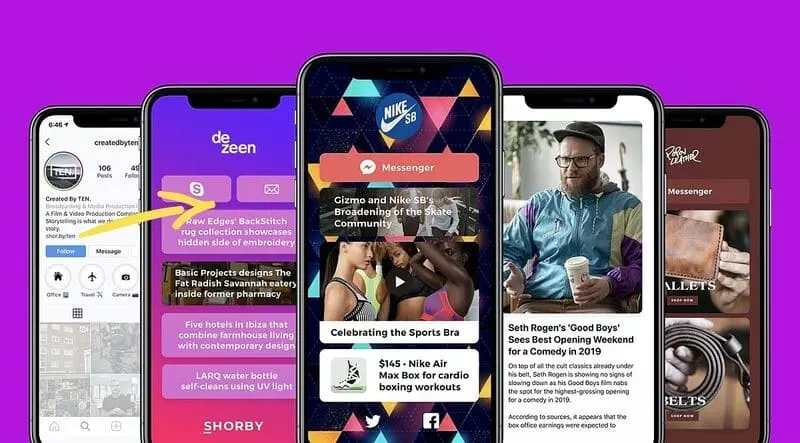 Shorby is one of the most popular Linktree alternatives for a reason. Shorby lets you add multiple URL's to your bio and it works on Instagram, Facebook, and Twitter. This makes it easy to promote your website, blog posts, products and more.

You can change the way that your link looks by customizing colors, fonts, and backgrounds.
This is perfect for businesses who need an attractive way to promote their site or product on social media.

One of the perks about Shorby is that they show you exactly how many people are clicking on your link in real time. You can then go back to your link after 24 hours to see how many people have visited your website.

Shorby is a great Linktree alternative because it lets you post updates to your social media profiles from within the app-this means that you can update all of your social media accounts at once instead of having to login and do each one individually.

Pricing: Rocket – $12/month, Pro – $24/month, Agency $82/month
4. Taplink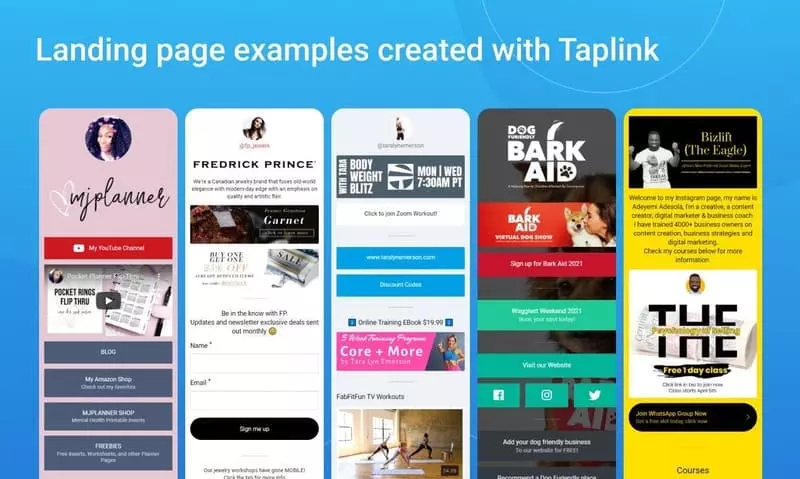 Taplink is a great alternative to Linktree. It allows you to create custom URLs with your own keywords and hashtags, which is perfect for businesses who want to build their audience online.

Additionally, Taplink offers one-click sharing of links on social media platforms such as Facebook, Twitter, Google+, LinkedIn. You also have the ability to set your privacy settings from public to private.

Separate blocks are available for adding image carousels, videos, ordinary links, custom HTML code, Messengers, and other features.
Taplink is used for link building, SEO, and managing social media profiles. It's a great all-in-one solution that you can use as a Linktree alternative.

Pricing: Basic – Free, Pro $24/month, Business – $54/month
5. ContactInBio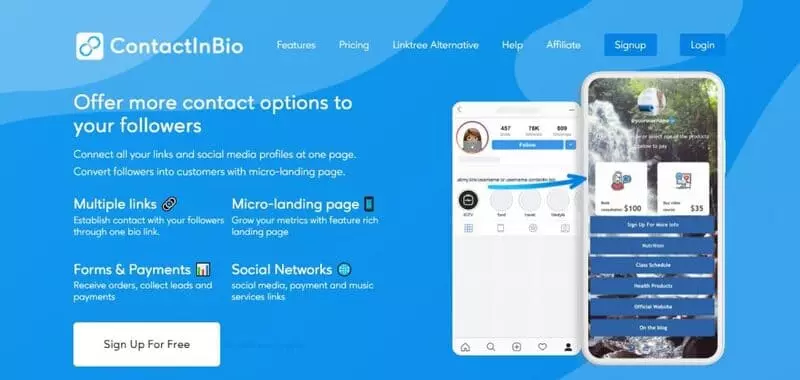 ContactInBio is similar to Linktree, but it offers a few more features.

One of the best parts about ContactInBio is that you can choose from two different URL options-one simple and one with a tracking link. The tracking link option lets you see how many clicks your link receives from Instagram. You can then use this information to improve your social media marketing strategy.

Another reason that ContactInBio is a great alternative to Linktree is it gives you the option to use Facebook ad campaigns, launch contests and sweepstakes, as well as collect leads all from within the app.

ContactInBio lets you create custom landing pages and ad campaign pages for Instagram, Facebook and Twitter. This makes it easy for businesses to build their audience and obtain leads.

Pricing: Basic – Free, Pro – $19/month, Company – $39/month
6. Sked Link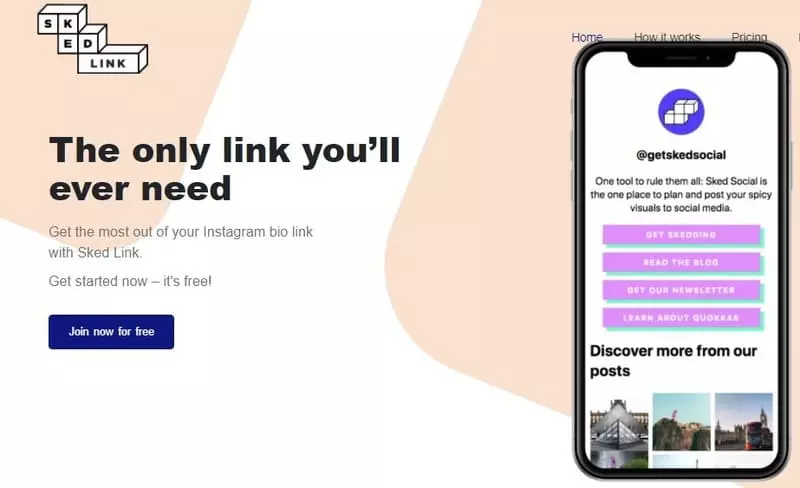 Sked Link is a great alternative to Linktree because it's easy to use and allows you to link up your Instagram profile with other social media profiles.

One of the best features about Sked Link is that you can create unique landing pages for each individual link so that you can track which ones are performing better overall.

One can also use Facebook Pixel and Google Analytics for tracking.
Sked Link is a great Linktree alternative because instead of just posting links, you get the option to market your videos on Instagram in a variety of different ways.

Pricing: Fundamentals – $25/month, Essentials – $75/month, Professional – $135/month
7. Lnk.bio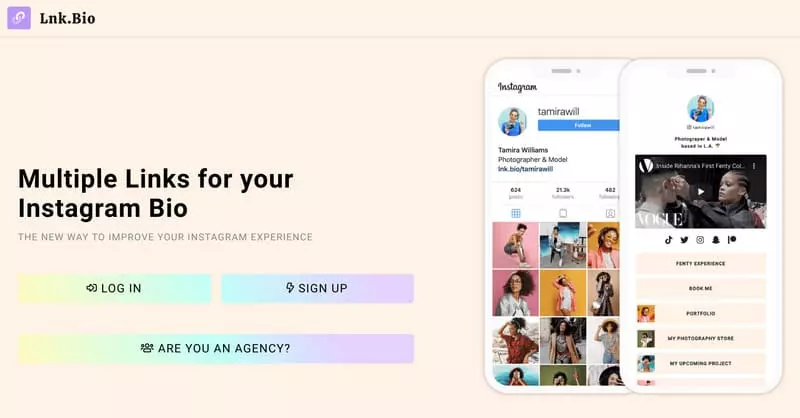 Lnk.bio is a Linktree alternative that lets you create custom landing pages for your Instagram profile and website. It's used to build links, increase traffic, and also provide marketing advice.

You can easily customize each link based on what you need it to do-for example, if you want people to sign up for your email list, you can create a custom landing page that encourages them to do so.

If you choose free then you have very limited tools to work with. If you want to get rid of the Lnk.bio logo, you'll have to pay $24.99 once and also get access to a wide variety of tools.

Pricing: Free forever – $0/month, Mini – monthly – $.0.99/month, Mini – one time – $9.99, Unique – one time – $24.99
8. Tap Bio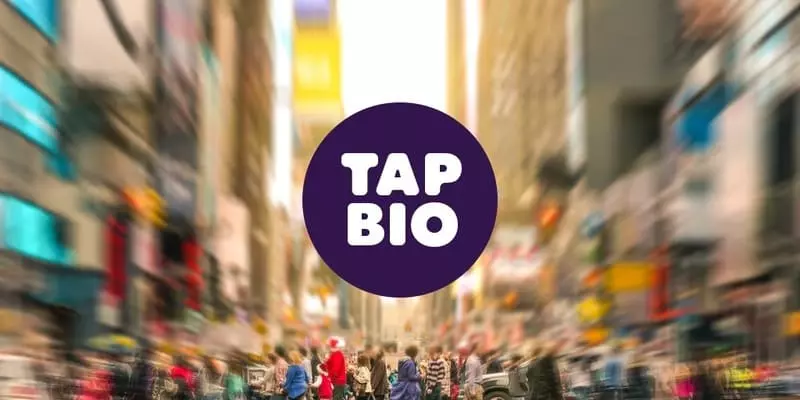 Tap Bio is an easy to use Linktree alternative that gives you the option to choose between creating custom landing pages and sharing links.

With Tap Bio , you will not just make one landing page; instead, you make numerous 'cards,' each with its own collection of links.
When you create these cards, each one has its own unique URL that you can share with your friends or followers.

It can help your landing page stand out, because there is so much happening that your visitors can get confused.
Additionally, you have the option to use Facebook ad campaigns so you can see which ones are performing better. This is a great way to improve your social media marketing strategy.

Pricing: Basic plan – free, Silver plan – $5/month, Gold plan – $12/month
9. Milkshake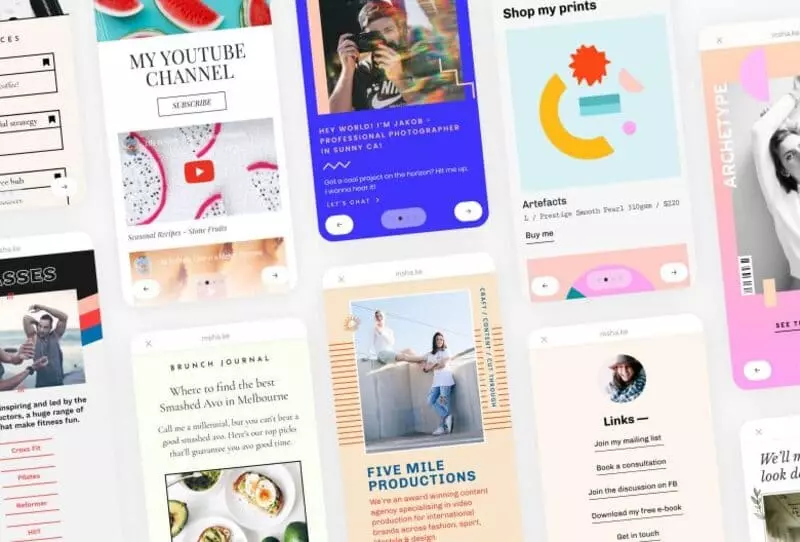 Milkshake is a great link-building app that lets you create audiences based on interests, demographics, and behaviors.

It also features Milkshake Live , which allows you to post live streams on Instagram with an ad campaign.
Milkshake incorporates cards that can be readily customized with your logo, brand, font variations, and the addition of photos, GIFs, and clips.

The best part about Milkshake is that it features the 'Audience Suggestions' feature, which allows you to find people based on interests and demographics so that you can reach your target audience.

You can download this as an app on the App Store or Google Play, and it's completely free to use.

Pricing: Free To Use
10. Campsite.bio
Campsite.bio is one more tool that lets you create custom landing pages.

On Campsite, customization choices are likewise much more broad compared to linktree. On your landing page, you can modify the social icons, colours, and even the fonts. This is a major advantage if image building is essential to you.

This site works well for promoting businesses and events, as well as for giveaways and contests, so it's a great alternative to Linktree.
One of the best parts about this app, you can connect your landing page with MailChimp if you upgrade to the Pro edition of Campsite.

Pricing: Campsite – Free, Campsite Pro – $7/month
11. Beacons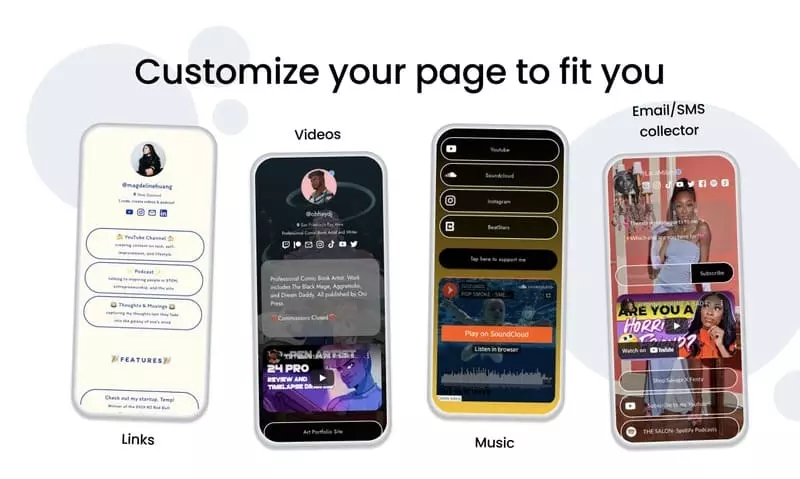 Beacons is a hyper-targeting app that enables you to get your target users' attention by pushing notifications from Instagram right onto their Facebook news feeds.

It does this by matching the interests of your followers with the profiles on Beacons, which allows you to engage with them more personally.

One of its most popular uses is for influencer marketing, so if this is something that interests you then Beacons may be the tool for you.
It's quite simple to create a landing page. All you have to do is answer some questions, and the AI will create a unique page for you.

Beacons does have a paid version that comes with extra features and analytics, but its basic account is free.

Pricing: Creator plan – free, Entrepreneur plan – $10/month
12. Linkin.bio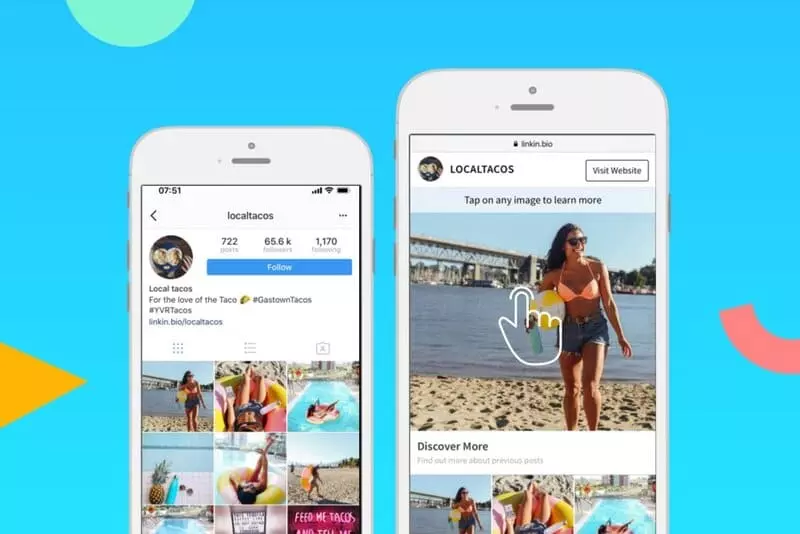 Linkin.bio was created in 2015 by a group of entrepreneurs, so it has plenty of experience in its corner. It enables you to make and share short URLs which you can add in your social media bio's.

It's made for social media marketing , so it works best when you have a large following of people who might be interested in your offerings.
Like the other tools described here, you can add several links to third-party resources, blog entries, or other web links.

The postings can even be made into shopping links.Businesses that wish to sell products directly from their Instagram feeds can use Linkin.bio.

Pricing: Free – $0, Starter – $15/month, Growth – $25/month
13. Link in Profile

Link in Profile is a link-sharing tool that you can use on any social media platform.
This tool works in a unique way. It provides a replicated version of your Instagram feed with clickable photographs, rather than a customized multi-link landing page for you.

One of the best things about this tool is that it's compatible with all types of businesses, so your small business will be able to take advantage of its services just as well as bigger brands.

Like other tools on this list, you can add links to other posts, blogs, and third-party domains.
Link in Profile also has a feature that allows you to monitor your company's online presence. This is helpful if you have multiple people in your company who post content because it lets you track the impact of every single post made.

Pricing: $9.99/month
14. EverLinks.io

EverLinks.io is a tool that you can use to create text and image-based links that direct people to your website.
This tool even lets you customize the link name, so it's essentially like creating an ad for Instagram without paying an agency to do so.

You can add up to 5 links at a time, and they will all link back to different pages which you have provided.
You can also embed videos, The process of embedding videos is simple. Simply insert a YouTube video link into the designer, and EverLinks will instantly embed the video.

There is also an option to monitor page clicks so that you know which links are performing the best.
There are three pricing plans

Pricing: Free, Pro- $7/month, Agency -$17/month
15. ShortStack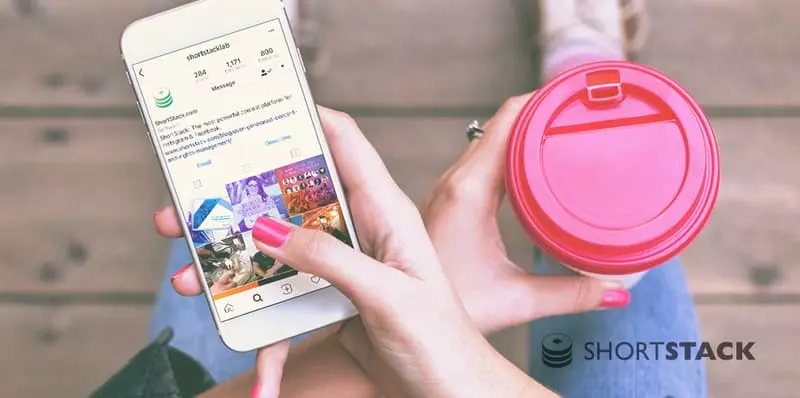 ShortStack is a great app to use if you want to create interactive experiences for your audiences. You can use it to generate stories that allow your users to participate in a variety of ways.

For example, you can create contests, sweepstakes, games and lead generation with this tool.
On the back end you can track data of the contest that you are running, so that you know how the entire contest is performing.

There are many templates to use when running your contests, as well as a lot of customization possibilities.This app has been used by large brands such as Hootsuite, HP, and Product Hunt.

This tool offers four plans:

Pricing: Business – $79/month, Agency – $159/month, Brand – $399/month, Enterprise – Custom plan
Linktree Alternatives Summary
Linktree is an excellent tool, but it's not for everyone. If you're on a tight budget or just want more features than what Linktree provides, check out the alternatives i've listed above!

You'll find that there are many different types of tools available-some offer text and image links while others help you create interactive experiences with your users.

I'm confident that you'll be able to find a tool on this list, regardless of your specific requirements.Thanks for reading! I hope you found this article helpful and enjoy the rest of this site! Have a great day and I'll see you soon! (: